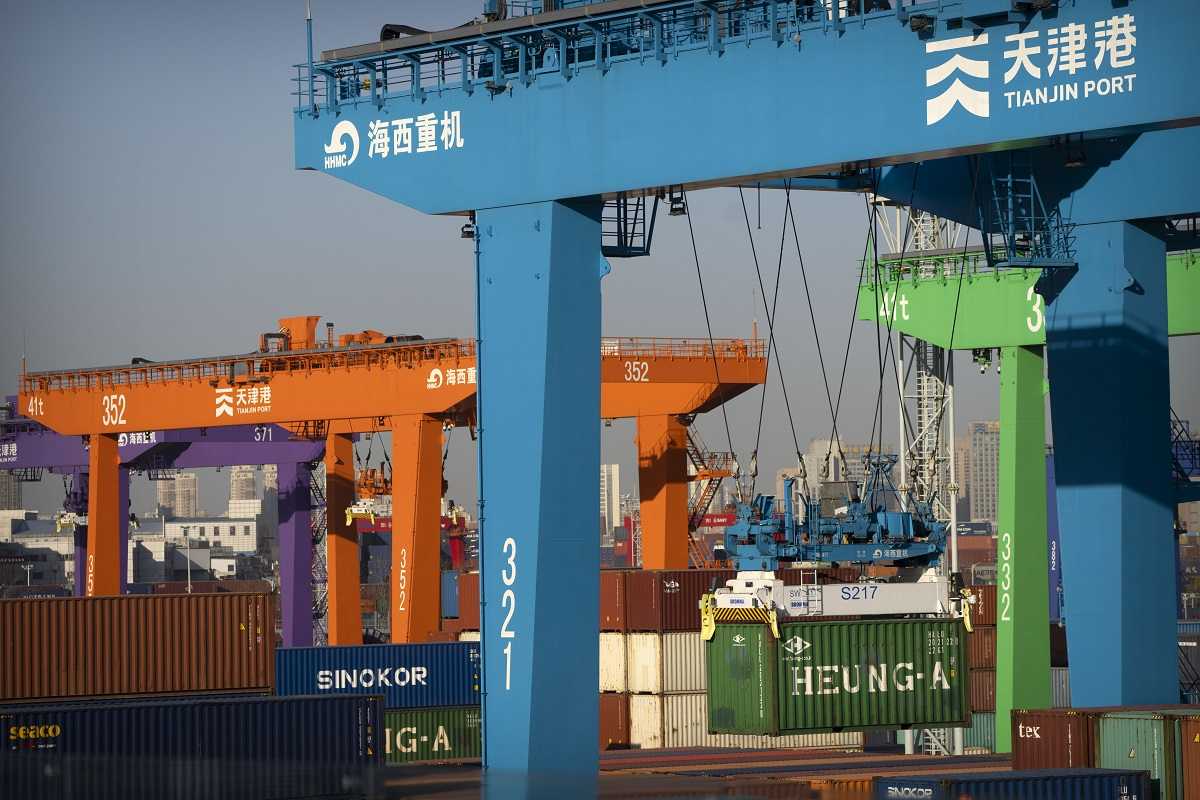 12:16 JST, January 17, 2023
BEIJING (AP) — China's economic growth fell to its second-lowest level in at least four decades last year under pressure from anti-virus controls and a real estate slump, but activity but is reviving after restrictions that kept millions of people at home and sparked protests were lifted.
The world's No. 2 economy grew by 3% in 2022, less than half of the previous year's 8.1%, official data showed Tuesday. That was the second-lowest annual rate since at least the 1970s after 2020, when growth fell to 2.4% at the start of the coronavirus pandemic.
Consumer and business activity are reviving after the ruling Communist Party's severe "zero COVID" controls ended abruptly December. But wary consumers are returning only gradually to shopping malls and restaurants as China copes with a surge in infections that has flooded hospitals The government says the peak of that wave appears to have passed.
Economic growth sank to 2.9% over a year earlier in the three months ending in December from the previous quarter's 3.9%, the National Bureau of Statistics reported.
China's slump has hurt its trading partners by reducing demand for oil, food, consumer goods and other imports. A rebound would be a boost to global suppliers who face a growing risk of recession in Western economies.
The International Monetary Fund and private sector forecasters call for growth to improve this year but to a still-modest level of about 5%. They point to weakness in China's real estate industry, an important economic engine, and an export slump as U.S. and European demand for Chinese goods cools after interest rate hikes to fight surging inflation.
Retail sales fell by 1.8% in December compared with a year earlier, but that was an improvement over the previous month's 5.9% contraction. Factory output in 2022 rose 3.6% over the previous year, suggesting activity tumbled after hitting 4.8% in the third quarter of the year as U.S. and European demand for Chinese goods weakened under pressure from interest rate hikes to cool record-setting inflation.
The Communist Party promised in November to reduce the cost and disruption of "zero COVID" policies after growth slid to 0.4% over a year earlier in the quarter ending in June.
"Zero COVID," which aims to isolate every sick person, helped to keep China's infection numbers below those of the United States and some other countries. But it shut down Shanghai and other cities for up to two months in early 2020 to fight outbreaks, disrupting manufacturing and trade.
Business activity rebounded after those controls were loosened, but a new infection wave that began in October prompted authorities to reimpose restrictions that closed factories and required millions of people to stay home. Public frustration boiled over into protests in Shanghai and other cities. Some protesters in Shanghai called for Chinese leader Xi Jinping to resign.
The ruling party has dropped quarantine, testing and other restrictions and eased controls that blocked most travel into and out of China. It has yet to say when large-scale tourism into the country will resume.
To shore up the economy, the ruling party has backtracked on key financial and industrial policies.
Beijing has indicated it is winding down anti-monopoly and data crackdowns aimed at tightening control over China's tech industries. That campaign wiped hundreds of billions of dollars off the share prices of e-commerce giant Alibaba and other tech companies on foreign stock exchanges.
The government also is loosening controls on real estate financing after tighter controls on debt that Chinese leaders worry is dangerously high caused economic growth to slide starting in 2021.
On Saturday, the Cabinet promised tax cuts, bank loans and other support for entrepreneurs to "promote stable growth."
"Reopening should result in a burst of growth over the coming year," said Goldman Sachs economist Andrew Tilton in a report Friday. Goldman raised its outlook on this year's expansion to 5.2% from 4.5%.
Others are more cautious. The World Bank this month cuts it 2023 growth outlook for China to 4.3% from a forecast in June of 5.2%. It cited uncertainty about COVID-19 and the weak real estate industry.
The debt crackdown forced smaller developers out of business in an industry that accounts for up to 25% of China's economic activity. Some bigger competitors missed bond repayments. Sales plunged while jittery buyers waited for the status of developers to become clear.
Financial markets are waiting to see what happens to Evergrande Group, the global industry's most indebted company, which is trying to restructure more than $300 billion owed to banks and bondholders.
Add TheJapanNews to your Google News feed.