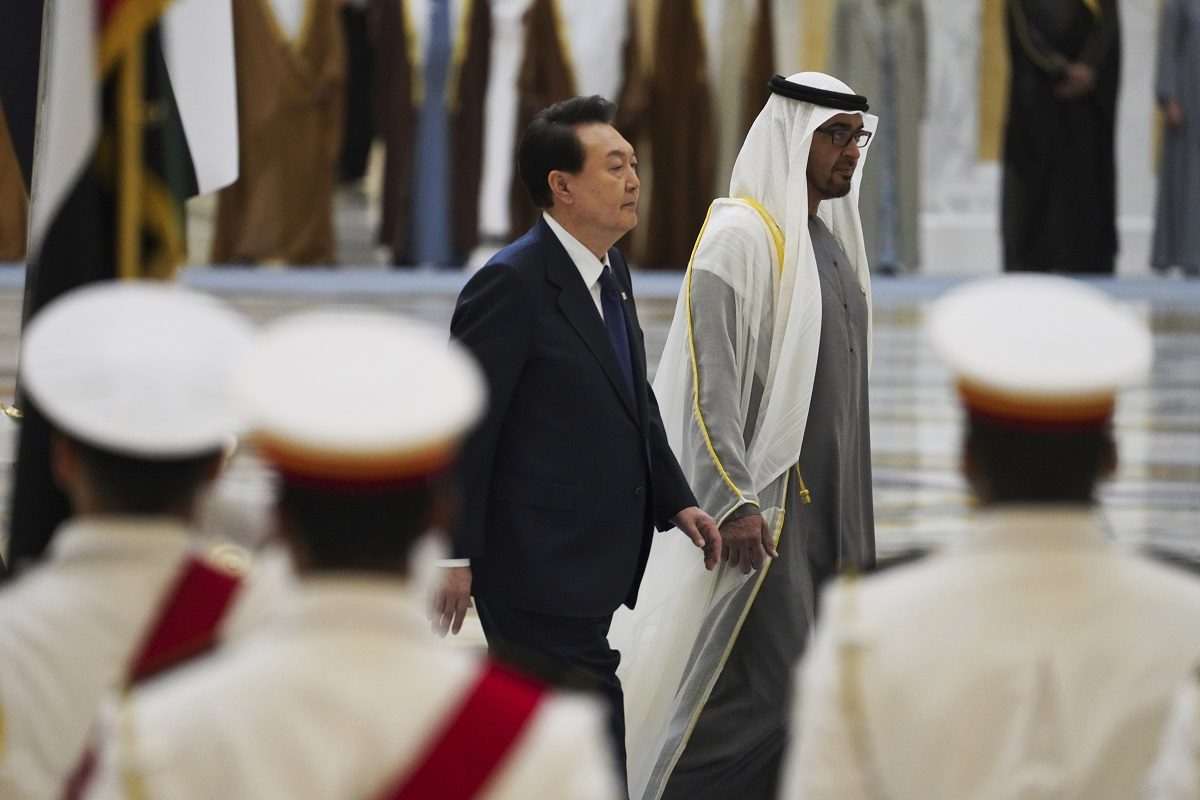 11:46 JST, January 16, 2023
ABU DHABI, United Arab Emirates (AP) — South Korean President Yoon Suk Yeol received an honor guard welcome Sunday on a trip to the United Arab Emirates as he hopes to expand his country's military sales here.
Yoon's visit comes as South Korea conducts business deals worth billions of dollars and stations special forces troops to defend the UAE, an arrangement that drew criticism under his liberal predecessor. Now, however, it appears the conservative leader wants to double down on those military links even as tensions with neighboring Iran have already seen Tehran seize a South Korean oil tanker in 2021.
"I think that the situation in the Middle East is changing very rapidly when it comes to geopolitics," said June Park, a fellow with the International Strategy Forum at Schmidt Futures. "So Korea wants to make sure some of the strategic partnerships and the components … with the UAE" remain strong.
Yoon arrived at Qasr Al Watan palace in Abu Dhabi on Sunday. He was greeted by Emirati leader Sheikh Mohammed bin Zayed Al Nahyan, who took office in May after serving as the country's de facto ruler for years.
An honor guard of traditionally dressed Emiratis greeted Yoon and his wife, Kim Keon Hee. They twirled model Lee-Enfield rifles alongside troops on camelback and horseback. Inside, a military band played the South Korean and Emirati national anthems.
After the ceremony, South Korea's Yonhap news agency quoted Sheikh Mohammed as saying the UAE planned to invest $30 billion in South Korea. "We decided to make the investment with confidence in the Republic of Korea that keeps its promises under all circumstances," he said.
The report did not elaborate.
While energy-hungry South Korea does rely on the Emirates for just under 10% of its crude oil supply, Seoul has struck a series of deals far beyond oil with this nation of seven sheikhdoms that closely tie the nation to Abu Dhabi. South Korea's trade with the UAE is into the billions of dollars worth of cars, material and other goods.
The importance of the trip for Seoul could be seen in the South Korean business leaders attending a camel meat luncheon at the palace. They included Hyundai Motor Group Chairman Euisun Chung, Samsung Electronics Executive Chairman Lee Jae-yong and SK Group Chairman Chey Tae-won.
Before Yoon's trip, officials described the visit as seeking to solidify the ties between the two countries.
"This visit will strengthen strategic cooperation with our brother country UAE in the four core cooperative sectors of nuclear power, energy, investment and defense," said Kim Sung-han, director of national security in Yoon's government.
On Saturday, Yonhap quoted an anonymous presidency official as also saying that an arms deal was planned.
"The atmosphere is extremely ripe for security or military cooperation between South Korea and the UAE involving the arms industry," the official said, according to Yonhap.
Already, South Korea reached a $3.5 billion deal with the UAE in 2022 to sell the M-SAM, an advanced air defense system designed to intercept missiles at altitudes below 40 kilometers (25 miles). Emirati officials have grown increasingly concerned about protecting their airspace after being targeted in long-range drone attacks by Yemen's Iran-backed Houthi rebels.
While U.S. forces fired Patriot missiles for the first time in combat since the 2003 Iraq invasion to defend Abu Dhabi during those attacks, the Emiratis have been hedging their reliance on American military support since America's chaotic withdrawal from Afghanistan.
But South Korea's biggest project remains the Barakah nuclear power plant, Seoul's first attempt to build atomic reactors abroad. The $20 billion facility, which ultimately will have four reactors, is in the UAE's western deserts near the Saudi border and one day will account for nearly a quarter of all of the Emirates' power needs.
It's also key to the UAE's plans to go carbon neutral by 2050, a pledge that takes on special importance as it prepares to host the United Nations COP28 climate negotiations beginning in November in Dubai.
Yoon likely wants to assure the Emiratis that South Korea wants to be in the running for lucrative maintenance contracts after his predecessor, President Moon Jae-in, had said Seoul wanted to move away from nuclear energy.
"The energy policy took on a 180 degree shift" after the election, said Park, the analyst. "So Korea is now for nuclear and I guess that the Yoon administration wants to make sure to the Emiratis that there is no concern regarding policy shifts or anything like that."
Then there's also the nuclear tensions with North Korea. Yoon, a former top prosecutor, became president in May on a promise to take a harder line on Pyongyang. Up until recent years, hundreds of North Korean laborers were believed to be working in the UAE and elsewhere in the Gulf Arab states, offering a cash stream to Pyongyang as it seeks to evade mounting sanctions over its nuclear program.
However, a crackdown has seen their numbers drastically drop as nations stopped renewing their visas. A recent U.N. expert report noted that high-end camera gear bought in the UAE ended up in North Korea, while another mentioned a North Korean national living in Dubai obtaining foreign currency through an online app by lying about his nationality.
The U.N. also said as recently as 2021 it had information about North Korean diplomats in Iran flying on Dubai-based long-haul carrier Emirates smuggling gold with them.
Add TheJapanNews to your Google News feed.