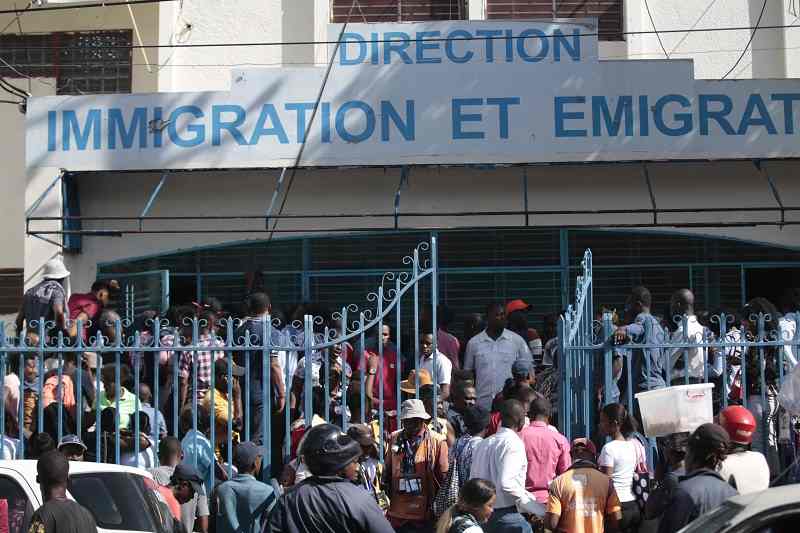 13:07 JST, January 11, 2023
PORT-AU-PRINCE, Haiti (AP) — Haiti awoke Tuesday stripped of its last democratically elected institution — this time, its Senate — an alarming development that solidifies what some call a de facto dictatorship nominally in charge of a country wracked by gang violence.
While only 10 senators had been symbolically representing the nation's 11 million people in recent years because Haiti had failed to hold legislative elections since October 2019, their terms expired overnight, leaving Haiti without a single lawmaker in its House or Senate amid a spiraling political crisis. Organized crime groups have been running virtually unchecked since the July 2021 assassination of President Jovenel Moïse, who himself had been ruling by decree.
"It's a very grim situation," said Alex Dupuy, a Haitian-born sociologist at Wesleyan University, "one of the worst crises that Haiti has had since the Duvalier dictatorship."
The bloody regime of Jean-Claude "Baby Doc" Duvalier, who fled the country in 1986, marked the last time Haiti lacked elected officials.
The Parliament building in downtown Port-au-Prince remained deserted on Tuesday, with only security guards at the gate. Similar scenes were evident outside Haiti's non-functioning Supreme Court and electoral commission.
Meanwhile, Prime Minister Ariel Henry, who assumed leadership of Haiti with the backing of the international community after Moïse was killed, has failed to hold general elections despite multiple pledges over the last year and a half to do so. His latest promise, on Jan. 1, was that the Supreme Court would be restored and a provisional electoral council tasked with setting a reasonable date for elections.
But Henry offered no timeline, even as he asked Haitians to trust each other and "take me at my word when I speak of my government's desire to do everything possible to reconstitute our democratic institutions."
"There are no powers to check his decisions," Dupuy said. "As long as that situation continues, Henry is going to be behaving like a dictator."
A spokesman for Henry's office declined to comment.
The U.N. has warned that security in Haiti needs to improve before elections are held. Reported kidnappings soared to more than 1,200 last year, double what was reported the previous year, according to the U.N., and at least 280 killings were reported in November alone, the highest monthly record.
Briefing the U.N. Security Council in December, Helen La Lime, who was appointed Haiti's U.N. special envoy in October 2019, described what she called "alarmingly high levels of gang violence" in Haiti, which has fewer than 9,000 active police officers nationwide.
The gangs increasingly rely on kidnappings to fund their operations, with experts estimating that they control about 60% of Port-au-Prince.
"We are scared to step out of our houses," said Daniel Jean, 25, who sells phone chargers and other equipment in the capital. "We are cornered: kidnapping, extortions. Gangs are killing people because we don't have ransom."
Haitians have lost all trust in the democratic process, Jean said, adding that he won't vote if the same politicians and parties appear on the ballot: "They have more influence than the gangs. They control all the gangs.
"This is why the country is not going to move forward until the international community … comes in to help," he said.
Henry requested the immediate deployment of foreign troops in October after the most powerful gang seized control of a key fuel terminal, cutting off supplies to hospitals, schools, businesses and homes.
But the United States and Canada, among others, have responded only by implementing sanctions, not sending troops.
"Haiti needs stability," decried Andrea Marcele, 29, who sells yams, lemons, carrots and other goods in the streets of the capital after migrating from the northern region of Grand-Anse.
"The country has no president … no elected officials," she said. "Everybody is hungry for power. We are paying the consequences."
As the situation worsens, Haitians increasingly flee by plane or aboard rickety boats, desperately risking their lives to reach some safety and economic security. Many aim for the Bahamas, or Florida. President Joe Biden's administration intercepted tens of thousands last year, sending them back to Haiti.
Rodelie Kator, 49, sells rice, beans and other goods, hoping to send her 18-year-old son to Chile or Brazil, popular destination points for Haitians who then try to reach Mexico and cross into the United States.
"I'm hoping for a better life for my son," she said. "I don't want to witness him being killed."
Kator said she wishes he could stay in Haiti because she has seen in the news "what my brothers and sisters have to go through to get to Mexico. … being treated like animals."
But Haiti holds no promise for her son, even as Biden announced last week that his administration would immediately turn away Haitians and other migrants at the U.S.-Mexico border.
Haitian economist Enomy Germain tried to use this moment, with zero elected officials in Haiti, to encourage his countrymen.
"This date will have marked the beginning of the end of a political class without vision — without regard for the common good and without balance — if you good people get involved," he tweeted. "Know that tomorrow will not be better without you."
But even if elections were to be held, many Haitians wonder whether any candidate will be worthy of their support as they fear for their life.
"It feels like we're heading toward a civil war," said Marcele. "You're walking with a coffin under your arm."
Add TheJapanNews to your Google News feed.