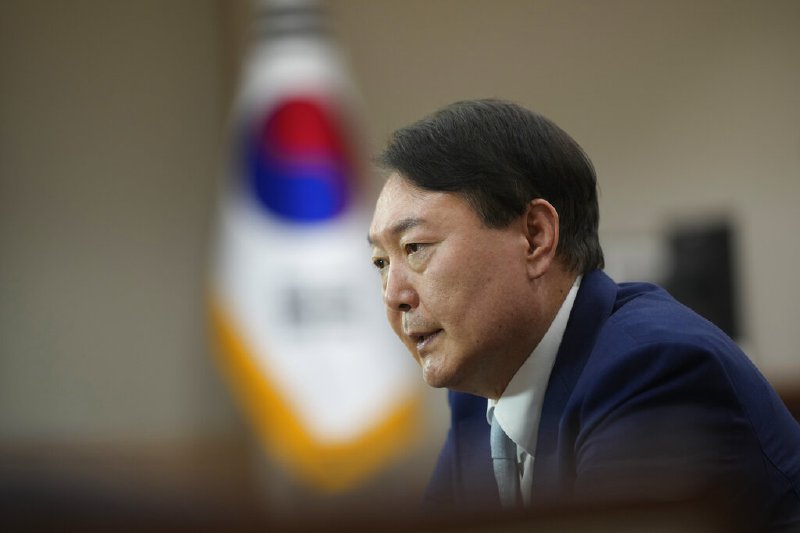 11:25 JST, January 11, 2023
SEOUL, South Korea (AP) — North Korea's spike in missile tests, growing nuclear ambitions and other provocative acts pose a "serious threat" that could lead to a dangerous miscalculation and spark a wider conflict, South Korean President Yoon Suk Yeol said Tuesday.
Speaking with The Associated Press at the presidential office in Seoul, the conservative leader reiterated his call for closer security cooperation with the United States and Japan to counter the "dangerous situation" being created by North Korea as he played down the prospect for direct negotiations like those pursued by his liberal predecessor.
"We've seen a miscalculation leading to serious wars many times in history," Yoon said, adding that the North's advancing nuclear arsenal poses a direct threat to the U.S. mainland as well as South Korea and nearby Japan.
Much of the nearly hourlong interview focused on North Korea, which carried out a record number of missile tests last year and just weeks ago violated South Korean airspace by flying drones across the border for the first time in five years.
That incursion prompted the South to fire warning shots, scramble jets and fly its own surveillance equipment over the border.
Days later, North Korean leader Kim Jong Un began the new year by ordering the "exponential" expansion of his nuclear arsenal and the development of a more powerful intercontinental ballistic missile.
Some experts believe the testing spree is largely meant to modernize an arsenal that North Korea would ultimately want to use as leverage in future dealings with the United States to wrest sanctions relief and other concessions.
"North Korea could have its own internal reasons, but there's no way for our country or any other country to know exactly why they are conducting such provocations," Yoon said.
"These unlawful North Korean provocations can only result in the strengthening of (South Korea's) security response capabilities and a further strengthening of the security cooperation between South Korea, the United States and Japan," he said.
Yoon, a former top prosecutor, took office in May vowing to take a tougher stance on North Korea. He accused his liberal predecessor, Moon Jae-in, of being "submissive" to North Korea.
Moon, who met Kim Jong Un three times, was credited with arranging now-dormant nuclear diplomacy between Pyongyang and Washington and easing fears of war. But he invited criticism that his dovish engagement policy eventually helped Kim Jong Un buy time and perfect weapons technologies in the face of U.N. sanctions.
In a recent newspaper interview, Yoon cited discussions with the U.S. about joint planning potentially involving U.S. nuclear assets.
Asked for further clarity Tuesday, he said the proposed plans include "tabletop exercises, computer simulations and drills … on delivery means for nuclear weapons."
"The discussions are under way over the so-called joint planning and joint execution, and I think it's right for South Korea and the United States to cooperate because both of us are exposed to the North Korean nuclear threat," Yoon said.
While Yoon didn't reveal further details, some observers have said he likely wants to stress efforts to boost the viability of the U.S. security commitment to protect its Asian ally from North Korea.
Despite the heightened animosities, Yoon maintained he won't pursue talks for the sake of talks with North Korea, saying past inter-Korean discussions were often politically exploited by leaders in both countries and failed to eliminate the North's nuclear program.
Yoon also accused North Korea of cutting off all communication channels with South Korea. Pointing at a white telephone on a desk that he said is meant for a direct hotline communications channel with the North Korean leader, Yoon said that "The North is obstructing this line and isn't coming to dialogue."
Yoon also voiced his support for Ukraine in its fight to repel Russia's invasion, which he called "unlawful and illegitimate."
Ukrainian President Volodymyr Zelenskyy has urged South Korea to provide arms and other military equipment. The Asian country, a growing arms exporter with a well-equipped, U.S.-backed military, has provided humanitarian aid and other support while joining U.S.-led sanctions against Moscow. But it has stopped short of providing arms directly.
Yoon said Korean laws, as well as domestic public opinion, make it difficult for his government to arm Ukraine while it is at war.
An American official said in November that the U.S. agreed to buy 100,000 artillery rounds from South Korean manufacturers to provide to Ukraine. South Korea maintains that the rounds it was selling were meant to backfill depleted U.S. stocks.
Yoon expressed openness to similar deals in the future, noting the two allies regularly buy military equipment from one another.
"If the conflict (in Ukraine) isn't resolved swiftly, it could send a message to North Korea that the international community would fail to respond to an act of invasion with the appropriate sanctions or punishment, and that message would further encourage the North to conduct provocations."
On the domestic front, Yoon appeared to still be shaken by the crowd crush tragedy that killed nearly 160 Halloween revelers in late October in Seoul's Itaewon neighborhood.
He described rushing to his office, not far from the neighborhood, soon after hearing the first reports. He said he initially did not know how many people had been killed and only later came to realize the scale of the disaster.
"It's still hard for me to fully understand how such a huge crowd accident can happen in a country with a (developed) system like ours because of a failure in crowd management, " he said.
Authorities ordered a sweeping investigation, but no senior officials have lost their jobs so far despite calls by families of the victims and members of the opposition for greater accountability.
Yoon said it was important to conduct a thorough investigation before assigning blame.
"For victims and relatives, the results of the investigation could provide a base to establish the government's responsibility, so I instructed (officials) to thoroughly investigate the government's responsibility, even if that means taking a lot of responsibility," Yoon said.
Add TheJapanNews to your Google News feed.