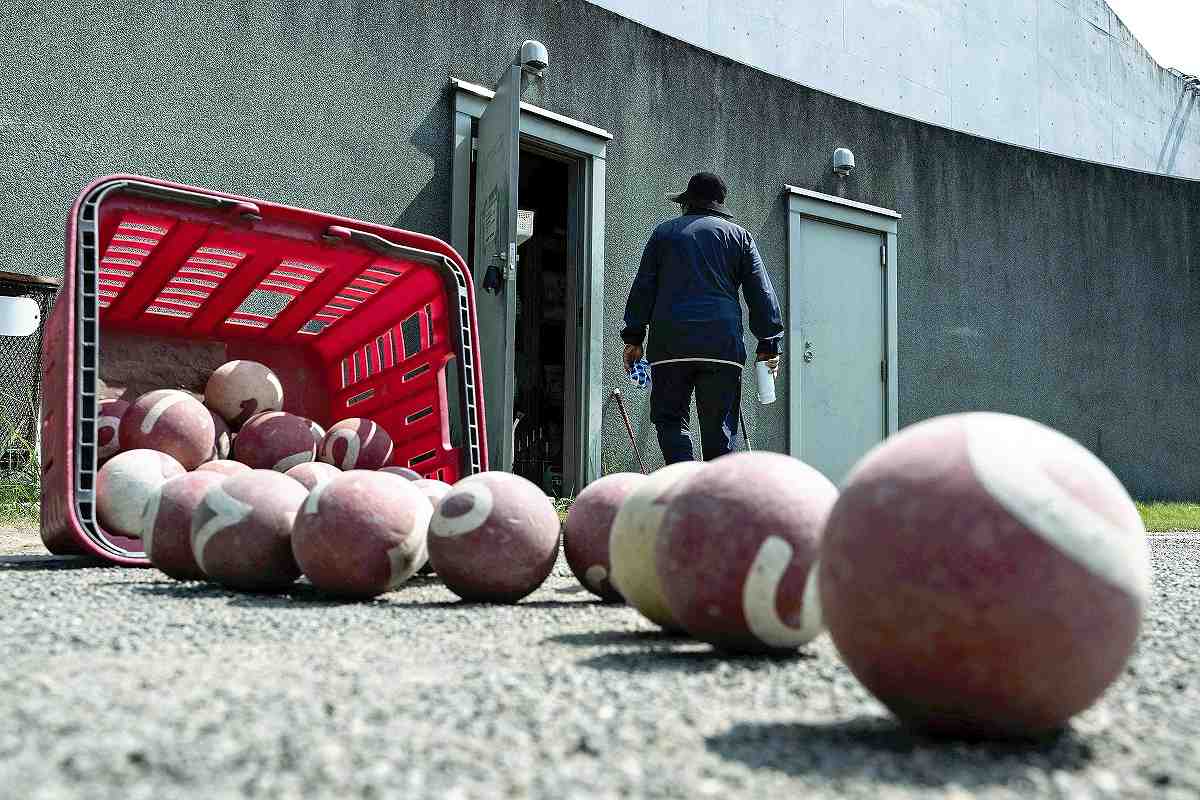 14:33 JST, August 23, 2023
TOKYO (AFP-Jiji) — Under a scorching sun in Tokyo, octogenarian Katsuko Morita swings her mallet and whacks a ball through a small "gate." The diehard gateballer plays almost every day, even when the mercury soars.
"Some of my friends in my generation tell me I must be crazy to go out playing gateball in this heat," Morita, 81, told AFP at a practice session of the croquet-inspired game.
"When I'm playing the game, the heat doesn't bother me," she said, her face shaded by a wide-brimmed hat.
Near-record temperatures across Japan this summer have sparked frequent heatstroke alerts and warnings for people, particularly the elderly, to use air conditioners and stay cool.
Japan has the second-oldest population in the world after the tiny state of Monaco, and official data show the elderly made up more than 80% of heatstroke deaths in the past five years.
Old people are among the most vulnerable during heat waves because they are less able to control their body temperature.
While gateball requires little physical exertion, players have to spend time in the punishing sun as two opposing teams carefully hit balls through gates.
Morita and her fellow gateballers take precautions, such as standing in the shade when they can, wearing protective clothing, staying hydrated and using ice packs to cool their bodies.
This year, training was moved to the mornings to avoid the dangerously hot afternoon temperatures. Play is stopped if the mercury reaches 35 C.
Eat, sleep, gateball
Gateball gained traction in Japan after World War II. It was seen as a cheap pastime for children when most families were struggling to find food and other necessities.
It remains hugely popular, particularly among the elderly. Around 90% of gateballers in Tokyo are aged 70 or older, said Toshiaki Koizumi of Tokyo Gateball Union.
Several times a week, Morita and other players meet at an outdoor gateball court in Suginami Ward, Tokyo, to train for official tournaments.
It is a chance to socialize, but they take the training seriously as no one likes to lose.
Wearing hats and long sleeves to avoid sunburn, the players walk around the gravel court with surprising energy in the sizzling heat, taking turns hitting the ball through gates.
Occasionally, someone even shouts "hit stronger!" or "think harder!" when a player botches a shot.
Some players put ice packs under their hats or around their necks while at least one had invested in a vest with two fans sewn into the sides.
"The heat this year is insane. I've never experienced anything like this," said Makoto Kabe, 78, as an AFP thermometer showed the ground temperature at around 44 C.
Kabe said he used to deride gateball as an old people's game, but admitted he was now "hooked" on the strategic play.
"If I just kept myself to an air-conditioned room watching TV all day, I would go senile," Kabe said, laughing.
"The game helps keep your brain active."
After training, the players cool down by eating ice pops in the shade of nearby trees, the intensity of their rivalry melting away as they chat and laugh.
"I'm coming here to expose myself to the outside world. This is also the place where I get to see many of my friends," said Michiko Aoki, who prides herself on looking younger than her 81 years.
"When I lose in a game, I sometimes can't even sleep," she said.
"Eating, sleeping and gateball are the three biggest parts of my life now."
Add TheJapanNews to your Google News feed.