Nara Pref. Aims To Dispel 'Day Trip' Label with More Guest Rooms, Luxury Hotels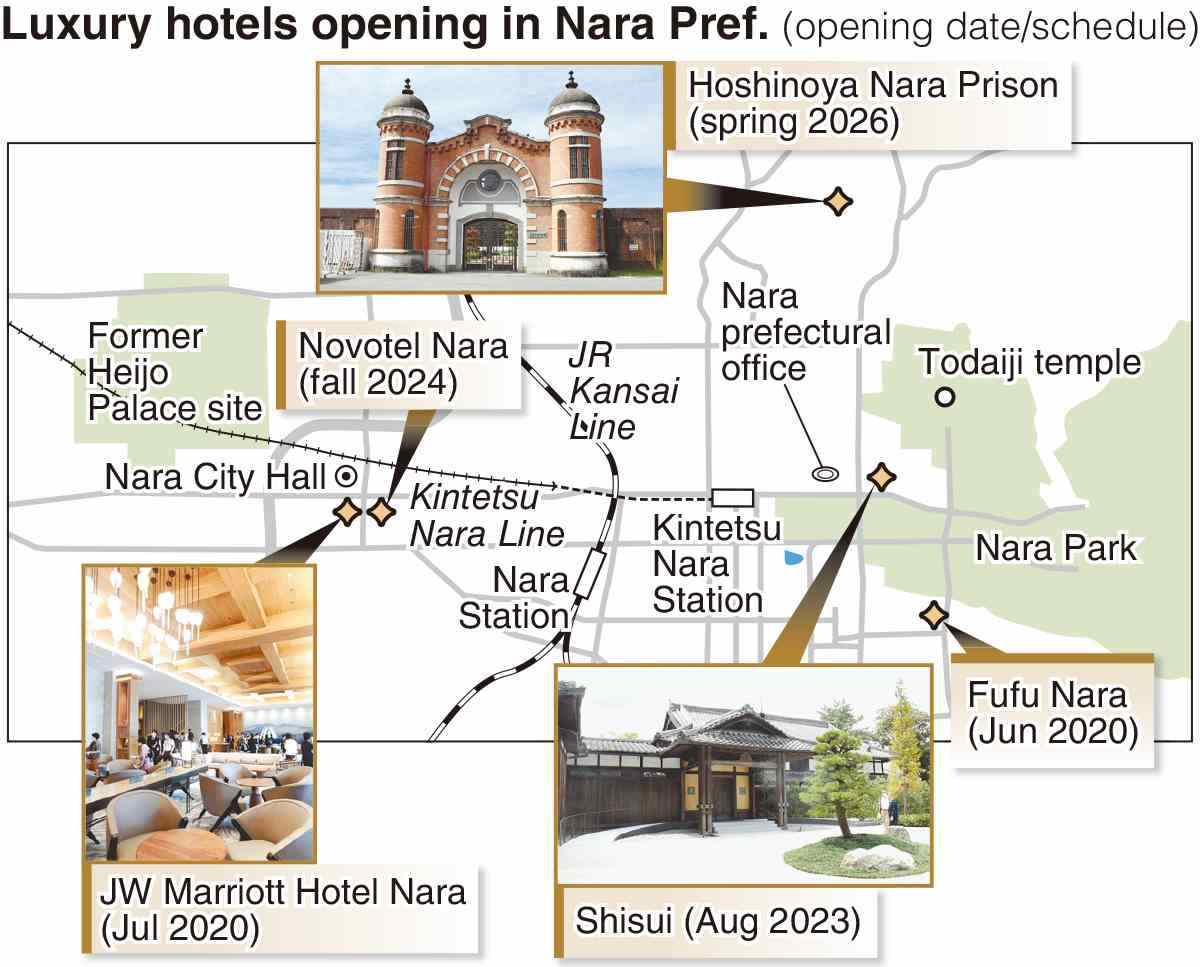 7:00 JST, November 10, 2023
NARA — Nara Prefecture is aiming to dispel its long-standing characterization as a day trip destination by quickly opening hotels and inns.
The prefecture had the lowest number of guest rooms in Japan for many years despite being home to popular tourist spots including Todaiji temple, a World Heritage site.
Some of the new facilities are located in unique buildings such the governor's former official residence and a former prison designated as a national cultural property.
Nara Park in Nara City was filled with tourists on Oct. 25. A 31-year-old company employee traveled from Osaka by train during her visit to Japan. The Londoner wanted to enjoy the traditional scenery, but was going to return to Osaka in the evening as she had the impression that there are not many restaurants in the area.
According to Nara Prefecture and others, the prefecture had the least number of guest rooms among Japan's 47 prefectures from fiscal 2008, when statistics were first kept, until the ranking slightly increased to 45th in fiscal 2019. It ranked 44th in fiscal 2021 with 10,232 rooms.
In 2021, the prefecture set a target of increasing the number to 12,000 by fiscal 2025. It established a subsidy system to provide a maximum of ¥200 million for hotels and inns. Five applications have been approved.
In contrast, Osaka Prefecture in fiscal 2021 ranked third with 119,230 guest rooms, while Kyoto Prefecture ranked 11th with 49,375 rooms.
Most tourists visit Nara on a day trip and stay in Osaka or Kyoto, which are within an hour's train ride. In 2019, 45.02 million tourists visited Nara Prefecture, but those who stayed overnight numbered only 2.73 million.
The prefecture believes that providing high-quality service is the key to attracting foreign visitors, whose numbers have been increasing after the COVID-19 pandemic.
In June 2020, the Fufu Nara hotel opened near Nara Park. All 30 guest rooms have an open-air bath. In July that year, JW Marriott Hotel Nara, which has 158 rooms, opened in front of Nara City Hall, bringing the company's top-class brand name to the city.
The Shisui hotel of the Luxury Collection Hotel brand opened in Nara Park on Aug. 29. The 43-room-hotel was previously the Nara governor's official residence, and its drawing room was remodeled to be the hotel's dining room. The top suite for up to three guests costs ¥820,000 for a night's stay. All of the rooms are priced at over ¥100,000 per night. The hotel is aiming to increase the percentage of foreign guests to 50%.
During the hotel's opening ceremony, Nara Gov. Makoto Yamashita expressed hope that it will prompt more tourists to stay overnight in the prefecture.
Hoshino Resorts Inc. will open a 48-room hotel in the spring of 2026. The company renovated the former Nara Prison building, which is an important cultural property built in the Meiji era (1868-1912), and named it Hoshinoya Nara Prison. Redecorated jail cells will be used as guest rooms.
"We want to offer more 'nighttime tourism attractions' and develop a positive cycle," said Hoshino Resorts CEO Yoshiharu Hoshino.
Prof. Naoki Arai, a specialist in regional policy at Nara Prefectural University, said, "Nara Prefecture's potential cannot be appropriately utilized by simply increasing the number of lodging facilities. It's important to hold events featuring its unique traditional culture and provide hands-on experiences by utilizing local specialties."
Add TheJapanNews to your Google News feed.