Korea Craze in Japan Unlikely to End Anytime Soon; Shin-Okubo is a Hub of Korean Pop Culture, Food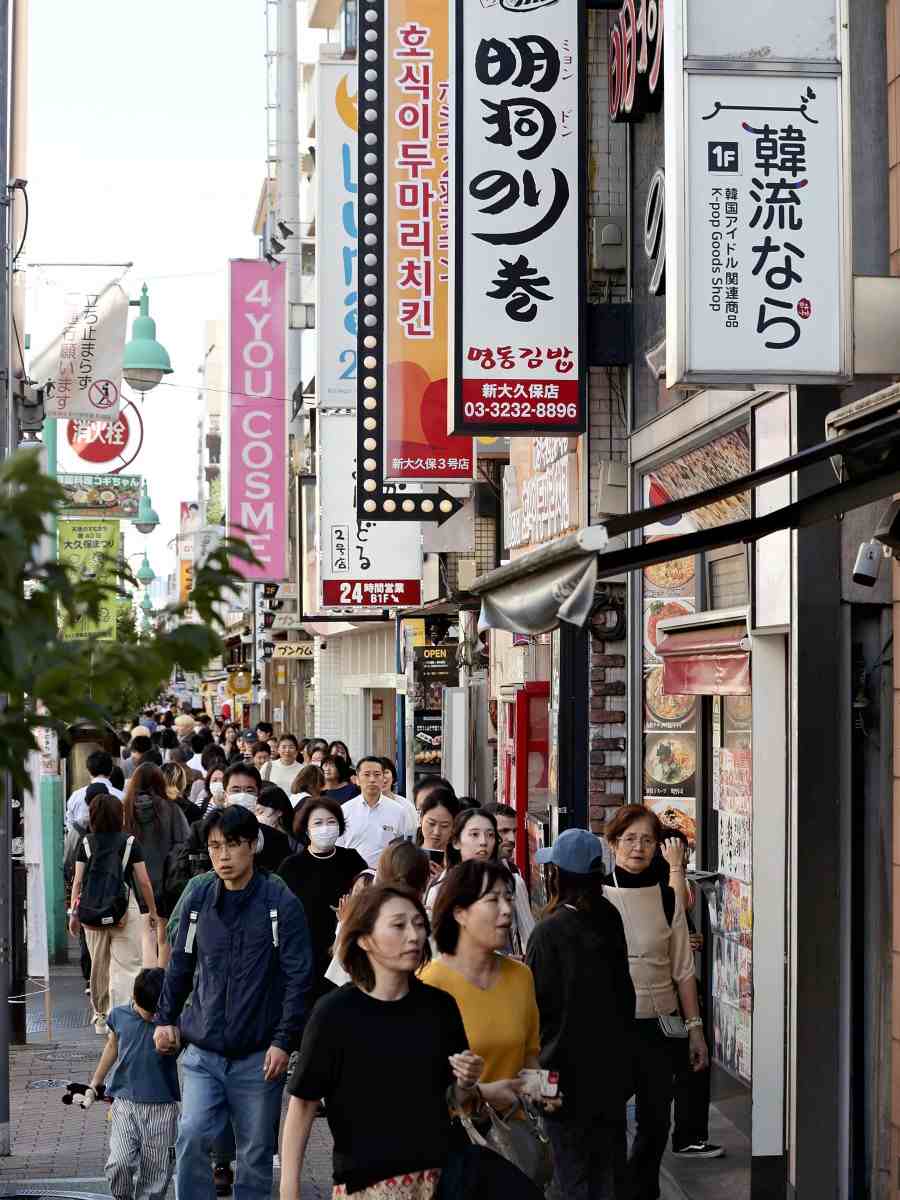 21:00 JST, November 6, 2023
Two decades after the start of Japan's Korea craze, Shin-Okubo in Tokyo, an area with many Korean restaurants and shops, continues to attract fans of Korean pop culture and food, particularly young people.
The other day, my 17-year-old daughter asked me for an allowance, saying she wanted to go to Shin-Okubo with her friends. When I interviewed a 16-year-old up-and-coming actress, who came to Tokyo from a regional area, she told me that her dream was to go to an all-you-can-eat samgyeopsal restaurant — sliced pork belly cooked on a tabletop grill — in Shin-Okubo.
Having heard the name Shin-Okubo from teenage girls one after another, I began to wonder why young people are drawn to this town. To find out the secret, I decided to visit.
Packed with women
The area around JR Shin-Okubo Station in Shinjuku Ward is known as Tokyo's Koreatown because it is filled with signboards written in Korean characters and Korean food stalls. The area in front of the station was crowded with people even though it was the middle of a weekday. It should be noted that most of them were women, the majority seemingly in their teens and 20s and a few middle-aged and older women.
"Until the 1990s, it wasn't the kind of place that would attract young girls," said Setsuko Ito, 71, an advisor to the association for promoting the shopping district in Shin-Okubo. "We even painted pictures of angels under the railway overpass at the station to improve the image of the town."
The turning point came around 2003 with the so-called Winter Sonata boom, also called the first Korean boom, which was triggered with the broadcasting of the drama of the same name. The number of South Korea-related stores increased dramatically, and middle-aged and older women flocked to the area.
Ito said it was only much later that the increase in young people became noticeable, in the past decade or so, probably from the start of the third Korean boom driven by the popular K-pop boy band BTS. Stores selling South Korean idol goods and cosmetics have sprung up one after another, and new and different ways of enjoying the area, such as eating Korean dishes at food stalls, have taken root.
Stores opening in back alleys
"What's in vogue now is 'kape' [the Korean word for cafe]. Cafes are popping up one after another in locations where houses used to stand," said Oh Young-seok, 71, honorary chairperson of the Shinjuku Korean Merchants Association.
The association has been conducting a survey of South Korea-related restaurants and shops in Shin-Okubo. Last year's survey confirmed that 634 stores were operating in the area, the largest number ever. Many South Korea-related stores stand along the main streets of Okubo-dori and Shokuan-dori. In recent years, however, many stores have also opened in the back alleys between the two main streets. In particular, the number of cafes has been dramatically increasing and now number around 40 to 50, according to the association.
Because I had been told that chukmi — stir-fried webfoot octopus — is in fashion, I visited a popular restaurant serving the dish. Sweet and spicy stir-fried octopus is wrapped in sesame leaves and thinly sliced radish. According to the restaurant manager, 37, the restaurant's signature dish was originally cheese dakgalbi — spicy stir-fried chicken with cheese. The restaurant started to focus on chukmi from 2021 and even changed the shop's name.
"To survive here, it's important to grasp what's in fashion," he said. This flexibility may be something we should learn from.
Photogenic cafe
I also interviewed Yuki Akimoto, a second-year student at J.F. Oberlin University and an active social media influencer, at a cafe which is famous for being photogenic. Although it is located on the second floor of a building in a back alley, there was a long queue in front of the shop. There was a notice for customers that read: "Please order one cake and drink each and limit your stay to 60 minutes when it is crowded." Akimoto told me that other cafes have similar rules. They are apparently pretty strict when it comes to business.
When we finally entered the cafe, what surprised me was the table, which had no top board and was covered with water. As I was wondering how they were going to put the food and drink on the table, I saw a cake on a stone plate thicker than the depth of the water brought to me. I was convinced that it was photogenic.
"This town has many tricks that would please young people," said Akimoto, 21.
She said that she visits such cafes only once in a while. "Because you have to spend more than ¥1,000 only for sweets and a drink," she said. "I suppose junior high and high school students come to such cafes as a 'special outing' and enjoy posting photos on social media."
The sense of uniqueness and the emphasis on being photogenic made me think that this town may be somewhat similar to an amusement park. When I looked around the café, pondering this, the line at the entrance had grown even longer than before.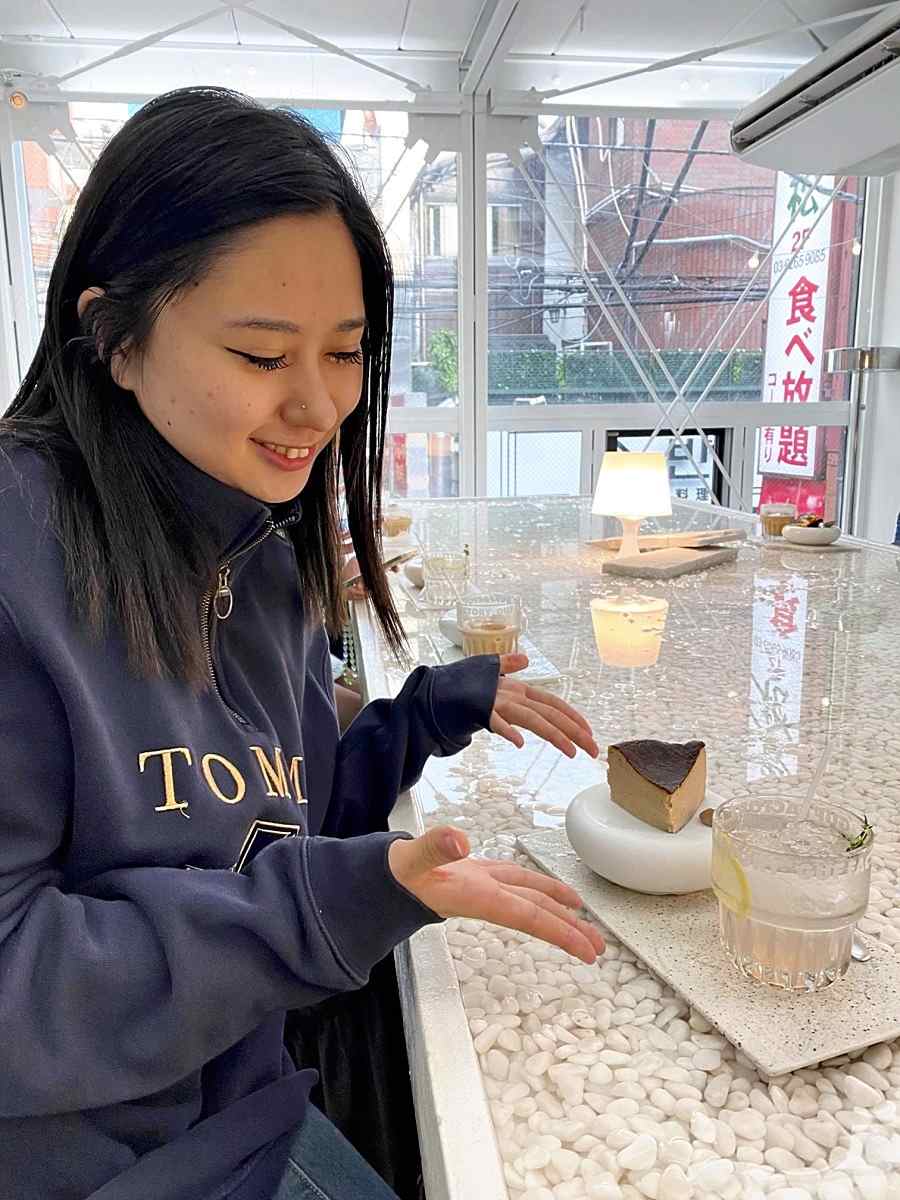 Add TheJapanNews to your Google News feed.