Statue of Ancient Prince as Child Draped with New Winter Kimono in Nara Pref.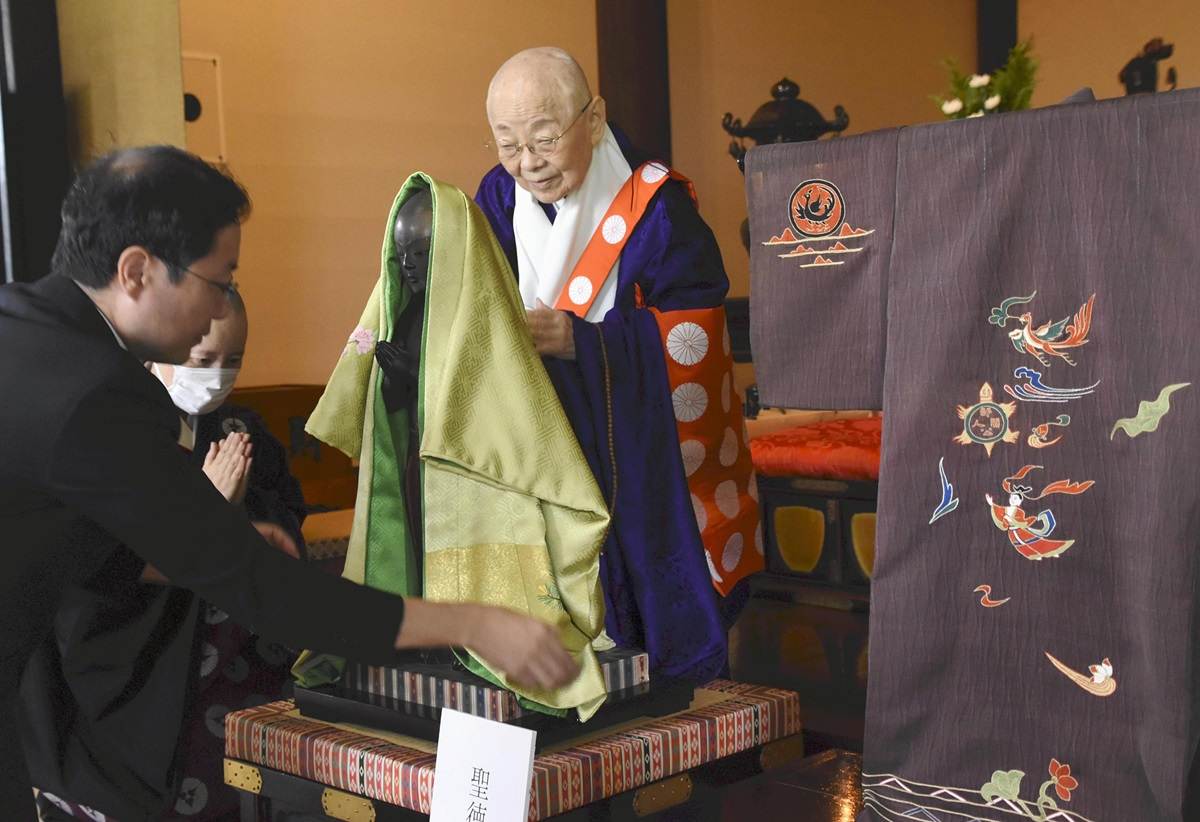 13:04 JST, November 3, 2023
NARA — The statue of a 2-year-old Prince Shotoku, a regent and advocate for Buddhism who lived more than 1,300 years ago, had its kimono changed from a summer to a winter piece at Chuguji temple's main hall last month, in Ikaruga, Nara Prefecture.
The new winter outfit for the roughly 70-centimeter-tall statue, gifted to the temple on the day, is light green with embroidered flowers. The statue went on display in the hall and can be viewed until the end of May next year. Visitors must pay an entrance fee to go inside the hall.
Kyo-nui embroidery master Toshiaki Nagakusa, 75, spent four months creating the robe, called Tokashoyomon Shishu Furisode (Long-sleeved kimono with embroidered peach blossoms and pine needles). The design is based on the legend of something the prince said as a child: "Peach blossoms are beautiful but fleeting. I like pine needles, which stay unchanged for 10,000 years." The kimono features gold powder representing a field, and embroidered peach blossoms, young pine needles, primroses and violets that rise up off the green fabric.
"I made it imagining the lighthearted feeling of spring, hoping that this would please the prince," Nagakusa said.
"It's adorable, and suites you very well," the temple's head priest, Koson Hinonishi, 93, said to the statue.
In June, Nagakusa presented to the temple a purple summer kimono for the statue, recreating patterns on the Tenjukoku Shucho (Embroidery of the land of eternal life), the oldest known embroidered work in the country and a national treasure.
Add TheJapanNews to your Google News feed.