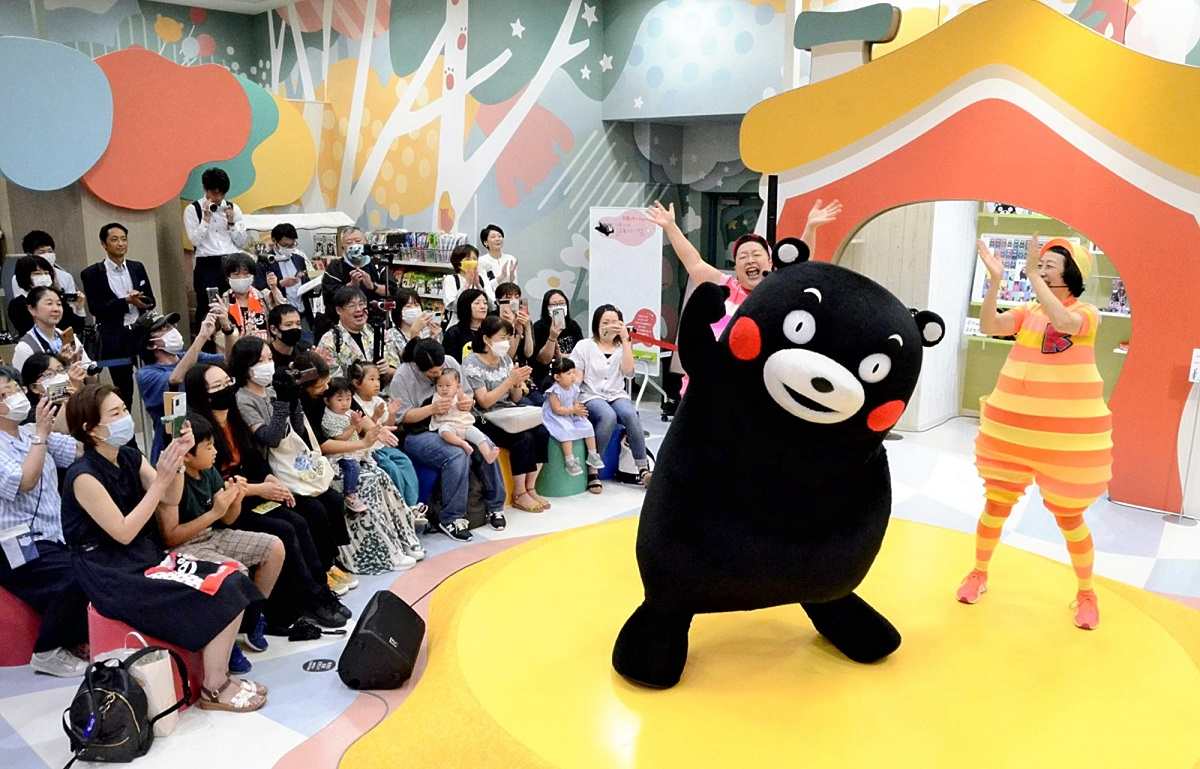 13:52 JST, September 2, 2023
KUMAMOTO — Many establishments keen to promote Kumamon, the widely loved mascot of Kumamoto Prefecture, have popped up or undergone renovations throughout the prefecture over the years, hoping to draw in tourists who want to meet the popular bear.
The prefectural government plans to make the most of the mascot's crowd-drawing power, revitalizing the whole prefecture through a project that envisions the area as "Kumamon Land."
The project's headquarters, Kumamon Square in Kumamoto City's Chuo Ward, was recently renovated and reopened with a ceremony on July 21.
"I have high expectations for the new Kumamon Square to make [Kumamon] fans all over the world happy," said Kumamoto Gov. Ikuo Kabashima at the ceremony.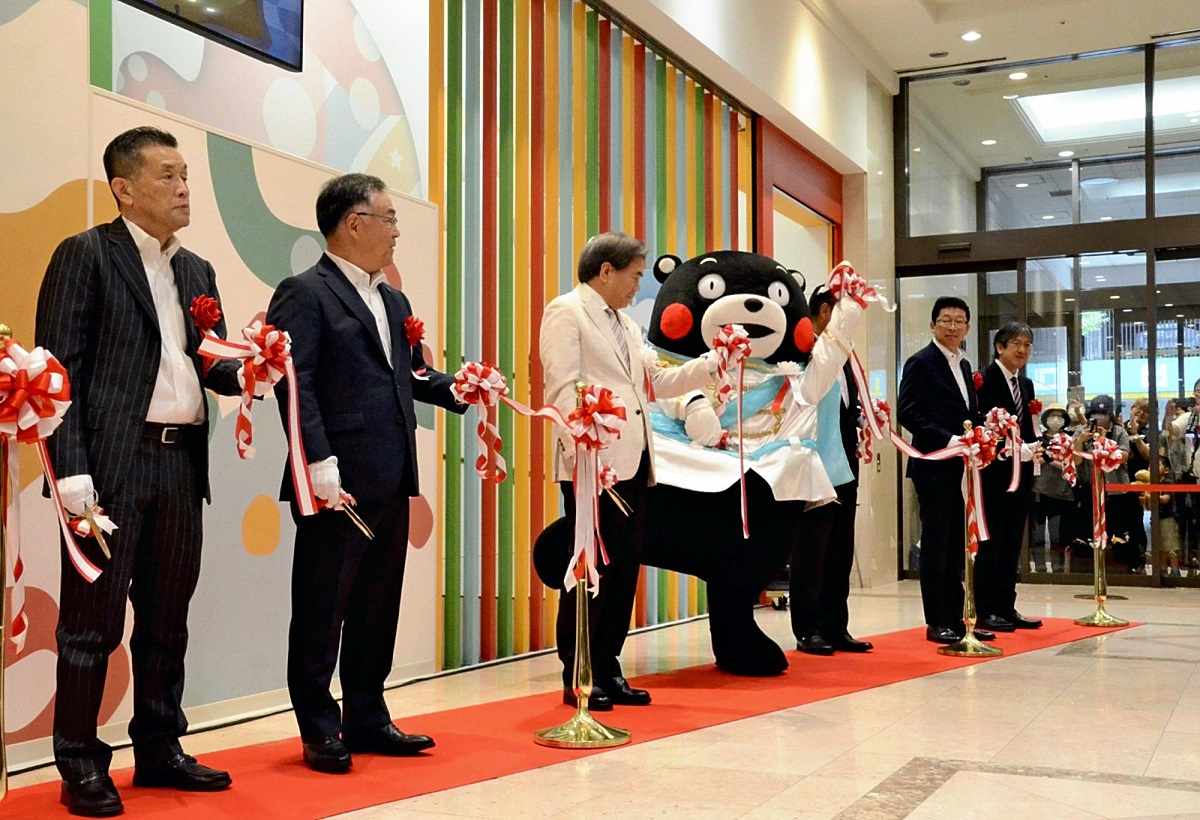 Kumamon Square, which is located on the first floor of Tetoria Kumamoto Building and opened in 2013, is a must-visit site for fans and has already seen more than 3 million visitors. Since Kumamon Square is the headquarters of the Kumamon Land project, the prefecture renovated its interior decor so that it would evoke a place where Kumamon drops by during his busy schedule as a globe-trotter. The venue has a round stage that can be viewed from all directions, a large AR (augmented reality) screen for playing games and other fun activities, and a photo spot where visitors can take pictures with a Kumamon plush toy.

On the day Kumamon Square reopened, the mascot's fans flocked from home and abroad to watch a performance on stage at the venue. A 56-year-old company employee from Kure, Hiroshima Prefecture, expressed delight with the performance.
"I feel like [the stage] is closer and more accessible," he said with a smile.
The idea of the Kumamon Land project was born in fiscal 2022. At the time, the coronavirus pandemic deprived Kumamon of many event appearances and other duties, which led to a decline in the number of visitors to Kumamon-related establishments. The prefectural government has fixed up such establishments, and added a stage at Kumamoto Airport as well as at the large shopping facility Amu Plaza Kumamoto, to increase opportunities for people to meet the popular bear. The prefecture also recently launched the character's official fan club.
Endeavors that link Kumamon with local tourism and agritourism to bring in holidaymakers have begun outside the city of Kumamoto as well.
In Hitoyoshi, a tourism promotion enterprise called Kumamon Town was launched in March.
About 20 restaurants, hotels and other businesses have participated in the enterprise in a bid to bring back tourists, whose numbers fell because of the heavy rainfall disaster in the Kyushu region in 2020. Visitors can join a workshop to paint Kumamon on a hanatebako box, a traditional craft product, or stay in a hotel room that is decorated with Kumamon designs on the furnishings, such as on the edges of the room's tatami mats.
Ayunosato, a hot spring ryokan traditional Japanese inn located in the city center, is offering a plan that includes a discount on Kumamon products. A figure of the character sitting on a chair in the lobby is popular with tourists, too, with many taking pictures of themselves with it.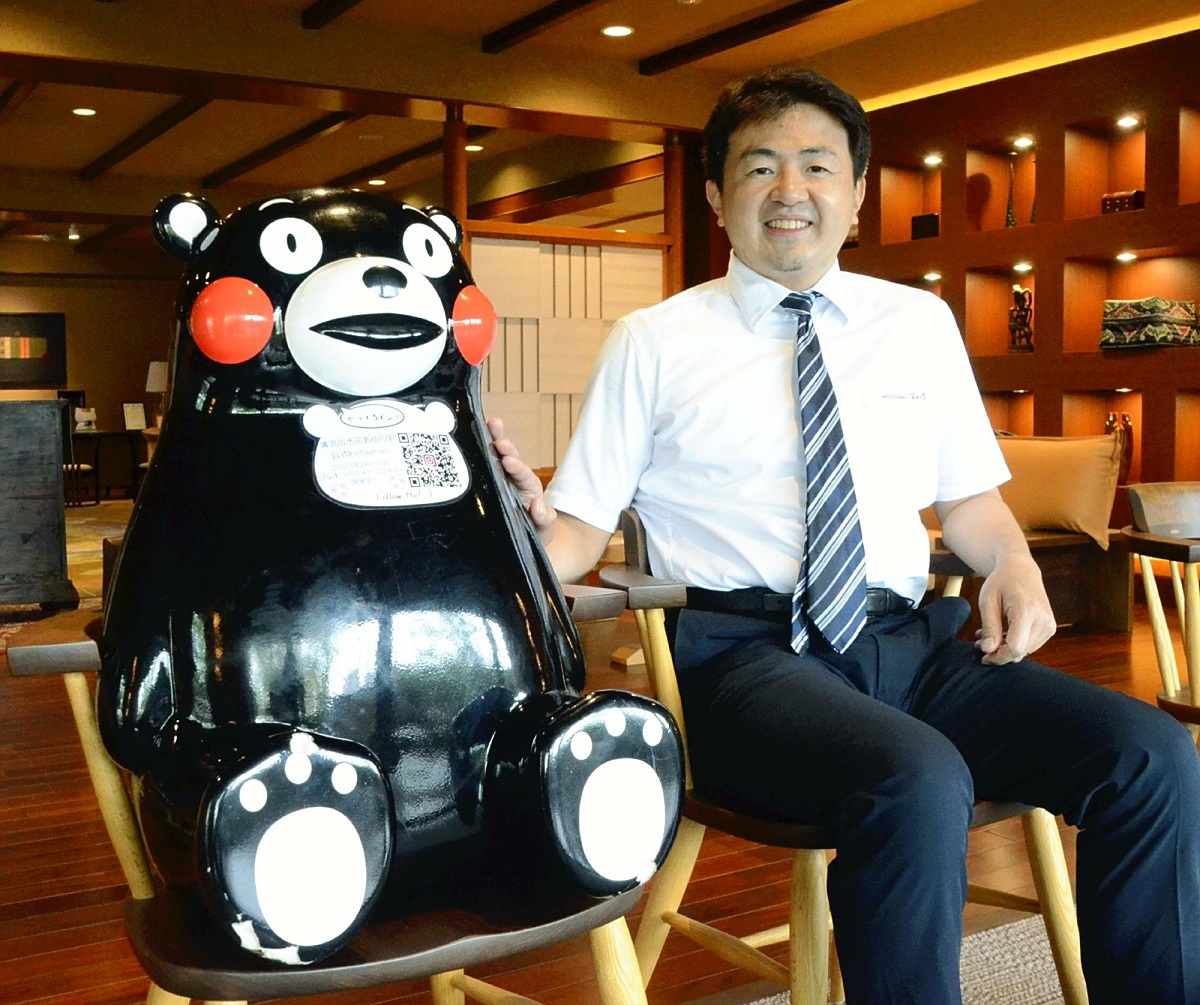 "Tourists have not fully come back. So, we're borrowing Kumamon's power because we want as many people as possible to come to Hitoyoshi," said Mitsuhiro Arimura, 48, the ryokan's president.
The city of Yamaga started Kumamon Local, a project that mounts Kumamon designs at local tourist spots, including the historical Buzen Kaido street.
An enterprise called Kumamon Farm is ongoing in the Minamata-Ashikita area, and envisions the entire area as an agritourism farm. Tourists can take part in harvesting farm products and make various food that looks like Kumamon, such as sausage dishes and pizza, as well as Kumamon-shaped tea bags. The items change from season to season.
The prefectural government is planning to increase the number of municipalities taking part in the Kumamon Land project this fiscal year.
The popularity of Kumamon, who was "born" 13 years ago, is still going strong and has shown no sign of waning. Yet it remains questionable whether the Kumamon Land project is known widely enough. An event was held in Hitoyoshi from March to May, during which participants visited shops to collect ink prints of the rubber stamps. But no one turned up to collect a print at some of the shops that took part in the event.
"To implement the project, we have to make Kumamon even more appealing, and we also need local cooperation," said Shigeto Kamitabira, an employee of the prefectural government's Kumamon group. "We want to work with municipalities and other authorities so that this project will take root in various places in the prefecture."
Add TheJapanNews to your Google News feed.