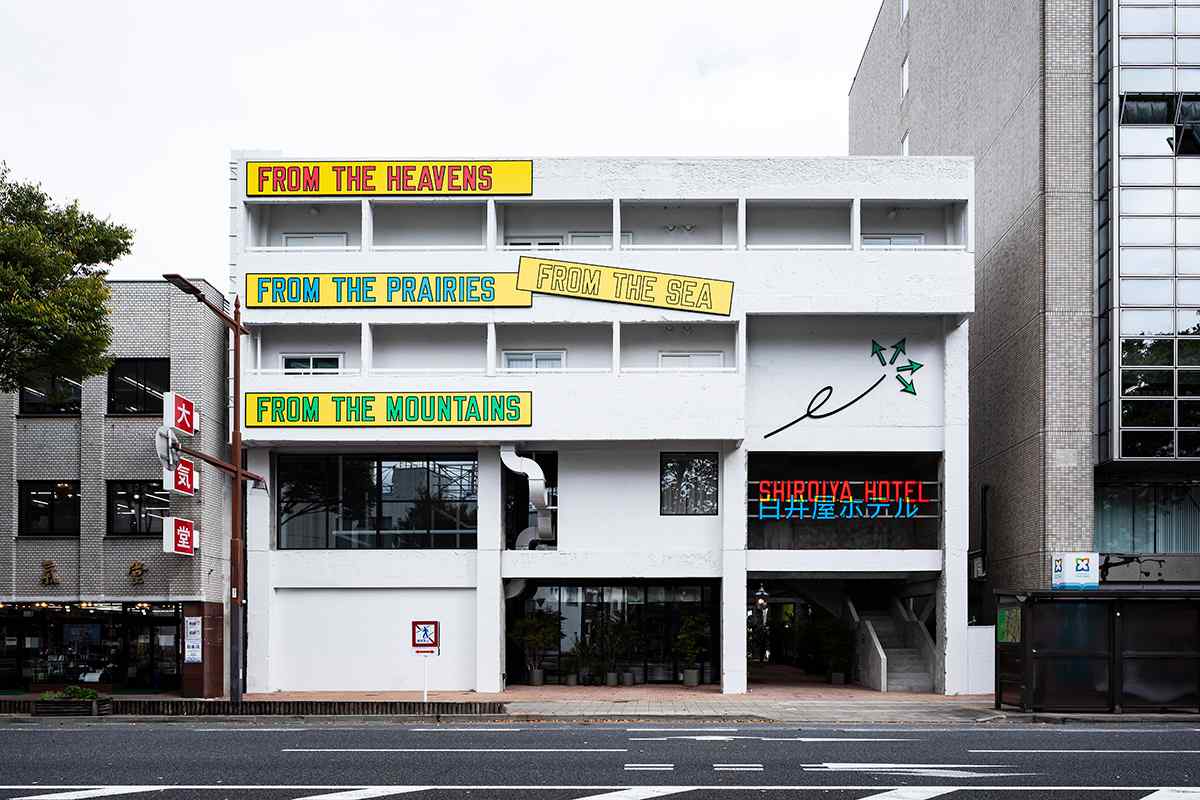 14:03 JST, April 24, 2023
MAEBASHI — Spending a night at a museum might sound like a movie plot to some, but a Maebashi hotel allows its guests to experience something very similar. The Shiroiya Hotel, which was founded during the Edo period (1603-1867), not only spotlights various works but functions as a piece of art itself. Even though the city still might not be a popular destination for many foreign visitors, the Shiroiya Hotel hopes to become the reason why tourists visit the city. The hotel is gaining popularity among art lovers worldwide and is attracting attention as a model for revitalizing regional areas.
Surrounded by art
As I walked through downtown Maebashi, the Shiroiya Hotel, a white building with colorful signs, suddenly came into view. Guests can appreciate art even before entering the building as American contemporary artist Lawrence Weiner created the exterior.
The current building, which was formerly named Hotel Shiroiya when it was built in the 1970s, was renamed Shiroiya Hotel when it opened in 2020 after it was renovated.
Japan News photos / The front desk area of Shiroiya Hotel displays a photograph taken by Japanese artist Hiroshi Sugimoto.

One of the pieces created by Maebashi-based artist Yoshio Shirakawa is seen inside the hotel.

The interior of the hotel was designed to appear maze-like
The structure of the hotel remains the same, however, world-renowned architect Sou Fujimoto, who designed the inside, wanted the hotel itself to have a contemporary art feel.
Argentinean contemporary artist Leandro Erlich's work "Lighting Pipes"

"Lighting Pipes" are lit up in different colors throughout the night.

"Lighting Pipes" are lit up in different colors throughout the night.
The pipes that can be seen throughout the hotel are called "Lighting Pipes," a work created by Argentinean contemporary artist Leandro Erlich, and are lit up at night. Many guests wandered around the hotel late at night to see the lights change colors and to view various artworks in the dim lighting.
A room designed by Leandro Erlich

Courtesy of Shiroiya Hotel / Shinya Kigure / A room designed by British industrial designer Jasper Morrison
All the guest rooms at Shiroiya Hotel have art on display, such as a painting or a sculpture. However, four of the rooms, each designed by a different artist, allow guests to sleep surrounded by art. Not only were the rooms themselves designed by the artists, two of whom are Erlich and British industrial designer Jasper Morrison, but such minute details as tableware and faucets reflect each artist's tastes.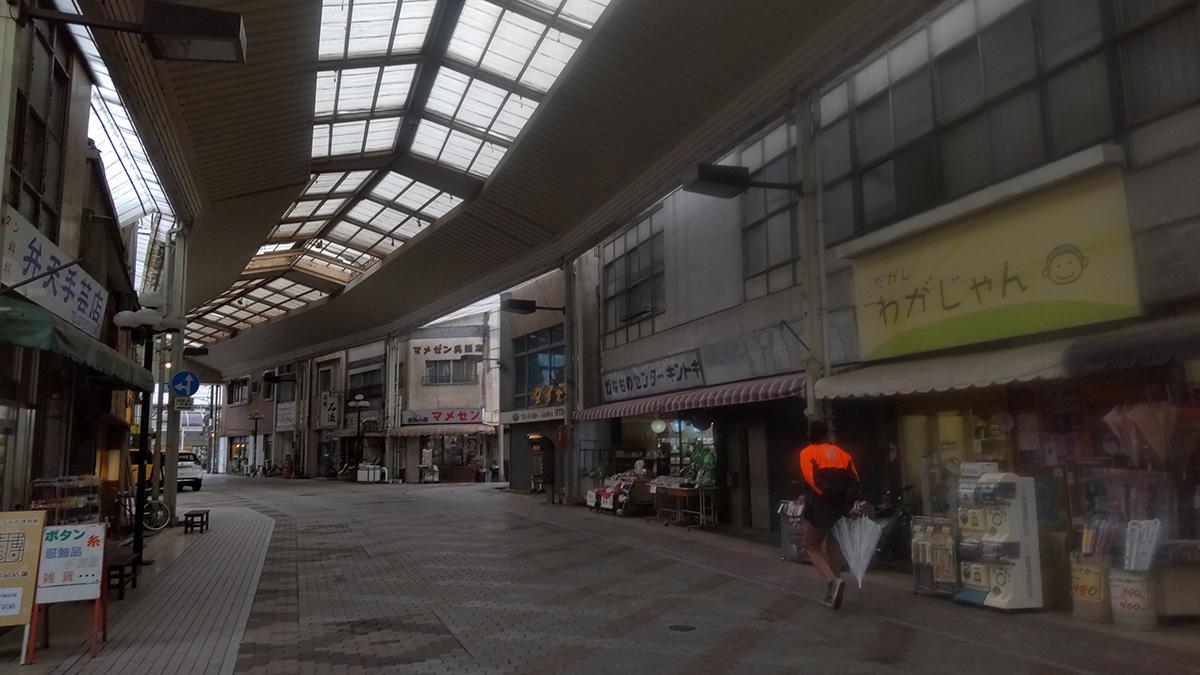 Revitalization
The project to revitalize the once-abandoned Hotel Shiroiya was triggered by the efforts of young people who wanted to make their hometown more vibrant.
Compared to Takasaki, Gunma Prefecture, where the closest Shinkansen bullet train station is located, Maebashi is known as a prefectural capital with very little presence.
Gunma Prefecture's silk industry supported Japan's economic growth during the Meiji era (1868-1912), and Maebashi flourished as the center of that industry. However, the silk industry in Gunma Prefecture rapidly shrank around the 1960s with fewer people wearing kimono and the influx of inexpensive silk products from China and other countries. The industry that drove Maebashi's local economy became obsolete.
The huge shopping street at the center of Maebashi is now deserted and most of the stores are shuttered. Like most regional cities in Japan, local revitalization has been a major issue in Maebashi for a long time.
Hotel Shiroiya, which had been in existence for more than 300 years, was also affected by the decline of the local economy and was forced to close in 2008, after which the building remained intact for about five years.
Kaoru Hashimoto, who has been working on local revitalization projects in Maebashi, wondered if it would be possible to create a hotel that would impress Maebashi visitors, as well as become a symbol for the city.
Hashimoto approached Hitoshi Tanaka, a Maebashi native and founder and CEO of Jins Holdings, which owns glasses giant Jins Inc., to help revive the building of Hotel Shiroiya. Tanaka, who has been supporting entrepreneurs to help with the economic revitalization of Gunma Prefecture, agreed to assist Hashimoto and purchased the hotel through his foundation.
The old Hotel Shiroiya sign is still in place.

The back of Shiroiya Hotel
As Shiroiya Hotel opened during the pandemic, it faced an uphill battle. For a while, it had no guests on weekdays, however, as a result of its unique quality, it was named one of National Geographic's list of best new hotels in 2021.
Today, the hotel welcomes many guests, especially couples and families who are art enthusiasts, and the number of foreign visitors has been increasing. Local residents have also been heading to the hotel lounge for lunch to enjoy tea and gourmet food.
"Currently, Maebashi isn't easily chosen as a travel destination," said Minako Morita, public relations manager of Shiroiya Hotel. "But we hope the hotel will be the destination that attracts people to the town."
Add TheJapanNews to your Google News feed.