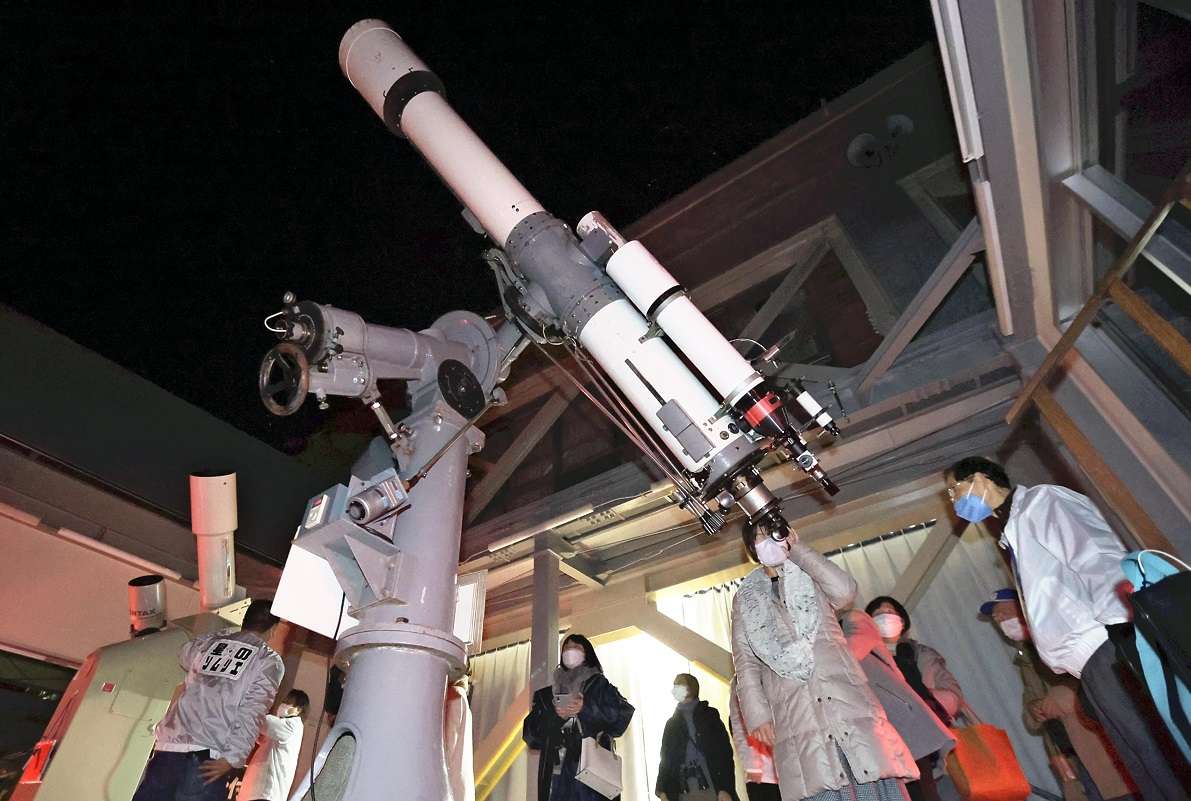 11:19 JST, February 13, 2023
SANUKI, Kagawa — Astronomy fans are increasingly heading to the mountains of Shikoku to visit the world's first astronomical telescope museum.
Many visitors are struck not only by the telescopes' observational capabilities, but also by their designs and their wide variety of mechanisms. Astronomical telescopes employ lenses and mirrors to channel light to the eye and are used to explore the mysteries of the universe.
The Museum of Astronomical Telescopes was established in Sanuki, Kagawa Prefecture, by enthusiasts and the local government, among others. On weekends, the museum is crowded with people who come to view the stars, and others who simply enjoy looking at the telescopes.
The museum is about 20 kilometers south of central Sanuki. Its sits near Okuboji Temple — the 88th and final destination on the Shikoku pilgrimage route — nestled among the mountains in the Tawa area, where it is unaffected by urban light pollution.
At a stargazing event in December, about 10 participants, including parents and children, looked at the sky through various telescopes, including one with a large 25-centimeter lens. Upon observing Saturn's rings and Jupiter's "stripes," one excited visitor enthused, "They look just like photos in an astronomy book!"
At a daytime craft workshop the following day, 15 people fashioned handmade tripods and telescope mounts. Participants, including small children, used saws under the guidance of staff.
"I'll use this to help me see Mars," said 10-year-old Yurina Miyake from Higashi-Kagawa in the prefecture.
The museum's Representative Director Shosaku Murayama said, "It's great when visitors observe celestial bodies in person and learn about how interesting astronomical observations and telescopes can be."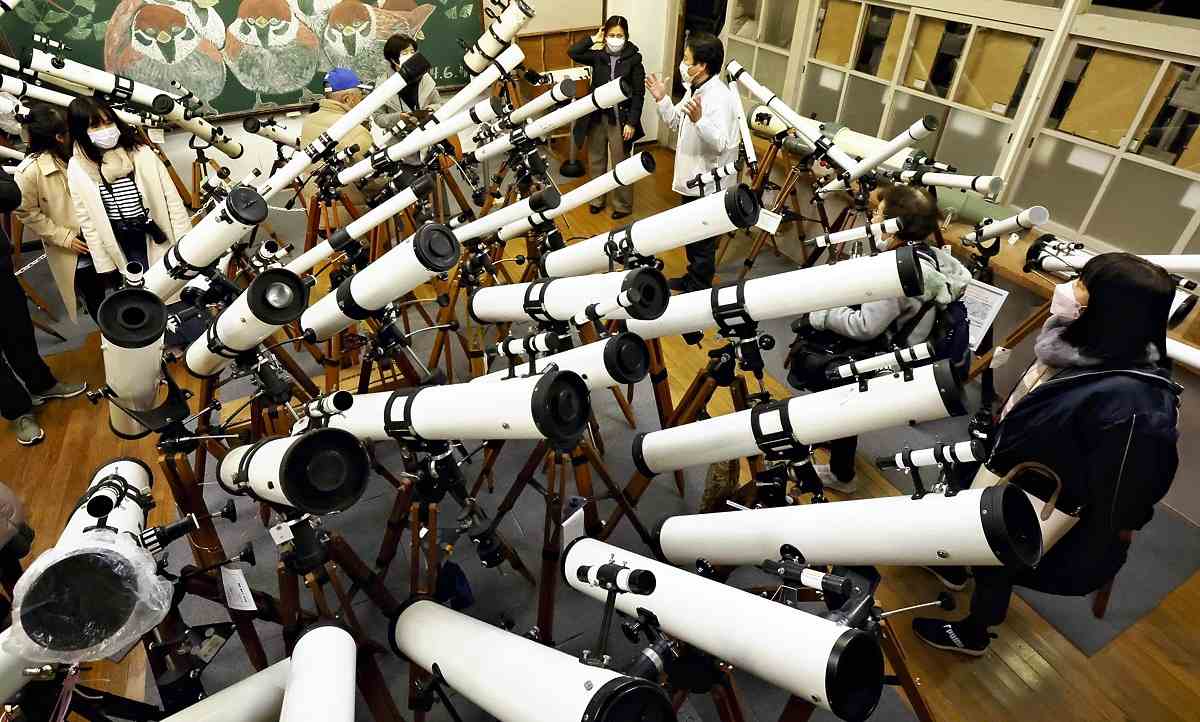 Win-win situation
Murayama, 73, previously served as manager of the Takamatsu branch of the Bank of Japan and as president of a pharmaceutical company in the prefecture.
A fan of astronomy since junior high school, he wanted to someday establish his own observatory in Shikoku. While collecting equipment to that end, he realized that pubic facilities for astronomical observation were shuttering across the country due to the nation's declining population.
"I began to think about setting up a museum to motivate children about science, while also preserving astronomical telescopes as cultural assets," Murayama recalled.
Starting around 2007, he and some friends began asking astronomical facilities and individuals to donate telescopes and related items. To fund the facility, they leveraged Murayama's contacts to raise money from the local business community. At the same time, they scoured Shikoku for a suitable site for the museum, before finally settling on Tawa Elementary School, which the Sanuki city government planned to close in 2012.
This turned out to be a win-win situation, as the local government and residents were keen to find a way to utilize the school's soon-to-be-empty buildings. In 2013, the municipality began work to renovate the school to create a museum that would also combine the functions of a local farmers' market with a rest area for pilgrims.
The facility finally opened in 2016. Modifications included turning the second-floor classrooms into four telescope exhibit rooms and using the indoor pool area to house an exhibition of large telescopes.
Currently, the museum preserves and displays more than 450 telescopes including a reflecting model that was produced about 130 years ago and used by a British astronomer to observe the moon, and a giant 12-ton telescope and large binoculars from the family of Yuji Hyakutake, who discovered Comet Hyakutake in 1996.
Economic benefits
The museum's 120 or so staffers are all volunteers, so it only opens on Saturdays and Sundays. Members include experts in astronomical observation and optics — from inside and outside the prefecture — who help carry out restoration work on the donated telescopes while the museum is open.
Visitors can tour the facility with staff and take part in astronomical observation events. The staff enthusiastically explain telescope mechanisms and the background of their manufacturers and share interesting episodes relating to stargazing. Their deep knowledge is much-appreciated by visitors, and more than 13,000 people had visited the facility by March 2022.
The former school also houses the Tawa Sanchoku Kechigan no Sato farmers' market, which sells local agricultural products and doburoku, a type of sake, made by local residents at a small factory near the museum. Many visitors buy these products, and the museum's presence is helping to revitalize the local economy.
"Merely building a facility isn't enough to rejuvenate a deserted region," Murayama said. "The goal is to accomplish this via local efforts and by reusing astronomical telescopes and school buildings. I hope what we've done will become a model for the rest of the country."
Extend your trip!
Hiraga Gennai Memorial Museum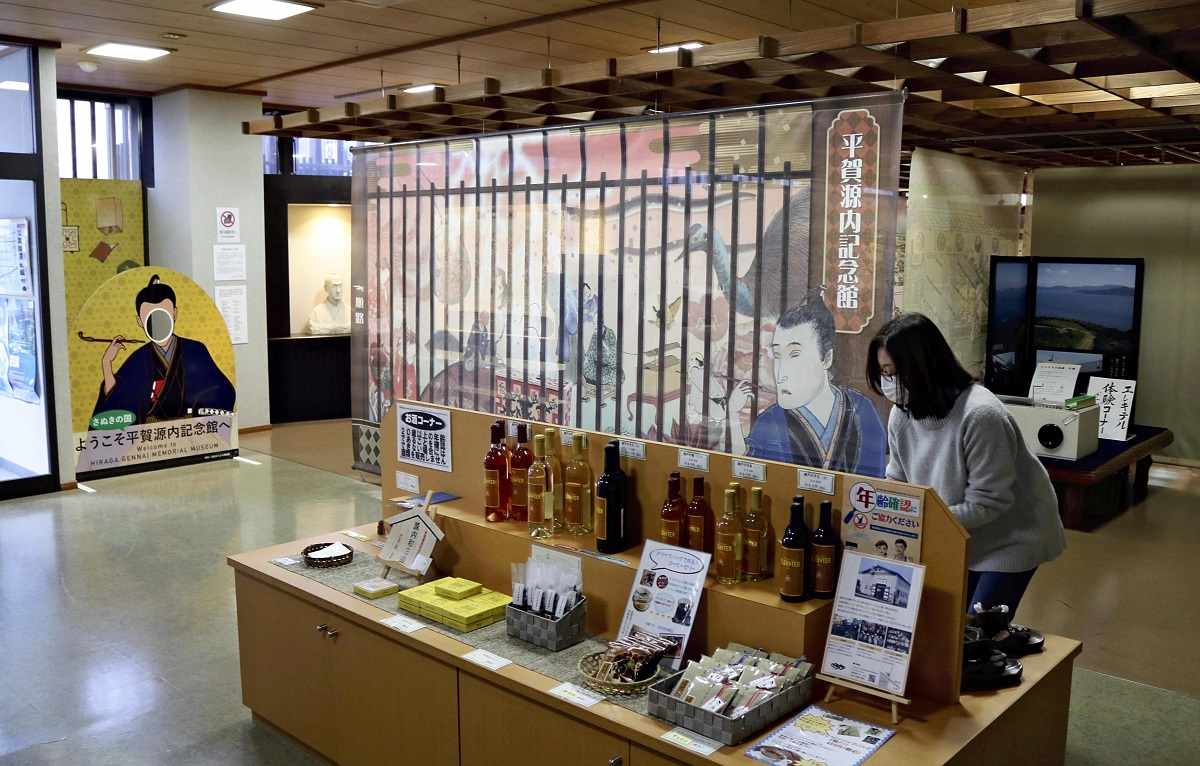 This museum honors the activities of Hiraga Gennai (1728-79), a maverick polymath who hailed from present-day Sanuki. It showcases his life by displaying about 100 items including the original Erekiteru, a machine capable of generating static electricity with the turn of a lever; a reproduction of the Erekiteru that can actually generate electricity; and Kakanpu, a nonflammable cloth.
Rental bicycles for sightseeing are available at the museum.
How to get there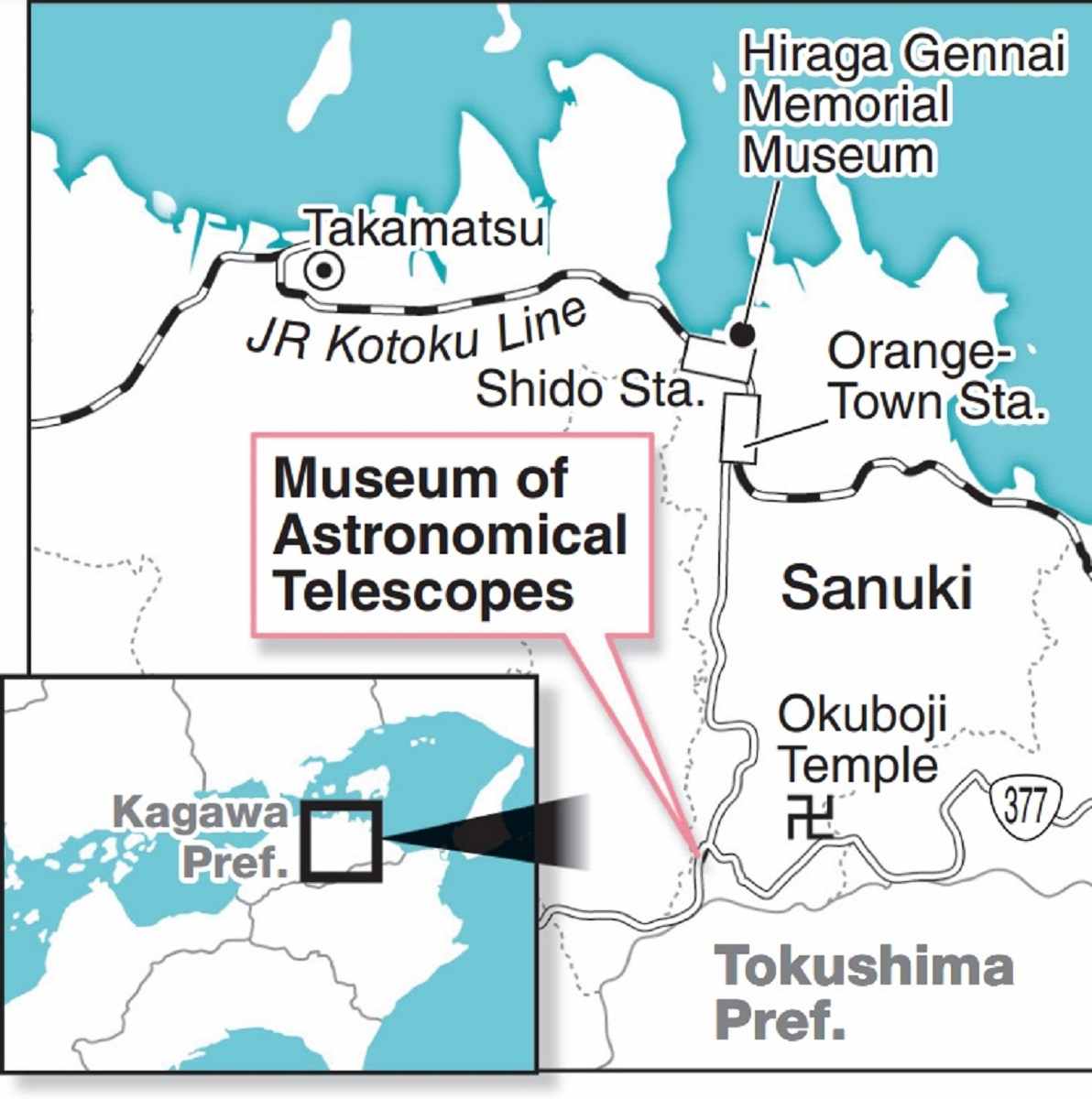 The Museum of Astronomical Telescopes is about an hour from JR Shido Station or Orange-town Station by local bus. For those driving, the Takamatsu Expressway's Shido Interchange, Takamatsu Chuo Interchange and Takamatsu Higashi Interchange are all close to the museum. The facility is generally open only on Saturdays and Sundays. Admission is ¥500 for adults, ¥400 for high school and university students, and ¥300 for elementary and junior high school students.
Add TheJapanNews to your Google News feed.