Concerned public, not gaiatsu, now drives strong security policies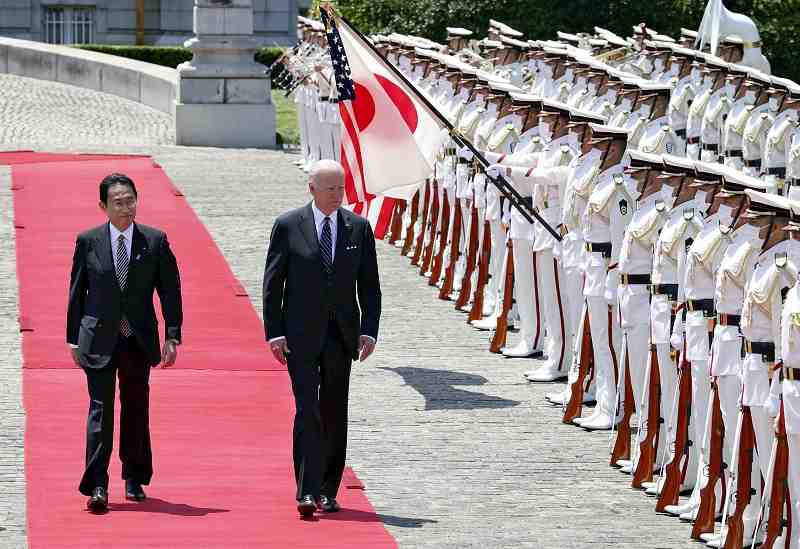 8:00 JST, June 11, 2022
Japan has been both cautious and passive about evolving its security policy for a long time. Japan has a well-known history of being forced to change its policies by gaiatsu (foreign pressure) from the United States. Even though gaiatsu hasn't disappeared, we are now heading into a new era in which it is the Japanese people themselves — rapidly embracing realistic security policies instead of utopian pacifism — who are urging the government to take bold steps against the backdrop of a severe security environment.
During the Japan-U.S. summit held on May 23, Prime Minister Fumio Kishida informed U.S. President Joe Biden of his intent to substantially increase Japan's defense spending.
Historically, Japanese leaders have been reluctant to increase the defense budget even though the U.S. would periodically ask them to do so. Because of Japan's strong pacifist sentiment, leaders have long feared that their approval rating would plummet, possibly causing their party to lose in subsequent elections, if they chose to increase the defense budget substantially. As a result, Japan's defense spending has remained unchanged at around 1% of gross domestic product.
Kishida's May 23 statement was interpreted to mean that he would strive to realize the ruling Liberal Democratic Party's proposals to revise three documents, including the National Security Strategy and the National Defense Program Guidelines. The proposals state that Japan should "aim to achieve the budget level necessary to drastically strengthen its defense capabilities within five years." The changes would be made with an eye on the goal set by North Atlantic Treaty Organization members to commit to spend more than 2% of their GDP on defense.
How did dovish Kishida decide to declare such a bold policy change with the upper house election only about one and a half months away?
The answer is that the majority of Japanese people have given up on their utopian pacifism and started to worry about Japan's readiness for a foreign military attack.
When Iraq invaded Kuwait and an international coalition led by the United States fought back in 1990 and '91, Japan's then Prime Minister Toshiki Kaifu was torn between U.S. gaiatsu and domestic pacifist sentiment on whether to send the Self-Defense Forces to the coalition. Before the Gulf War, nearly two-thirds of respondents opposed the idea of sending the SDF abroad in a Yomiuri Shimbun poll conducted nationwide in 1988. In the same poll, only 8% supported strengthening the SDF while 67% preferred to maintain the status quo, and 20% wanted to weaken or abolish it.
Kaifu failed to pass a law to send the SDF to the region and had to settle for making a $13 billion contribution to the coalition instead. Japan's response was criticized as "too little, too late" and earned Japan scorn rather than praise from the international community.
Then, during later wars in Afghanistan and Iraq, Japanese leaders decided to send SDF personnel, but only to noncombat areas, after facing sharp gaiatsu from the U.S. government while they worried about their approval ratings tanking.
Today, in contrast, nearly three-quarters of Japanese people want the government to strengthen the nation's defense capabilities. In a Yomiuri poll conducted in early June, 72% of respondents said they supported the government strengthening Japan's defense capabilities. In addition to that, 53% of respondents supported the idea of increasing defense spending.
With Japan currently facing both China's militaristic rise as it openly displays hegemonic territorial ambition and North Korea's nuclear and missile development, the Japanese people's concern about security has increased rapidly. Russia's invasion of Ukraine has further fueled that trend.
Japanese people now realize that once an autocrat believes they can fulfill territorial ambitions by force, they won't hesitate to invade other sovereign nations. In a different Yomiuri poll conducted in May, 73% of respondents believed that China might invade Taiwan and 60% thought that Japan might be attacked by a foreign country.
In short, Kishida can underscore the need for increased defense spending without fear of his approval rating dropping.
Besides that, he is using hawkish policies to stabilize and boost his administration.
For stabilization, Kishida is sending a message to former Prime Minister Shinzo Abe that he is doing what Abe formulated and is following in his footsteps to strengthen Japan's security. Recently, Abe often pushed hawkish policies such as defense spending increases, establishing counterattack capabilities, and considering nuclear sharing. Political pundits think Abe has some doubt as to whether a dovish Kishida would implement hawkish security policies, and that Abe is using his public statements to encourage Kishida not to drop them.
Abe not only heads the largest faction in the Liberal Democratic Party but also has right-wing supporters. If these core supporters determine that the Kishida administration is too weak on security policies, they might vote for a party other than the LDP in the upcoming upper house election, or they might abstain from voting. Therefore, Kishida needs to reassure them that he will follow through.
As for steps to boost his administration, Kishida seems to be trying to reach out to conservative independents. In the 2017 general election, the Party of Hope (Kibo no To) led by Tokyo Gov. Yuriko Koike obtained 9,677,524 votes in the proportional representation section. As Kibo has since been dissolved, it is critical for all major parties to attract these voters. In last fall's general election, it seems that the Constitutional Democratic Party of Japan, a leading opposition party, couldn't draw these voters at all and that the Japan Restoration Party, the Democratic Party for the People, Komeito and the LDP split their votes. The CDP was founded in 2017 by politicians who didn't join Kibo after the Democratic Party splintered because they refused to accept one of Kibo's pledges to "support realistic security policies." In 2021, as the CDP basically didn't change its stance on security polices, the LDP succeeded in convincing voters that the CDP couldn't let go of its unrealistic security policies.
Today, Kishida seems to be trying to employ the same strategy in the upcoming upper house election. If the CDP won't change its stance drastically, it obviously won't attract conservative independent voters.
If Kishida wins in the election, he will get three years in which he won't need to face national elections. He can do what he wants to do in those "three golden years." What we should watch closely is whether dovish Kishida will fully implement the hawkish security policies that Abe started and if so, how fast and thoroughly. Or he could put a high priority on other policies that he has been interested in, such as nuclear disarmament.
Political Pulse appears every Saturday.
---
Satoshi Ogawa
Ogawa is the editor of the International News Department of The Yomiuri Shimbun
---
Add TheJapanNews to your Google News feed.