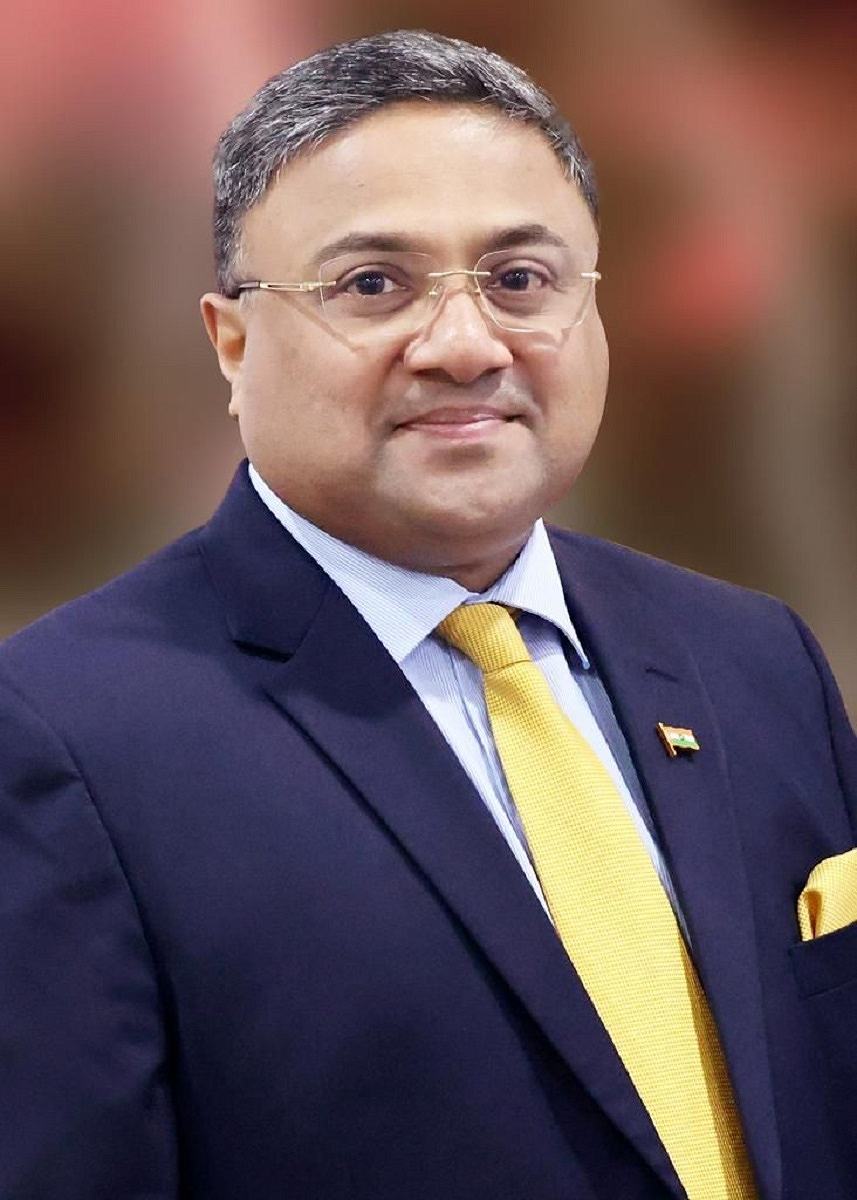 8:30 JST, August 26, 2023
Japan-India cooperation will be the focus of a forum of the 2023 Yomiuri International Conference on Sept. 13. Six panelists, including Indian Ambassador to Japan Sibi George; former Japanese Ambassador to India Akitaka Saiki, who is now president of the Japan-India Association; and Prof. Yuichi Hosoya of Keio University, will gather in Tokyo to discuss the role of cooperation between Japan and India — a major power that is the keystone of the Global South — in the areas of diplomacy, security and economics. Prior to the forum, Sibi George contributed the following article to The Japan News.
***
The relationship between India and Japan is a unique blend of historical ties, shared values, and mutual respect. Rooted in centuries of cultural and spiritual exchange, our partnership has evolved into a Special Strategic and Global Partnership that encompasses cooperation in a wide range of areas, including defense and security, trade, investment, and people-to-people exchanges.
Our shared vision for a free, open, and inclusive Indo-Pacific region, coupled with our commitment to democracy and the rule of law, forms the bedrock of our strategic convergence. Our cooperation in multilateral forums, including the Quad, underscores our commitment to this vision. Together, we are working to ensure that the Indo-Pacific remains a region of peace, stability, and prosperity, where the sovereignty and territorial integrity of all countries are respected.
Economic partnership has been a cornerstone of India-Japan relations. Japan's investments in India's infrastructure and economy have been transformative. Today, we are expanding our economic cooperation to critical areas such as supply chains and semiconductors. Our collaboration also extends to the transfer of skilled human resources from India to Japan, enriching both our societies and economies. As we navigate the challenges of a rapidly changing global landscape, our economic partnership will continue to be a driving force behind our bilateral ties.
With the celebration of 2023 as the India-Japan Year of Tourism Exchanges, with the theme "Connecting Himalayas with Mount Fuji," we also continue to foster people-to-people contacts. The exchanges between our students, academics, artists, and tourists help deepen our cultural understanding and create lasting friendships. These interactions not only enrich our societies but also strengthen the bonds of friendship between our countries.
Also, India and Japan have been committed to promoting global cooperation on issues of pressing importance through their presidencies of the Group of Twenty and the Group of Seven.
India's G20 presidency has been guided by the theme "One Earth, One Family, One Future" and our priorities reflect our commitment to inclusive and resilient growth, progress on Sustainable Development Goals (SDGs), green development and Mission LiFE (Lifestyle for Environment), technological transformation, reforming multilateral institutions, women-led development, and international peace and harmony.
India's G20 presidency has also been an opportunity to showcase its heritage, culture, and economic progress. We have hosted G20-related engagements across the country, highlighting our diversity and the richness of our culture. We look forward to welcoming the Honorable Prime Minister Fumio Kishida of Japan to the G20 Summit scheduled to be held in New Delhi in September.
The journey of India and Japan, from ancient cultural exchanges to a robust Special Strategic and Global Partnership, has been remarkable. Together, we have made significant strides in furthering cooperation across various domains. Yet there remains huge untapped potential in our partnership. As we navigate the challenges and opportunities of the 21st century, our focus is on continuing to explore new avenues of collaboration, harnessing the full potential of our partnership. The two countries will also work together to shape a future that benefits our people and, at the same time, contributes to creating a world that reflects our shared values and common interests.
— Sibi George joined the Indian Foreign Service in 1993. After serving as India's minister to the United States, he served as India's ambassador to Switzerland, Kuwait and other countries. He began serving as India's ambassador to Japan this year.
Add TheJapanNews to your Google News feed.