What does the future hold for Naoko Kuroishi and the Ameri brand?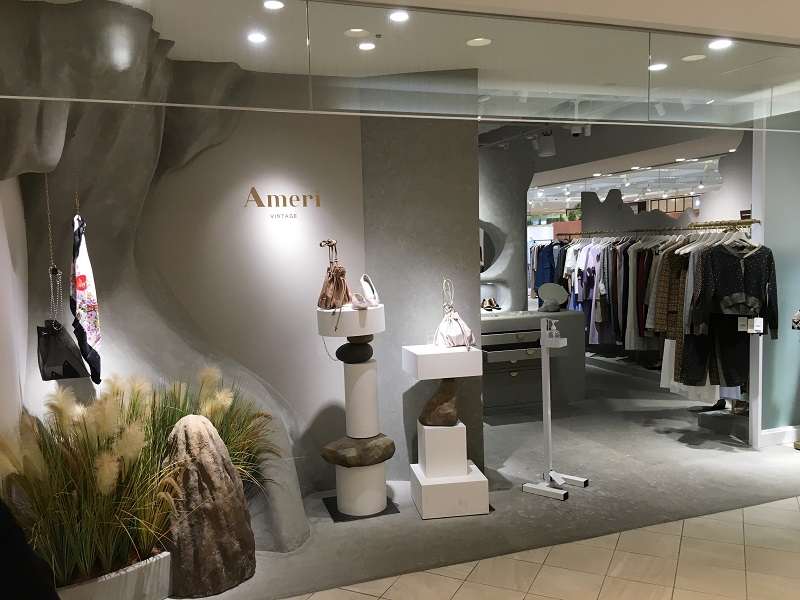 10:30 JST, September 3, 2021
Fashion schools in Japan can be said to have created the history of fashion in the country. Now, 76 years after the Pacific War, if there is anything wrong with the direction Japanese fashion is heading, these schools could be to blame for the way they teach the subject.
In recent years, quite a few Japanese have studied at and graduated with first-class honors degrees from, prestigious overseas fashion schools like the Central Saint Martins in London and the fashion department of Royal Academy of Fine Arts Antwerp in Belgium. Asked what the lectures are like at such institutes, the graduates say much time is spent teaching them how to establish their own concept and the methodology for expressing their thoughts and emotions in fashion. In short, fashion is a genre of the arts.
Compared to this, fashion education in Japan — with its roots in dressmaking techniques — is starkly different. I suspect fashion education in this country has focused too much on properly making clothes.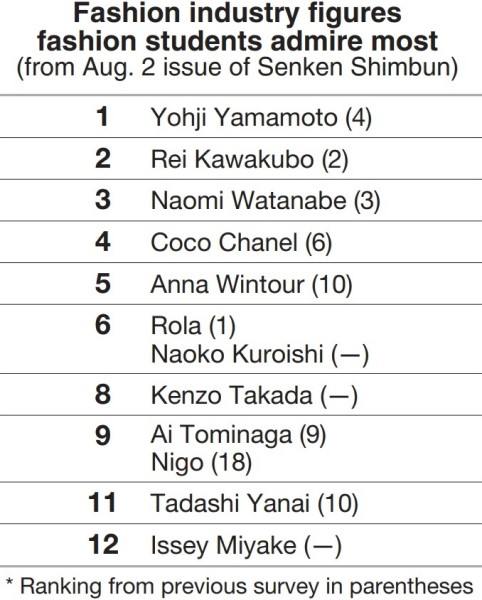 The Aug. 2 issue of Senken Shimbun, a fashion industry newspaper, carried the rankings of fashion industry people whom 1,732 fashion college students across the country most admire.
It is interesting the question uses the phrase "the fashion industry figure you most admire."
Tadashi Yanai, the chair and president of Uniqlo's Fast Retailing Co., is the sole businessperson, at 11th, showing the students' deep support for Uniqlo. The rankings also show the students have respect, as well as adoration, for fashion designers, including Yohji Yamamoto, who ranked first. Support for fashion designers is still strong but not as overwhelming as in the past.
In this age of social media, there is no use getting angry and complaining that comedian Naomi Watanabe, model Rola and model Ai Tominaga made the list despite not being fashion industry people, even if they are fashion influencers. However, it appears popularity on social media is not necessarily connected to product sales, and I have doubts if such popularity will last. My gut feeling says the 10-year survival rate of a fashion brand featuring a showbiz star is less than 5%.
Naoko Kuroishi, who shared sixth place with Rola, is the producer of Ameri, a so-called D2C (direct to consumer) brand. An accomplished designer with a keen business sense, she is the president of B Stone Holdings, which operates the Ameri brand. The company's annual sales last year were ¥3.3 billion, 60% of which came from e-commerce sales. Kuroishi formerly worked for Emoda, one of Mark Styler Co.'s apparel brands, where she was in charge of shop interiors, e-commerce website design and writing entries for the brand's blog and social media. Her competence had been much talked about in the fashion industry by the time she became independent in 2014 and launched multi-brand shop Ameri Vintage. In addition to two standalone stores in Daikanyama in Tokyo, and Shinsaibashi in Osaka, Ameri Vintage now has a shop inside the Shinjuku Lumine 2 fashion shopping complex in Tokyo and its first overseas outlet in Shanghai. Ameri Vintage is popular among celebrities as well, such as TV anchor-actress Minami Tanaka, model Maggy and twin fashion icons AMIAYA. Indeed, someone like Kuroishi is truly someone whom fashion college students should look up to.
However, products sold at Ameri Vintage are a tad expensive for students, such as a jacket priced at ¥23,500, a shirt for ¥14,300, a dress for ¥17,600 and denim pants for ¥19,250. They also look somewhat too elegant for young people. I wonder if the students actually purchase them.
Kuroishi is showing sharp business sense in launching the cosmetic brand Lowan as her next step. She appears to have a great future ahead. Will Ameri still be creating a buzz in 2024, the 10th anniversary of its launch? I am quite curious.
---
Akira Miura
Miura is a journalist and a former editor in chief of WWD Japan.
---
Add TheJapanNews to your Google News feed.