14:34 JST, October 13, 2023
This year marks a historic milestone for Japan and the Association of Southeast Asian Nations — the 50th year of friendship and cooperation between them. The two sides will hold a special Japan-ASEAN summit in Tokyo in December, their first commemorative dialogue in 10 years.
ASEAN is the acronym for this organization aimed at Southeast Asian regional cooperation, but the term is also used in Japan to refer to the Southeast Asian region itself. The importance of ASEAN as a region is obvious: It is located strategically, connecting the Indian and Pacific oceans, and is one of the world's growth centers. Yet it has been said that ASEAN has lost both its raison d'etre and "its sense of direction" as a regional cooperative organization.
Why is that? What points should we keep in mind when thinking about the future of the Japan-ASEAN relationship?
ASEAN was inaugurated by Indonesia, Malaysia, the Philippines, Singapore and Thailand in 1967. Brunei joined in 1984, and Vietnam, Laos, Myanmar and Cambodia followed suit between 1995 and 1999 after the end of the Cold War. Following its expansion, ASEAN began to be used as a synonym for the Southeast Asian region. The group embarked on regional economic cooperation in 1976, launched the ASEAN Free Trade Area in 1992 and agreed in 2007 to establish the ASEAN Economic Community.
It also formed ASEAN Plus One free trade areas separately with China, South Korea, Japan and other countries. In 2022, East Asia's Regional Comprehensive Economic Partnership Agreement, which was originally proposed by ASEAN, came into effect.
In addition to the economic domain, ASEAN has devised political and security cooperation mechanisms. In 1994, the ASEAN Regional Forum was set up, followed by the inception in 1997 of the ASEAN Plus Three forum, comprising ASEAN, Japan, China and South Korea. In 2005, India, Australia and New Zealand joined ASEAN-initiated dialogues, leading to the creation of the East Asia Summit with ASEAN Plus Six as a framework. In 2011, the United States and Russia were also accepted as East Asia dialogue partners.
ASEAN contributed to Asia-Pacific trade liberalization in the 2000s and 2010s. With the participation of non-ASEAN leaders in multiple ASEAN Plus forums, the regional organization has increasingly demonstrated to the rest of the world "ASEAN centrality."
Grouping becoming disoriented?
Why is ASEAN described as "losing its sense of direction" now, and why has its purpose been called into question? Three factors can be cited.
First, geopolitical interests differ greatly from country to country, depending on whether a country has territorial conflicts with China in the South China Sea and whether a country can formulate its own national security strategy with the American military presence as a given.
This difference has become even more pronounced in recent years, as China has strengthened its push to unilaterally change the status quo in the South China Sea by force. Four ASEAN members, including the Philippines and Vietnam, have overlapping territorial claims with China over ocean waters. Likewise, Indonesia has a dispute with China over its exclusive economic zone. All these countries have strengthened their military cooperation with the U.S. and its allies.
Second, fueled by the deteriorating relationship between the United States and China and the reorganization of supply chains that goes with it, an increasing number of companies are moving their production facilities from China to Southeast Asia and expanding their exports of finished goods from that region to the U.S. market. Many ASEAN members subsequently chose to side with neither Washington nor Beijing as a way of best serving their national economic interests.
Third, ASEAN is confronted with the issue of how to deal with Myanmar, which has been under a military junta since the coup in February 2021. An extraordinary ASEAN summit, held in April that year, agreed to a five-point consensus, including a demand for an immediate end to violence in Myanmar. In October 2021, the group's foreign ministers effectively banned the head of Myanmar's military junta, Gen. Min Aung Hlaing, from participating in ASEAN summits until Myanmar complies with the consensus.
From the perspective of ASEAN members like Indonesia and Malaysia, the coup and ensuing civil war are grave violations of the ASEAN Charter. Thailand, on the other hand, is concerned that if Myanmar becomes a failed state, its border areas will be destabilized. In June this year, Bangkok invited ASEAN representatives, including one from Myanmar's military junta, to hold informal talks, but Indonesia, Malaysia and Singapore declined to take part in the meeting.
On this and other issues mentioned above, each ASEAN member has become increasingly inclined to act on its own. With the restructuring of supply chains in mind, Vietnam, for example, has joined the Washington-initiated Indo-Pacific Economic Framework for Prosperity. When U.S. President Joe Biden recently visited Vietnam, Hanoi and Washington elevated their relationship to a "comprehensive strategic partnership."
The Philippines, a U.S. ally, has ramped up security partnerships with Japan and Australia. Indonesia aspires to be a global power and has strengthened security cooperation with Japan and the United States on the one hand while prioritizing Chinese investments in Indonesian industries on the other. As mentioned earlier, Thailand is pursuing its own approach to the issue of Myanmar.
Until recently, ASEAN members had historically managed to maintain their commitment to preserving ASEAN unity and upholding its centrality by balancing their respective national interests and those of the region. If divisions widen further among member states, however, ASEAN unity will be undermined further, threatening the group's centrality. ASEAN member states share this concern, yet they are far from reaching a consensus about how to jointly address it.
Large-scale initiatives crucial
With December's special Japan-ASEAN summit in Tokyo approaching, what points should Japan consider vis-a-vis its relations with ASEAN and Southeast Asian countries?
The first point is multi-tiered cooperation with ASEAN and Southeast Asian countries. In its "Indo-Pacific Strategy" announced in 2022, the Biden administration pledged to increase partnerships with ASEAN and expand bilateral cooperation with its allies and partners in Southeast Asia. Nevertheless, the U.S. president skipped the 2023 ASEAN summit in September, choosing instead to visit Vietnam after attending the Group of 20 summit in India. Biden cannot help but be seen as having made little of ASEAN while thinking mainly of bilateral cooperation.
The combined economic size of the 10-nation ASEAN is projected to surpass that of Japan around 2030, with Indonesia, the Philippines and Vietnam accounting for nearly 65% of the expected overall economic scale. The situation on mainland Southeast Asia is likely to vary to a considerable extent, depending on political and economic developments in Thailand in the coming years. It is therefore important to keep supporting ASEAN's unity and centrality in the region while deepening partnerships with member states that occupy strategic positions.
The other point is that relationships of trust should be strengthened. ASEAN members do not trust the United States and China very much. Washington's policy toward ASEAN has been inconsistent. Beijing, for its part, enraged ASEAN members just before September's annual ASEAN summit by releasing a new edition of its standard map claiming almost all of the South China Sea as its territory.
No stable cooperation can be feasible without trust. To further ensure the regional order, it is imperative to cooperate with ASEAN by upholding international law and adhering to the norms enshrined in the ASEAN Charter, including the rule of law, democracy, and respect for human rights. To that end, Japan and ASEAN should join hands in fostering and promoting closer ties among people of the younger generation, which is the key to deepening trust.
The special Japan-ASEAN summit in December is drawing near, and Japan's policy approaches in a variety of fields are already on the agenda, including infrastructure development, maritime cooperation, revamping supply chains and human resources development.
To promote Japan-ASEAN cooperation, Prime Minister Fumio Kishida must state clearly at the Tokyo summit how much Japan values its relationships of trust with both ASEAN and Southeast Asian countries.
---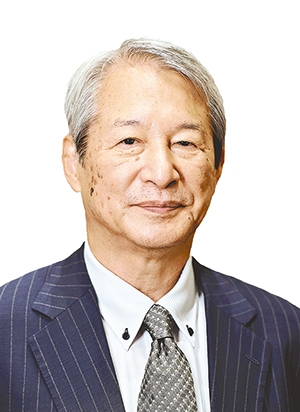 Takashi Shiraishi
Shiraishi is chancellor of the Prefectural University of Kumamoto. He was president of the National Graduate Institute for Policy Studies in 2011-17 and president of the Institute of Developing Economies, Japan External Trade Organization, in 2007-18.
---
The original article in Japanese appeared in the Oct. 8 issue of The Yomiuri Shimbun.
Add TheJapanNews to your Google News feed.