10:56 JST, October 6, 2023
In the Middle East, one noticeable thing has been gathering momentum lately: an "anything goes" type of alliance, such as the notion that the enemy of my enemy is both a friend and a foe. The ongoing round of alliance formation is now in a complex state due to not only the involvement of the United States, the nation that has been relied on for security, but also the growing presence of China, on which the region has become increasingly reliant economically, and Russia, which has strengthened its energy policy coordination.
When the G7 summit began in Hiroshima on May 19, Saudi Arabia hosted an Arab League summit in Jeddah attended by Ukraine's President Volodymyr Zelenskyy, who has been leading the fight against Russia, and Moscow ally Syria's President Bashar al-Assad, known for having stamped out the "Arab Spring" uprisings.
Saudi Arabia's Crown Prince Mohammed bin Salman seems to have put on a big show for Ukraine and Syria, behaving like Cyrus the Younger, an ancient Iranian prince who promised the Spartans a reward for allying with him by saying, "[A]s for gold and silver there should be no counting, but weighing instead." The prince appears to have flaunted his ambition to take the lead in the G20 major economies and the Global South by offering to mediate in the wars in Ukraine and Syria.
Assad brought to an end the Arab Spring that erupted in 2010. Russian President Vladimir Putin, for his part, is not unconnected to the death of Wagner mercenary chief Yevgeny Prigozhin. Prince Mohammed was suspected of involvement in the killing of journalist Jamal Khashoggi. They have certain things in common: a gross lack of awareness of human rights and contempt for freedom and democracy.
International political dynamics in the Middle East have been changing dramatically. The latest strategic axis of the newly emerging Middle East epic lies on a parallelogram formed by three non-Arab countries, Turkey, Iran and Israel, as well as Saudi Arabia, an Arab country.
Of these four countries that used to be antagonistic to each other, some have agreed to competitive coexistence by taking a cue from the war in Syria and that in Ukraine.
Turkish President Recep Tayyip Erdogan, Iran's Supreme Leader Ayatollah Ali Khamenei, Israeli Prime Minister Benjamin Netanyahu and Prince Mohammed are shrewd and deserve to be referred to as strong, fierce, scheming leaders, also known as "kyoyu" in Japanese. The past kyoyu list includes ancient Chinese generals Cao Cao and Dong Zhuo and Japanese warlords Matsunaga Hisahide and Saito Dosan, to name a few.
If an ancient Greek saying cited in Greek writer and philosopher Plutarch's Moralia is applied, the abovementioned politicians of today can be said to have earned fame on their own, not because of their country.
Then again, in the Fertile Crescent, which stretches from Egypt to Syria to Iraq as a traditionally confrontational strategic axis, there no longer are really great, ambitious leaders. The region has lost the lust of the past in the wake of the disappearance of Arab nationalism and devastation by the war in Syria.
The center of its geopolitical gravity has now shifted to the Persian Gulf area, supporting competitive coexistence as promoted by Saudi Arabia. U.S. Presidents Barack Obama, Donald Trump and Joe Biden went ahead with Washington's disengagement from Middle East politics by pulling U.S. troops from the region, only to trigger unfavorable developments.
'Saudi First' strategy
Trump, for example, took no countermeasures in 2019 when Saudi Arabia's oil plants came under attack, which Iran was said to be behind. Riyadh then became so increasingly distrustful of Washington that the kingdom thought it had no choice but to prioritize ensuring its security on its own. The shift to the "Saudi First" strategy led Saudi Arabia to agree with Iran in March this year to normalize diplomatic relations.
In July this year, Turkey agreed with Saudi Arabia and the United Arab Emirates to mend bilateral ties that had been strained for more than 10 years, a development that prompted Qatar, which is an ally of Turkey, to restore diplomatic ties with the same two neighbors.
In 2020, Israel and the Gulf states of Bahrain and the UAE signed the Abraham Accords to establish diplomatic relations for the first time, tacitly affirming their belief in monotheism.
Morocco and Sudan later joined in the Abraham Accords. Coupled with Syria's return to the Arab League, all of the abovementioned Middle East countries have opted to change their strategies from confrontation to competitive coexistence, and the region's chaos seems to have ceased 10 years after the eruption of the Arab Spring.
However, Saudi Arabia, which regards itself as the leader of the Arab world, remains cautious about signing the Abraham Accords with Israel. Even Prince Mohammed finds it too much to mediate between Iran and Israel. That said, Saudi Arabia is likely the only country that could dissuade both Iran and Israel from escalating affairs into a nuclear crisis as the kingdom continues to be in contact with Israel, too, at the level of aides to their respective leaderships.
For its part, Turkey has been demonstrating its presence in the European political theater as in the case of linking its agreement to Sweden's membership in the North Atlantic Treaty Organization to its entry into the European Union. Ankara thus has succeeded in reminding the West of the importance of the geopolitical parallelogram of the Middle East.
The political dynamics in the region that have spawned a new strategic framework for advancing competitive coexistence stemmed from a pair of facts — and lessons learned from these facts. First, the use of military force as in the Gulf War and the war in Afghanistan launched by the United States did not contribute to democratizing the Middle East. Second, the Arab Spring failed following the emergence of new dictators and internal divisions within populations was because many people were content with the order and income guarantees provided under autocratic and monarchal rule. Certain Gulf Arab states have installed civil surveillance systems incorporating Israel's cutting-edge technologies. This can be said to symbolize the transition of the Middle East's order from confrontation to competitive coexistence.
Nevertheless, the Biden administration is too optimistic about the situation in the Middle East. Although it thinks Israel-Saudi Arabia participation in the Abraham Accords is indispensable for resolving the Palestinian issue, Israel's ruling ultra-right religious coalition rather appreciates that the Abraham Accords are useful for dividing Arab states and Palestinians. Jerusalem has no intention of halting the expansion of Israeli settlements and housing construction in the Palestinian autonomous region.
China's growing clout
Attention should be paid to China's mediation in a deal between Saudi Arabia and Iran to normalize diplomatic relations. China, not just through its economic clout but from its status as a military power, was successful in its mediation as a result of using as leverage the sale of weapons as well as the provision of weapons manufacturing infrastructure as requested by Saudi Arabia. Further, the kingdom also is seeking Chinese cooperation in developing technology for enriching uranium and reprocessing used nuclear fuel — China is expected to comply with the Saudi request in the not too distant future.
As for Iran and Saudi Arabia's efforts toward global warming mitigation and decarbonization, their leaders feel China's way of pushing ahead with things without heeding international agreements is easier than Western and Japanese standards.
In this regard, I was recently surprised by a series of recommendations made by two U.S. researchers in an online article of the U.S. magazine Foreign Affairs. First, they wrote that the United States "should accept the more positive aspects of China's growing presence in the Middle East." Second, they argued that "Washington should not double down on its timeworn, security-focused strategy" but should instead "expand its policy tools and investment in the region to areas where it enjoys a comparative advantage, such as human capital advancement, education, green technology, and digital platforms."
The third recommendation — at which I couldn't help smiling bitterly — was that the United States "should also support broader kinds of compacts with Arab partners and rising middle powers such as Brazil, India, and Japan." I thought Japan, a G7 member, was grossly disrespected as it was casually cited as a "middle power" along with non-G7 nations Brazil and India. The "areas of comparative advantage" for the United States coincide with those for Japan. Moreover, the U.S. researchers appear to have been unaware of the fact that Japan has continued to work hard to promote cultural exchanges with the Middle East and human resources development in the region for an extended period of time.
---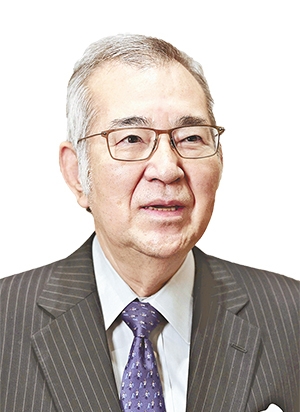 Masayuki Yamauchi
Yamauchi is a special adviser to Fujitsu Future Studies Center Ltd., specializing in Middle Eastern and Islamic area studies and the history of international relations. He is also a professor emeritus at the University of Tokyo, where he headed the University of Tokyo Center for Middle Eastern Studies (UTCMES), and a special visiting professor at Mohammed V University of Rabat in Morocco. He was a professor at Musashino University in Tokyo from 2018 to March 2023.
---
The original article in Japanese appeared in the Oct. 1 issue of The Yomiuri Shimbun.
Add TheJapanNews to your Google News feed.