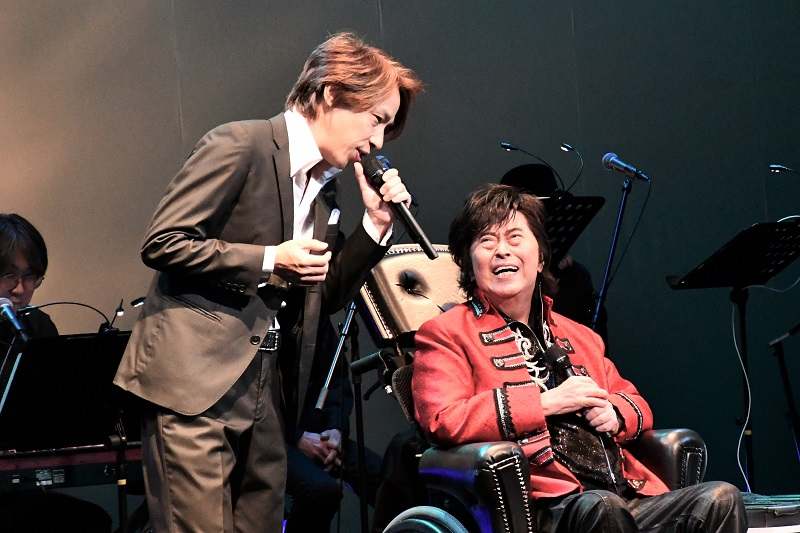 12:00 JST, January 13, 2023
Anime song (anison) singer Ichiro Mizuki died Dec. 6. He was 74. The Nov. 27 concert I wrote about in this column last month — "Mizuki Ichiro and Horie Mitsuko Futari no Anison #19" — turned out to be his last stage appearance.
I was an elementary schooler when I first heard about Mizuki. At my request, my father bought me a record featuring the theme song of the tokusatsu sci-fi superhero TV drama "Kamen Rider X," sung by Mizuki. Although his name differed from the name of the actor who played the protagonist, Keisuke Jin, the song sounded to me as though it was sung by the actor, before he transformed into Kamen Rider X. The song seemed to convey Keisuke's sadness — his father had been murdered — and his determination to fight. I was 9 years old at the time and was extremely confused. I remember thinking, "Does this guy Ichiro Mizuki appear in '[Kamen] Rider'"? and "Is this an alternative name of the actor playing Keisuke Jin?" I continually turned these points over in my mind while listening to the record.
I first met Mizuki in 2008. I was fortunate enough to be able to deepen our friendship further afterward. On one occasion, I touched upon the confusion I had felt as a youngster about whether he actually appeared in "Kamen Rider X." "Of course [you were confused]!" he proclaimed. "I got myself into the character of Kamen Rider when I sang the song."
Mizuki made his debut in 1968 singing kayokyoku pop songs, but he struggled to find success early on. One day, during a marketing campaign for a record, an unknown woman reportedly told him: "You don't have a distinct character of your own. You're not going to sell if you have no character."
In 1971, Mizuki received his first offer to sing a TV anime song, the theme song for "Genshi Shonen Ryu" (Ryu, the Cave Boy). He exploited his "lack of character" and tried to enter the mind of the protagonist when singing the song — an approach that perfectly suited the anime's atmosphere. Thereafter, Mizuki's life as an anison singer took off, and he began to perform anime and tokusatsu songs employing his versatile voice. He was very serious about getting into each character, so it was only natural that I had felt confused back when I was in elementary school.
Mizuki is credited with singing more than 1,200 anime and tokusatsu songs and was known as "the king of anison." Despite such accolades, however, he remained a friendly and caring person who enjoyed climbing mountains with fellow younger singers and dutifully sent messages to colleagues on their birthdays. He was even kind enough to attend the birthday party of a certain reporter each year — mine.
When I was tasked with producing a two-day anison concert in Ofunato, Iwate Prefecture, in 2019, he willingly accepted an offer to headline the event. He took a strong leadership role, helping many other participating singers from the fields of anime and tokusatsu.
I fondly recall his presence; he was like the sun. Even when singing about a protagonist in the midst of a bitter plight, his voice conveyed the promise of hope, and light at the end of the tunnel. His singing stayed with us in our sadness and hardship, gave us encouragement and lit up the lives of fans in Japan and all around the world.
Since learning of his death, I have been thinking about what makes for good singing and an accomplished singer. There are likely many criteria, such as vocal tone, volume and a good ear for music. Mizuki's illness deprived him of a certain level of volume, and, during his final stage performance, he was unable to sing as he once had. Yet his voice reached straight to the hearts of the audience. It was as though he laid bare the spirit of the songs. Perhaps it is this ability to transmit the spirit of a song that is required to be an accomplished singer, rather than mere technique.
Mizuki remained an active professional until the very end of his life. Now, however, I just feel sad, as though in the middle of a bad dream. From now on, those of us who grew up listening to Mizuki should nurture the spirit we received from him in our own way. That, I believe, is akin to him passing down his thoughts, and, when listening to the songs he left behind, it is almost as though we can feel his comforting hand on our collective shoulder.
Add TheJapanNews to your Google News feed.