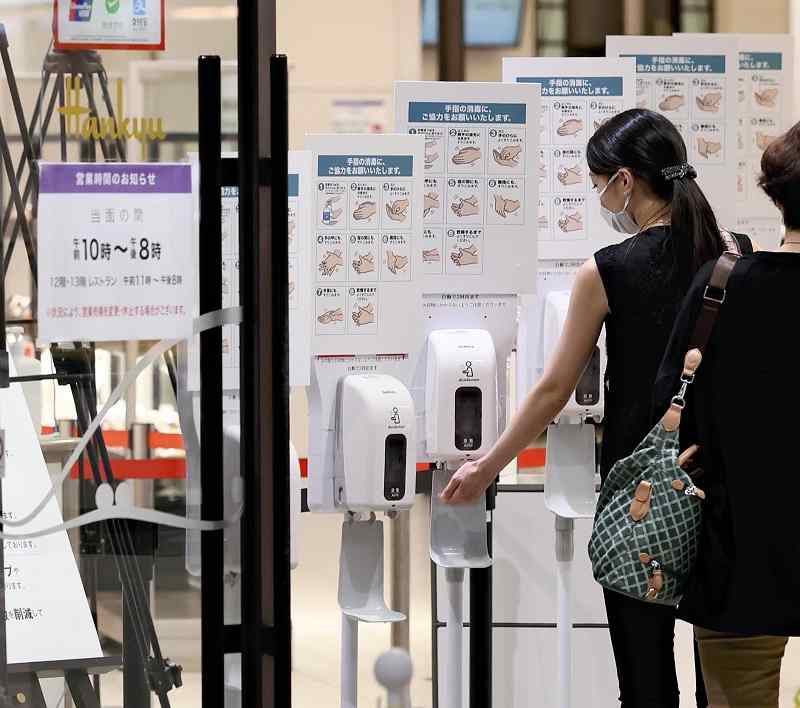 12:28 JST, September 30, 2021
With the end of the pandemic-related state of emergency, the tourism and food service industries — which have been severely damaged by the COVID-19 crisis — are looking forward to reinvigorating their businesses.
The government announced on Tuesday that it would allow the state of emergency covering Tokyo and 18 other prefectures to expire at the end of September, along with the less strict priority measures in other prefectures.
However, some industries plan to continue taking a cautious approach in anticipation of the risk of the reemergence of infection, and some are trying to meet local government requests for limited business hours as a transitional measure for about one month.
Preparation of plans
"I am frankly very happy [about the end of the state of emergency]. From now on, we will be able to gradually begin moving from one prefecture to another. I hope that [consumers] will be able to regain their prosperous lifestyles," said Takashi Goto, president and CEO of Seibu Holdings Inc., which operates Prince Hotels and Resorts, at a press conference in Tokyo on Tuesday.
Goto expressed hopes for an increase in the number of travelers after October, saying Prince Hotels will consider resuming the serving of alcoholic beverages in line with the requests of local governments.
Fujita Kanko Inc., which operates the Hotel Chinzanso Tokyo, welcomed the government's decision, saying, "It will make it easier for us to publicize our accommodation plans and events."
The firm is to start selling a travel package in October to hotel guests in Kyoto, handing out original goods related to cultural assets.
Hotel Granvia Osaka in front of JR Osaka Station has announced that it will start a banquet plan starting Friday that will offer a ¥500 discount for each guest at a dinner who presents a vaccine passport or a certificate of having received two vaccine shots.
Travel agency Club Tourism International Inc. plans to resume tours with attendants following the end of the state of emergency in Tokyo, Osaka and other areas where such tours have been suspended in principle.
In the airline industry as well, some major airline executives said the number of passengers on domestic flights is expected to recover to some extent. In October, All Nippon Airways Co. and Japan Airlines Co. will increase their numbers of domestic flights.
1 free drink
The food service industry is also making preparations to reopen closed restaurants.
Watami Co., which operates the Miraizaka chain of izakaya pubs and other restaurants, plans to gradually resume operations at about 250 of its suspended pubs starting Friday.
The firm plans to launch a campaign to offer a free glass of draft beer to those who have been vaccinated.
Torikizoku Holdings Co. plans to gradually resume operations at its chain outlets in line with the requests of local governments.
Some operators, however, are puzzled by the lack of specific guidance from local governments.
"To reopen a restaurant that has been closed for several months, we need enough time to clean, prepare food and arrange for employees. We would like them to make a decision a little earlier," a person related to an izakaya pub said.
Restriction of entry
Oriental Land Co. had limited the number of visitors to its Tokyo Disneyland theme park in Chiba Prefecture to 5,000 people a day through September, but it has increased the number of available tickets to 10,000 from Oct. 1 onward.
Many department stores are taking cautious approach. The stores — which have been imposing admission restrictions during busy times — decided not to lift the restrictions as part of efforts to prevent infection on their sales floors.
Department stores have been taking thorough measures to prevent infections, such as having customers and employees sanitize their hands. Despite their efforts, there were some stores where cluster outbreaks occurred during the state of emergency.
An official of a major department store said it will continue its operation carefully, saying, "Once someone is infected [at our stores], it will have an impact on attracting customers thereafter."
Add TheJapanNews to your Google News feed.