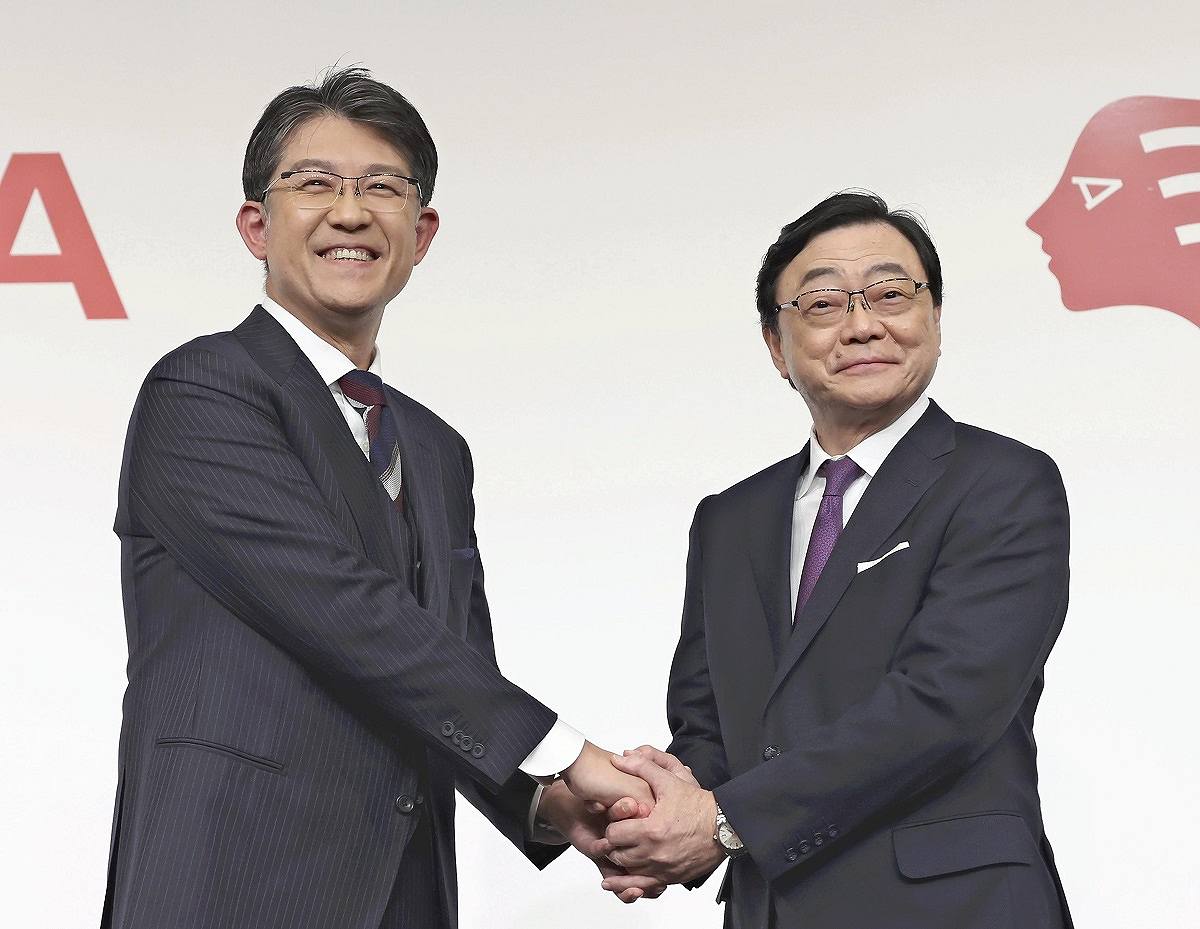 17:14 JST, October 13, 2023
The power structure of the electric vehicle market could be in for a massive upheaval if the collaboration between Toyota Motor Corp. and Idemitsu Kosan Co. produces the all-solid-state battery it claims is possible. That's a big if.
The two companies announced at joint press conference on Thursday that they will join forces to develop the technology, with a goal of commercializing the battery between 2027 and 2028 before going into full-scale mass production.
All-solid-state batteries use a solid electrolyte instead of the currently available liquid types, and are considered to be the next generation of batteries.
The all-solid-state version has a higher capacity and is easier to make more compact, and has high expectations for vastly increasing the driving range of electric vehicles. There are also claims that danger of a fire is lower, making it a safer option.
The goal is to achieve low-cost, mass production that puts the companies at the forefront of the industry as manufacturers around the world race to develop the next generation of batteries.
High performance
The companies explained that their joint effort involves developing solid electrolytes that conduct ions in batteries. Combined, Toyota and Idemitsu Kosan hold a total of 195 related patents, which is among the highest in the world.
The two companies will first form a working group of several dozen people, who will work on improving quality and reducing costs using testing equipment installed by Idemitsu.
Toyota plans to use all-solid-state batteries in next-generation electric vehicles currently under development, with the aim of a recharging time of under 10 minutes and a driving range of over 1,000 kilometers — about twice that of current electric vehicles.
After introducing the all-solid-state battery to the market between 2027 and 2028, the companies will look to start mass-production of tens of thousands of units in the 2030s.
Toyota has revealed plans to increase global sales of its electric vehicles to more than 3.5 million units in 2030, which represents a 140-fold increase on actual sales in 2022. The battery plays the most influential role in determining commercial viability.
One of Idemitsu's strengths is its manufacturing technology of solid electrolytes based on sulfur components, which the two companies aim to use to propel their plan and realize the practical application and mass production of all-solid-state batteries.
"By making the battery smaller and more powerful, we can address a wide range of needs, from sports cars that require high performance to commercial vehicles that need to recharge quickly and more often," Toyota President Koji Sato said at the joint press conference.
Idemitsu President Shunichi Kito noted, "We will be able to support everyone's lifestyle by providing a stable supply of the necessary materials and energy."
Decarbonization effect
As a major oil wholesaler, decarbonization efforts have been a major challenge for Idemitsu.
The company began research on sulfur components as a byproduct of petroleum refining in the mid-1990s, and has been conducting joint research with Toyota on electric vehicle batteries since 2013.
Through the collaboration, Idemitsu hopes to develop a new revenue stream that does not rely on fossil fuels.
High costs are a major barrier to the mass production of all-solid-state batteries. According to a study by the Japan Science and Technology Agency, such costs are anywhere from four to 25 times higher than those for conventional lithium-ion batteries.
Toyota has been continuing to research ways to lower costs. "Our aim [in the future] is to price vehicles the same as those with liquid-based batteries," Sato said.
Seiji Sugiura, a senior analyst at Tokai Tokyo Research Institute Co., said all-solid-state batteries have the potential to be a game changer in the industry.
"Manufacturers all over the world are relentlessly battling to develop them," Sugiura said. "Automakers need to refine the performance of vehicles equipped with the batteries, and create products that people will want to buy."
Add TheJapanNews to your Google News feed.