Sogo & Seibu Labor Union Goes on Strike; Parent Firm Seven & i OK's Deal to Sell to U.S. Fund (UPDATE 2)
12:48 JST, August 31, 2023
The labor union of Sogo & Seibu Co. went on strike on Thursday at the department store operator's flagship Seibu Ikebukuro outlet in Tokyo in response to parent company Seven & i Holdings Co.'s plan to sell the firm on Friday.
The flagship store was temporarily closed on Thursday.
It is the first strike to be held at a major Japanese department store since 1962, when employees went on strike at the predecessor of Hankyu Hanshin Department Stores Inc.
Meanwhile, Seven & i held an extraordinary meeting of its board of directors at its head office in Tokyo on Thursday morning and decided to sell its shares in Sogo & Seibu to U.S. fund Fortress Investment Group LLC on Friday.
Of about 4,000 Sogo & Seibu labor union members, about 900 employees at the flagship store did not appear at their workplaces on Thursday. Nine other Sogo & Seibu outlets, including the Sogo Yokohama store, opened as usual.
Before 10 a.m., the time when the flagship store would ordinarily be scheduled to open, union members gathered in front of the store, holding placards and flags, in a tense atmosphere.
After 11 a.m., members of the labor unions of other major department store operators, including Takashimaya Co. and Isetan Mitsukoshi Ltd., joined the protest. About 300 people in total expressed their grievances by handing out flyers opposing the sale of the chain or marching near the store.
Yasuhiro Teraoka, chairman of the central executive committee of the Sogo & Seibu labor union, said: "We are sorry to have caused any inconvenience to customers because of the closure of the store for the day, but we want to ensure that [the Ikebukuro flagship store] will not close its shutters for good."
Seven & i announced that it would sell the chain for about ¥220 billion, discounted by ¥30 billion from the initially appraised of ¥250 billion, in consideration of the debts of Sogo & Seibu and others.
Seven & i will forgive around ¥90 billion of the about ¥160 billion it has lent to Sogo & Seibu.
In November last year, Seven & i decided to sell Sogo & Seibu, which remained solidly in the red, to the U.S. fund. But the sale, initially scheduled for Feb. 1, was postponed twice due to opposition from the labor union, which sought to protect jobs. The rare delay also was due to local opposition to a plan to open an outlet of home electronics retail group Yodobashi Holdings Co. in the Ikebukuro store after the sale of the department store.
"We apologize for the inconvenience caused to our many customers and concerned parties," Seven & i Holdings President Ryuichi Isaka told reporters Thursday morning, as he had been unable to resolve the labor-management conflict and avert the strike.
"We will work to bring the strike to an end soon," he said.
Strikes on decline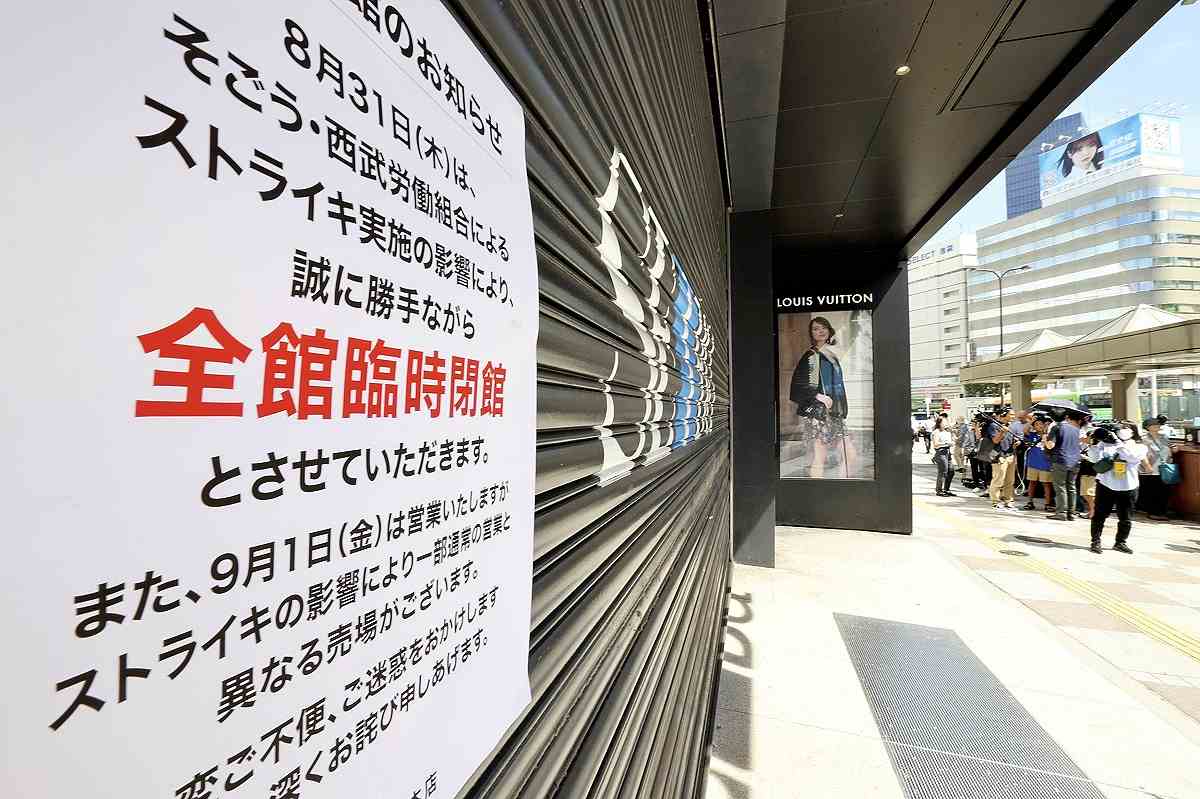 Overall, strikes are on the decline in Japan. According to the Health, Labor and Welfare Ministry, labor disputes, including strikes and sabotage, peaked in 1974 with 9,581 cases. Since then, the number of strikes has continued to decline, falling to fewer than 100 in and after 2009. The number has been hovering around 60 in recent years, and there were 65 cases last year.
"This may be because the overall economic slowdown has made it difficult to go on strikes that would have a serious impact on operations. Relations between labor and management have become more cooperative, too," a ministry official said.
Add TheJapanNews to your Google News feed.