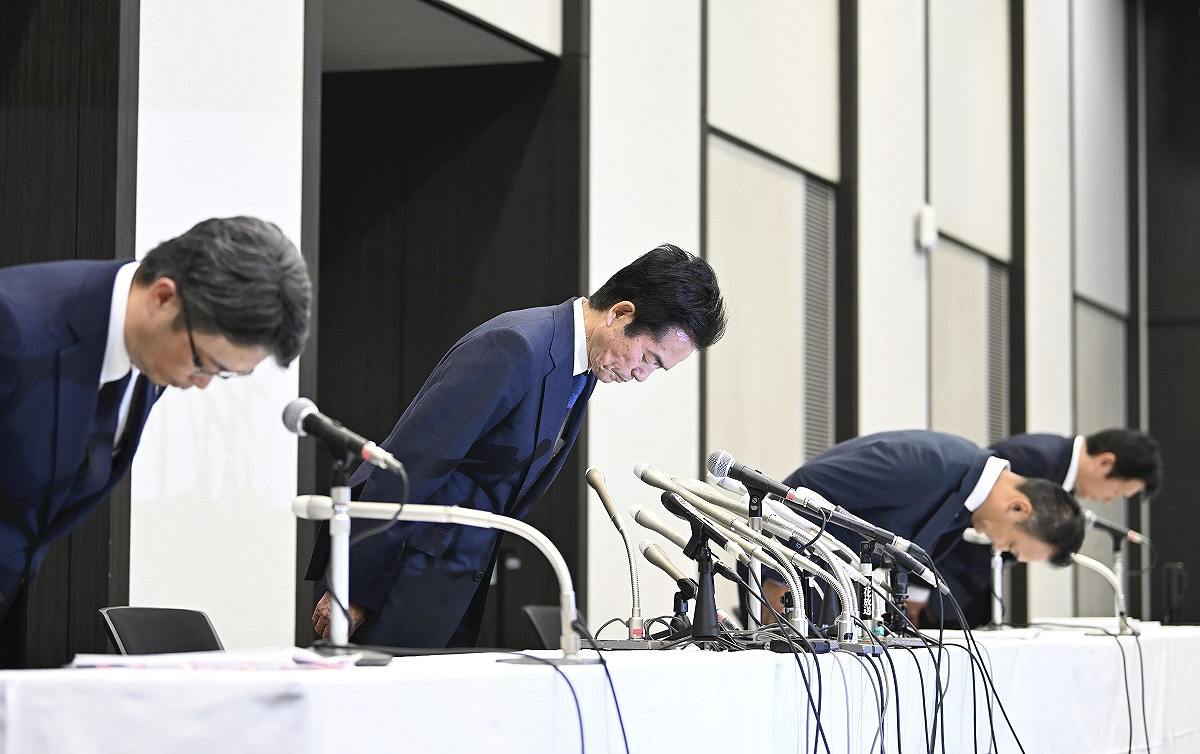 17:40 JST, July 25, 2023
TOKYO, July 25 (Jiji Press) — Bigmotor Co. President Hiroyuki Kaneshige said Tuesday that he will resign to take responsibility for the major Japanese used car dealer's scandal over fraudulent auto insurance applications.
"I deeply apologize for causing great trouble and concern to our customers, nonlife insurance companies and other parties concerned," Kaneshige told a press conference held in Tokyo.
This was the first press conference held by the president since the scandal came to light earlier this month.
Kaneshige will step down as Bigmotor president Wednesday, with executive Shinji Izumi taking his place.
Kaneshige said that he hopes to "completely change Bigmotor's corporate culture" through his resignation. The firm will work with insurance companies to offer affected clients refunds and fresh repairs of their cars, he added.
An investigative committee of external lawyers has confirmed that Bigmotor has submitted fraudulent auto insurance claims to nonlife insurance firms, including for cases in which cars were deliberately damaged to pad insurance claims.
At the press conference, Kaneshige denied any involvement by the management in the misconduct.
The irregularities "were conducted solely by (Bigmotor's) car repair division," he said, adding, "None of our executives were aware of the misconduct." The wrongdoing "was not organizational," Kaneshige also said.
He said that the company is considering responding strictly to the acts of intentionally damaging cars and other malicious cases, with options including filing criminal complaints.
On the delay in holding a press conference, Kaneshige said: "I thought that disclosing the fraudulent acts would be enough. I was thoughtless."
"I should have held (a press conference) soon," he added.
On July 18, Bigmotor released a statement disclosing and apologizing for the misconduct.
While the company announced measures to prevent any recurrence and disciplinary steps such as Kaneshige returning all of his remuneration for a year, it has come under fire for not holding a press conference.
The transport ministry is slated to hold a hearing with Bigmotor on Wednesday over the irregularities.
As some nonlife insurers had sent employees to Bigmotor on loan, the Financial Services Agency has also launched an investigation into the matter.
Of the insurers, Sompo Japan Insurance Inc. was found to have sent a total of 37 employees to the scandal-hit firm since 2011.
On Tuesday, Sompo Japan said it will set up an investigative panel made up of outside lawyers, adding that the company is considering seeking compensation from Bigmotor for insurance benefits it has paid based on the fraudulent claims and related costs.
"We will conduct the probe while ensuring objectivity and transparency, taking seriously the fact that we could not detect the fraud," it said.
Add TheJapanNews to your Google News feed.