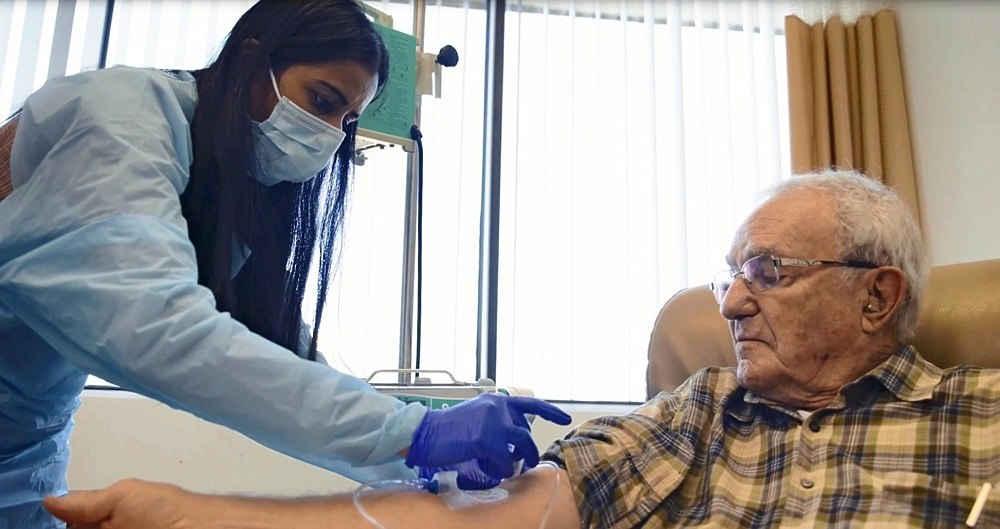 1:00 JST, July 9, 2023
Japan's drug regulatory authority is expected to reach a decision by autumn on the adoption of a new drug for the treatment of Alzheimer's disease following the medicine's full approval by the U.S. Food and Drug Administration (FDA). However, numerous issues need to be addressed before Japan approves the drug's practical use.
Lecanemab, jointly developed by Eisai Co. of Japan and Biogen Inc. of the United States, is the first drug proven to be effective in slowing the progression of Alzheimer's, and it has been attracting global attention as a game-changing treatment for dimentia.
Issues to be addressed include the fact that the drug is only administered to patients in the early stages of the disease, in addition to questions relating to the efficacy of the system geared toward the medicine's practical use.
Following the FDA's announcement on Thursday evening, George Vrandenburg, chairman of U.S.-based Alzheimer's patient-support body UsAgainstAlzheimer's, said the approval provides "a ray of hope for millions of patients."
The FDA ruling means the drug will be covered under public medical insurance for elderly people in the United States. Major media organizations including The New York Times and CNN reported the new drug's approval as breaking news. More than 10,000 people are expected to be using Lecanemab by March.
The drug removes amyloid-beta, an abnormal protein that accumulates in the brain and which is thought to cause Alzheimer's. Lecanemab's mechanism is fundamentally different from that of conventional dementia medicines, which aim to temporarily improve symptoms by activating nerve cells.
According to results from final-stage clinical trials on 1,800 patients in the early stages of the disease in 13 countries — including Japan, the United States and Europe — cognitive decline was reduced by 27% in a group of patients who received the drug intravenously every two weeks for 18 months, compared to a placebo-based control group.
Eisai said the figure represents a 7½ month slowing of dementia progression, adding that with prolonged use of Lecanemab, progression could be extended into moderate stages of the disease about three years later, compared to patients who did not use the drug.
Limited numbers
Japan-based patients and their families have high expectations of the new drug, too. However, not all Alzheimer's patients will be able to use the drug.
Lecanemab will only be administered to people in the early stages of Alzheimer's, including patients with mild cognitive impairment (MCI), which is considered a precursor to dementia. About 5 million people in Japan have MCI, but Eizai estimates that only around 1% of those people will receive the new drug. The Japan Society for Dementia Research and other five related academic bodies have similarly estimated recipient numbers to be around several tens of thousands each year.
The director of Kudanzaka Hospital in Tokyo, Masahito Yamada, said a contributing factor was that there has been little progress in the examination of patients in the early stage at medical institutions.
Currently, dementia patients tend not to visit medical institutions until their symptoms have become serious. Others, meanwhile, do not wish to be diagnosed with dementia. Against this background, in which patients may not be administered the drug in a timely manner, Kudanzaka Hospital and Tokyo Medical and Dental University have jointly launched a department to accept outpatients with the aim of slowing dementia. About 400 people have visited the facility in the last two years, of whom about 40% were found to have MCI.
"We need to ensure that early-stage patients can be examined and that doctors can offer advice regarding their lifestyle habits," Yamada said.
Regional disparities
Expanding and improving the testing system for administering the drug is crucial, too.
To determine whether someone is eligible to receive the treatment, amyloid-beta accumulations in the brain must be determined through a special imaging test known as amyloid positron emission tomography (PET), among other methods. Presently, however, only about 50 medical institutions in Japan can perform this test, and regional disparities have been observed in its availability. Test-related costs are not currently covered by health insurance.
A system for providing rapid responses to side effects is also key. In the final stage of clinical trials, cerebral edema — the abnormal accumulation of serous fluid in the brain — was observed in 12.6% of patients treated with the drug, while microbleeds and other symptoms were observed in 17.3%.
The majority of patients had no subjective symptoms, but three deaths possibly related to Lecanemab have been reported overseas. To administer the drug safely, periodic brain imaging tests are required for the early detection of abnormalities and to make related decisions, such as suspending treatment. The FDA requires that people be tested prior to receiving the drug to determine if their symptoms are genetic; such cases have a high risk of drug-related side effects.
With the aim of developing human resources capable of administering the new drug, Osaka University Hospital will begin training doctors and nurses from the end of July. The Japan Society for Dementia Research also is planning training sessions for doctors across the nation.
"The new drug could be a turning point in the treatment of dementia," said the society's chair, Takeshi Iwatsubo, who serves as a professor of neuropathology at the University of Tokyo. "We should put priority on preparing a system to safely administer the drug to those who really need it."
Add TheJapanNews to your Google News feed.