Electric Vehicle Battery Maker Envision AESC Aims to Boost Output Capacity to 20 Times Current Level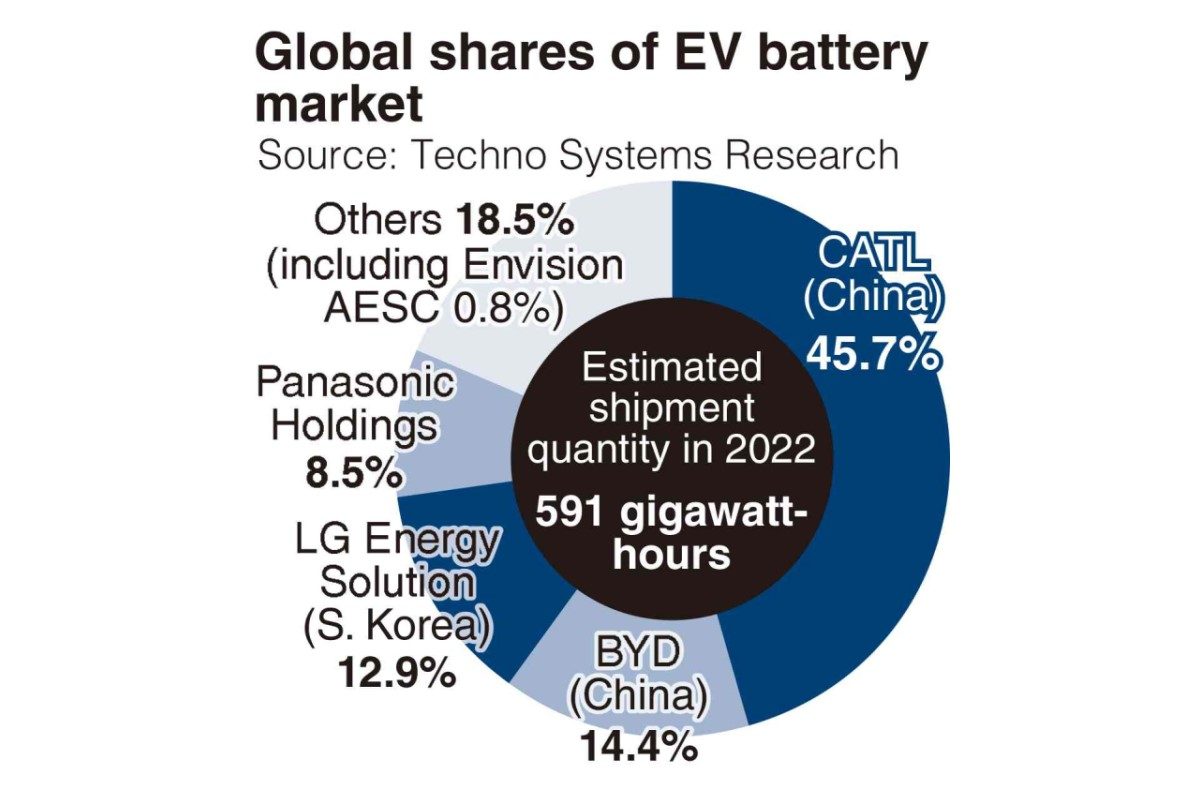 16:14 JST, May 9, 2023
A leading Japan-based automotive battery maker, Envision AESC, will increase its annual production capacity to 400 gigawatt-hours, about 20 times its current capacity, in 2026, building new plants in six countries.
Shoichi Matsumoto, CEO of Envision AESC, revealed the plan in an interview with The Yomiuri Shimbun. The Zama, Kanagawa Prefecture-based company currently supplies automotive batteries to leading carmakers, including Nissan Motor Co.
Against the backdrop of leading carmakers shifting their focus to electric vehicles (EVs), investment in automotive batteries is increasingly active.
Envision AESC plans to increase its production capacity enough to supply batteries for 5.7 million to 6.7 million EVs, each of which requires a 60- to 70-kilowatt-hour battery, according to the interview.
With its plan to build battery plants in six countries across the world, the company is expected to become Japan's largest automotive battery manufacturer.
It has been agreed that batteries to be produced at two newly built plants in the United States will be supplied to Germany's Mercedes-Benz and BMW.
The company also plans to build plants in China, Britain, France and Spain.
In Japan, a new plant is currently under construction in Ibaraki Prefecture with an investment of ¥50 billion. The plant is expected to start mass production in spring 2024. The company plans to supply its automotive batteries not only to Nissan but also Honda Motor Co. and Mazda Motor Corp. The plant will produce a new type of automotive battery that will give vehicles greater range than conventional ones.
To spread the use of EVs, countries that want a supply of domestically produced automotive batteries are paying close attention to how to secure this central component of EVs. The U.S. government offers tax incentives for EVs if a certain percentage of their battery parts are produced and assembled in North America.
Envision AESC plans to locate its plants so as to be able to cash in on assistance programs in various countries.
Panasonic Holdings Corp. has an 8.5% share of the global market for automotive batteries, the largest of any Japanese manufacturer, while Envision AESC's share is below 1%.
Panasonic also plans to triple or quadruple its current capacity of 50 gigawatt-hours by fiscal 2028. Chinese and South Korean makers, which hold larger shares in the global market, are also keen to invest in expanding their capacity.
Envision AESC was established in 2007 as a joint venture of Nissan and NEC Corp. It has been a subsidiary of China's Envision Group since 2019. Nissan still holds a stake in the company.
Add TheJapanNews to your Google News feed.