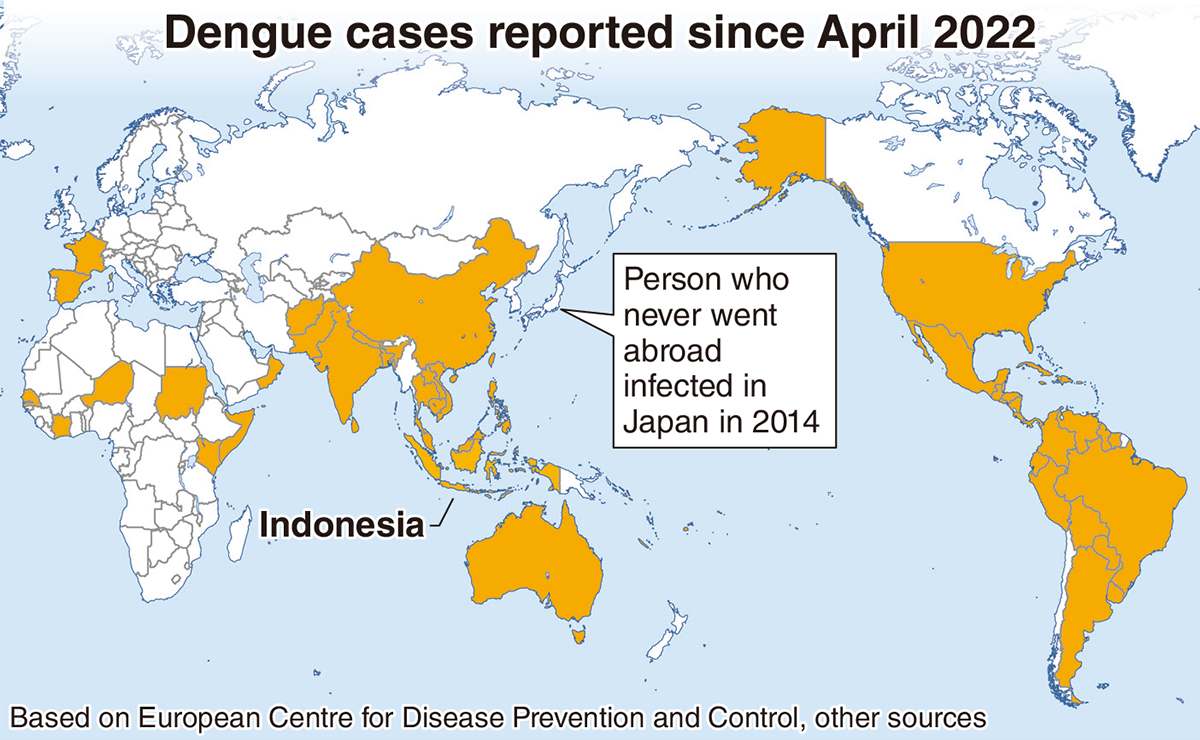 17:15 JST, April 12, 2023
A Japanese dengue vaccine will soon be marketed in Indonesia, where the mosquito-borne viral disease is endemic.
While a dengue vaccine made by a non-Japanese company is available, Takeda Pharmaceutical Co.'s Qdenga can be administered to a wider range of people.
This has raised the hopes of health authorities who sees it a powerful vaccine to prevent dengue as there is no effective treatment.
Worldwide, about 400 million people each year develop dengue when bitten by the aedes mosquito carrying a dengue virus. More than 80% of cases are mild, but more serious cases can cause symptoms such as high fever and severe headaches, sometimes with complications that can lead to death. About 20,000 people with dengue die annually worldwide.
The World Health Organization reports the number of endemic countries before 1970 was nine, mainly in Southeast Asia, but this has now expanded to more than 100 countries, including those across Latin America and Africa.
Behind the prevalence are likely the increasing movement of people across borders and global warming, which may have expanded the mosquito's habitat. There have been cases where people infected abroad bring the virus back to their home country, where it is then transmitted via local mosquitoes. In 2014, a person who had never traveled outside Japan was infected with dengue.
Qdenga is a live vaccine that uses a virus with weakened toxicity and is effective against all four types of dengue viruses. International clinical trials involving about 20,000 patients found that Qdenga was 61% effective in preventing the incidence of the disease and 84% effective in preventing serious illness that leads to hospitalization.
Qdenga was approved last August in Indonesia and will soon be marketed there for the first time among endemic countries. The vaccine has also been approved in the European Union and Brazil, and is expected to be marketed across the globe, including in Japan. Takeda said it will supply 100 million doses a year worldwide.
A Takeda spokesperson said the vaccine would contribute to solving an international health problem.
A dengue vaccine was first developed by the French pharmaceutical giant Sanofi in 2015, but it has not been widely used because there have been cases of symptoms worsening when inoculated children with no prior dengue exposure were infected. Qdenga has been confirmed to have no serious adverse reactions at this point and can be administered regardless of prior exposure.
U.S. scientific journal Science said in an article published in January that Qdenga "may soon become widely available in Indonesia, protecting far more people than a product currently on the market." An EU agency also said that "a global unmet public health need is being addressed" by Takeda's vaccine.
Virology expert and Kagoshima University Prof. Kyoko Tsukiyama-Kohara said, "Amid growing concerns over tropical infectious diseases caused by global warming, development of vaccines will contribute to improving international public health."
Add TheJapanNews to your Google News feed.