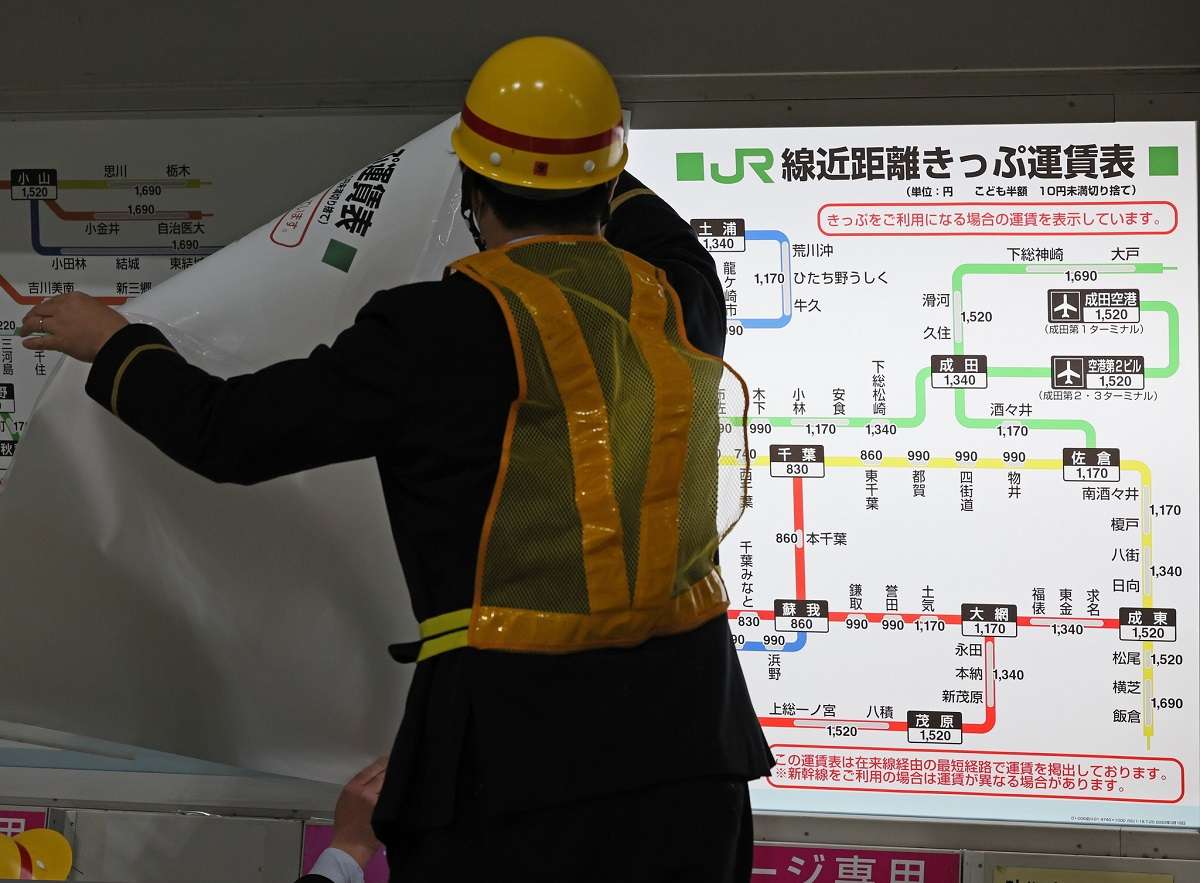 17:02 JST, March 18, 2023
TOKYO (Jiji Press) — East Japan Railway Co., or JR East, Tokyo Metro Co. and other railway operators raised their regular fares for train services in Tokyo and neighboring prefectures by ¥10 on Saturday.
These companies will use increased revenues to install elevators and platform doors and make other efforts to improve barrier-free accessibility at train stations.
The companies include Tobu Railway Co., Odakyu Electric Railway Co., Seibu Railway Co., Sagami Railway Co. and Yokohama Minatomirai Railway Co. Commuter pass prices will also be raised.
The transport ministry has set up a new system to add to fares "barrier-free fees" to be shouldered by passengers to accelerate efforts to install platform doors and other facilities.
Under the system, train service operators are allowed to implement fare increases only by compiling facility development plans and making prior price hike notifications, unlike regular fare hikes, which require screening and approval by authorities.
West Japan Railway Co., or JR West, and other railway companies in the Kinki western Japan region are planning fare hikes under the system on April 1.
Meanwhile, Tokyu Corp., which offers train services in the Tokyo area and has already advanced passenger safety measures, raised on Saturday its basic train fare by around ¥10 and regular train fares and commuter pass prices by some 13% for the purpose of increasing its earnings. The move came after the number of commuter pass users plunged as working from home became widespread amid the COVID-19 pandemic.
On Saturday, JR East launched the country's first off-peak commuter passes, which are priced some 10% cheaper than ordinary passes, for those who use trains outside weekday morning rush hours in areas subject to the latest 10-yen fare hike. Such passes are expected to help alleviate congestion and promote work-style reform.
"It's important for the government and the BOJ to work together seamlessly and take all possible measures," Kanda said. The Group of Seven wealthy economies are in close contact with each other on the latest global market turmoil, he said.
At a press conference Friday evening, Prime Minister Fumio Kishida said "Japan's financial system as a whole is stable."
The government will keep a close eye on economic and financial market movements at home and abroad, as well as the possible impact on financial system stability, he added.
Add TheJapanNews to your Google News feed.