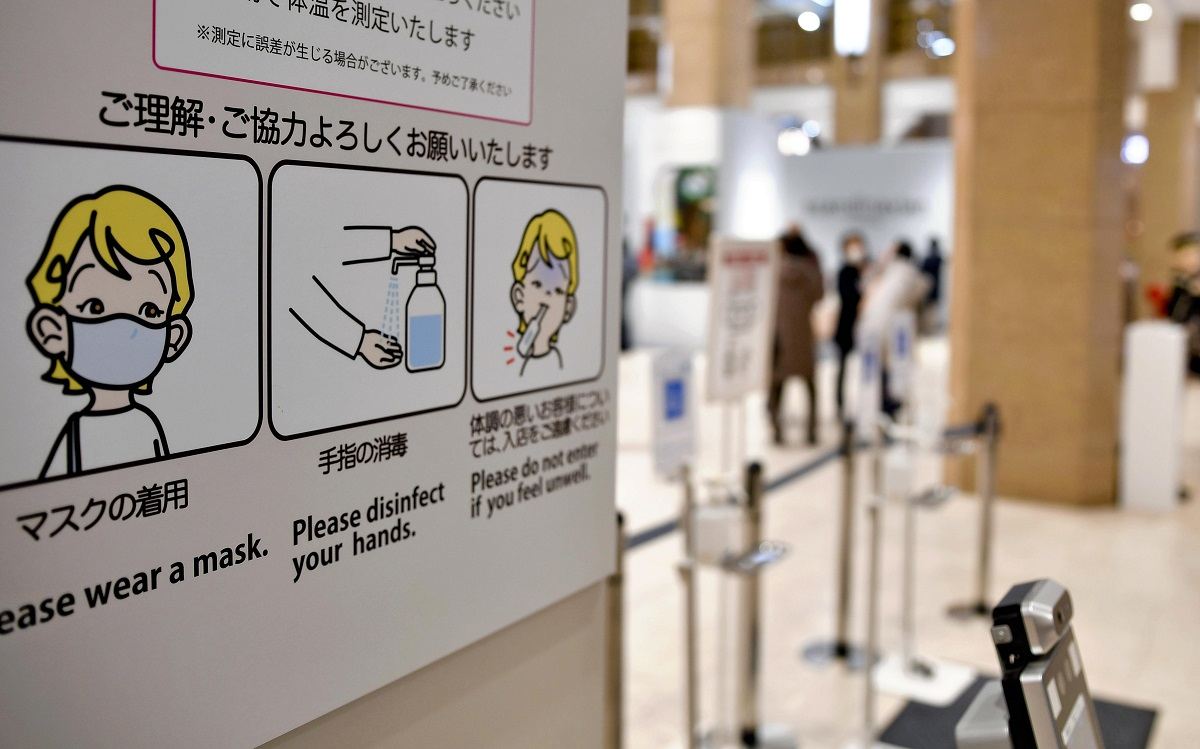 2:00 JST, March 6, 2023
Companies in Japan are fretting over the issue of mask-wearing after the revised government policy of making it optional comes into effect on March 13.
Businesses are looking forward to the boost in economic activity that can be expected, but are still deciding on their own policies.
Some in the retail, eatery and other sectors in which there is a high incidence of customer contact remain cautious about whether to allow employees to go mask-free.
Industry-wide issue
Seven-Eleven Japan Co., an operator of the major convenience store chain, has instructed 20,000 of its member stores across the country to allow customers to choose whether to wear a mask when in the stores from March 13. Currently, the chain requests that customers wear a mask while in its outlets. Seven-Eleven will continue to recommend that employees continue wearing masks for the time being.
Family Mart Co., another major convenience store chain, has announced a similar policy.
In the retail industry, Takashimaya Co. and Daimaru Matsuzakaya Department Stores Co. will not require customers to wear masks in their stores, though employees will continue to do so.
In the food industry, McDonald's Holdings Company (Japan) Ltd. and Kura Sushi Inc. — which operates a major sushi restaurant chain — have announced policies similar to those of the department stores. Torikizoku Co., which operates a chain of izakaya pubs, is considering accepting customers who do not wear masks.
Companies in the leisure and entertainment industries are mulling the issue, too.
Universal Studios Japan, a theme park in Osaka City, and Daiichikosho Co., which operates the Big Echo karaoke parlor chain, will make mask-wearing a matter of personal choice from March 13.
The Japan Amusement Industry Association — which primarily comprises game arcade firms — changed its guideline from requesting that customers wear masks to stating that the practice will no longer be necessary from March 13. The guideline also extends to employees, in principle.
An official of the association welcomed the change, saying, "The government has issued an 'official go-ahead,' so we can finally relax the rule."
Tomoki Inoue, a senior analyst at the NLI Research Institute, said, "It's expected that people will become more forward-looking with the removal of masks, which will hopefully encourage consumption."
Inoue added that fears of possible customer backlash means that "employees in the retail and eatery industries would continue to be required to wear masks for the time being."
Public transport
From March 13, it will no longer be necessary to wear a mask while using public transport, in principle. However, the practice will continue to be recommended in limited situations such as traveling on crowded trains and buses during rush hours.
The Scheduled Airlines Association of Japan, composed of 19 domestic airline companies, will allow passengers and crews to decide for themselves whether to cover up while flying from March 13.
Peach Aviation Ltd. plans to follow the association's guideline. However, an official at a major airline said, "Because some passengers are highly conscious about the novel coronavirus, wearing masks will [continue to] be necessary for the time being." It is possible that airline companies will be split over the issue.
The Japan Association of Theatre Owners, which mainly comprises movie theater operators across the nation, plans to stop asking customers to wear masks.
Conversely, Shochiku Co., which operates the Kabukiza Theatre in Tokyo, among other such establishments, will continue to "recommend" that audience members wear masks inside its theaters after March 13. For some performances, however, the company will require audience to wear masks to prevent the spread of airborne droplets.
The Japan Hotel Association will adopt the government's revised guideline that mask-wearing will become a matter of personal choice, in principle, from March 13.
But some hotel operators have voiced concern. "Guests have different views about the issue, so we're worried about how to respond," one operator said.
Company offices
Companies will likely remain split on their mask-related policies for office staff, for the time being.
In February, GMO Internet Group Inc., a major information technology company, removed from its offices acrylic dividers and other partitions aimed at preventing the spread of infections. GMO employees are now free to choose whether to wear a mask while at work.
"Mask-wearing makes it difficult to read facial expressions and hear voices clearly, resulting in reduced productivity," said CEO Masatoshi Kumagai. According to Kumagai, about half of the firm's employees presently wear a mask while at work.
A Toshiba Corp. official said, "There are various opinions [on the issue] and we haven't been able to reach a consensus."
Add TheJapanNews to your Google News feed.