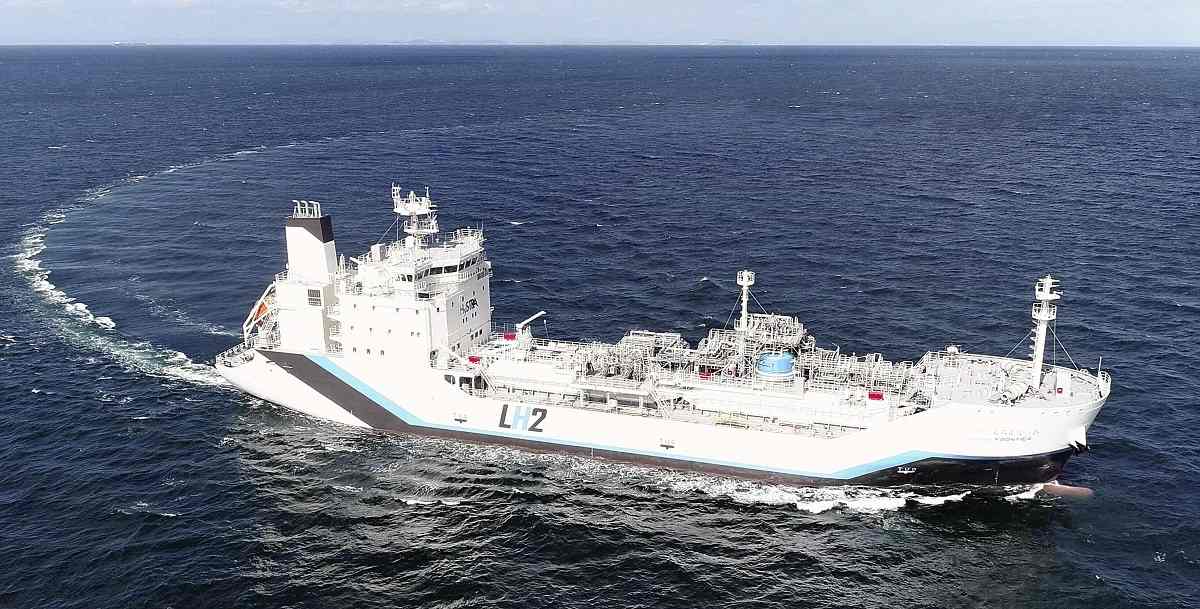 7:00 JST, February 5, 2023
The proliferation of hydrogen as an energy source has been hampered by such factors as high costs and supply chain deficiencies, but Kawasaki Heavy Industries Ltd. is hoping to change that through heavy investment in the hydrogen sector in Japan and overseas.
Kawasaki Heavy, which is involved in hydrogen production, transportation and power generation, aims to increase sales in its hydrogen unit to ¥400 billion in fiscal 2030.
"Several years from now, it's possible that all the ships we build will be for transporting hydrogen," Kawasaki Heavy President Yasuhiko Hashimoto said in a recent interview.
Liquefied hydrogen must be stored at minus 253 C or lower when it is transported, among other strict conditions.
Kawasaki Heavy is the only company in the world with a vessel equipped to transport liquefied hydrogen at ultra-low temperatures and it is currently developing huge tankers to ship the resource.
The company plans to produce hydrogen overseas and is currently conducting a trial with an Australian company, as materials required for hydrogen gas production such as coal can be procured at relatively lower prices in Australia.
In a joint venture with Kansai Electric Power Co., Kawasaki Heavy plans to build a storage facility for hydrogen imports near Himeji, Hyogo Prefecture.
The company is also developing gas turbines for electric power generation using hydrogen as fuel.
"Hydrogen can be our core business," Hashimoto said. "But a single company cannot do all the work, so we want to collaborate with various firms and countries."
Add TheJapanNews to your Google News feed.