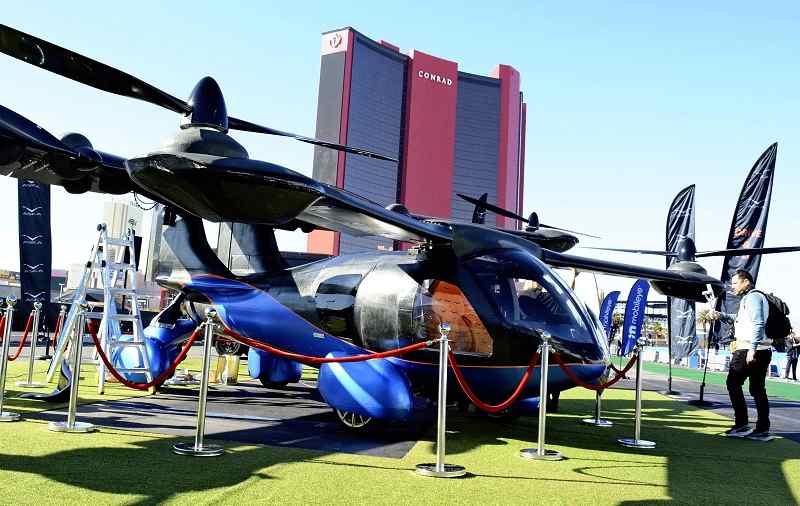 15:06 JST, January 9, 2023
LAS VEGAS — Flying cars garnered much attention at the CES expo in Las Vegas. A U.S. startup exhibited a prototype, and Japanese startups participated as well, as firms race to show off their versions of the next generation of transportation.
A crowd gathered Friday at the booth of ASKA, a U.S. startup that has developed an aircraft that resembles a small plane and is equipped with six large propellers. Scheduled for release in 2026, the A5 was on display outside the venue. When folded, it transforms into a four-wheeled vehicle about the size of a midsize car.
Powered by motors and engines, the A5 has a range of 400 kilometers, equivalent to the distance between Tokyo and Osaka. ASKA cofounder and COO Maki Kaplinsky said the A5 was the centerpiece of the flying cars on display, implying that such vehicles were the main attraction at CES.
This year's CES featured emerging companies from around the world that are developing flying cars. It was the expo's first fully held in-person event since 2020 due to the coronavirus pandemic.
Aichi Prefecture-based SkyDrive Inc., in which Suzuki Motor Corp. and Itochu Corp. have invested, and MACA, a French startup, exhibited their products. For these companies, CES was an opportunity to present their technologies and developments to visitors and seek new investment.
MACA's flying car is powered by hydrogen, placing it firmly in the decarbonization era. The company has announced plans to commercialize a flying race car with a top speed of 250 kph within a few years.
SkyDrive plans to demonstrate a fully electric flying car at the 2025 Osaka-Kansai Expo. SkyDrive's development manager said the company is confident of the superiority of its technology for the next generation.
According to a study released last May by Yano Research Institute Ltd., the global market for flying cars will be worth ¥14.6 billion in 2025, but is expected to grow to ¥122 trillion by 2050.
A South Korean company also participated in CES, publicizing its plan to develop a flying car with a range of 500 kilometers.
The competition is already fierce.
However, ASKA was the only company that displayed an actual flying car. SkyDrive's display was just a model.
"It seems to symbolize Japan's lagging behind," said Yasuo Hashimoto, a visiting professor at J. F. Oberlin University. "It's essential for Japan to push for a better environment [such as deregulation] to attract investment."
Add TheJapanNews to your Google News feed.