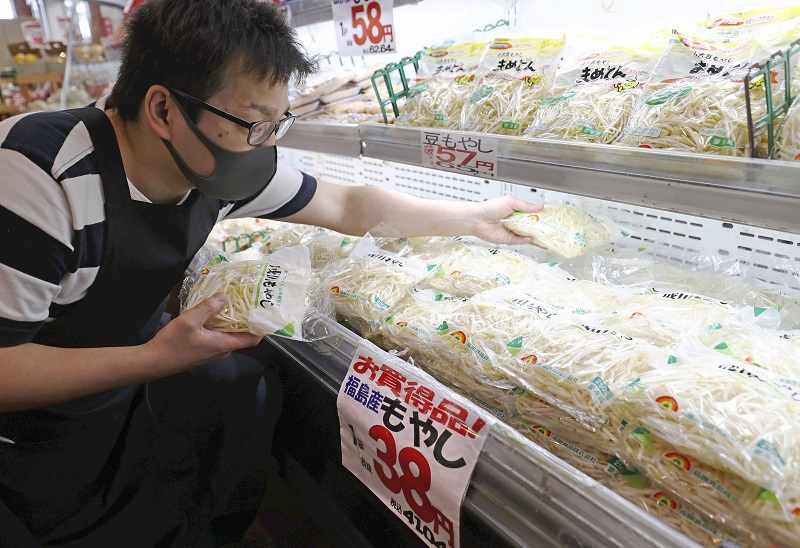 20:00 JST, July 3, 2022
Production sites for bean sprouts, which are known for their price stability as they can be grown at a consistent pace in factories, are also being hit by a wave of soaring raw material costs. Producers are facing a difficult situation where they cannot demand retailers significantly raise the price of this popular, inexpensive and tasty vegetable due to its status as a featured item at supermarkets.
On the morning of Jan. 29, at a supermarket in Adachi Ward, Tokyo, an employee was arranging some 120 bags each containing 250 grams of bean sprouts.
A poster on the sales floor read, "Great deal! ¥38 per bag before tax." A 68-year-old construction worker picked up a pack of bean sprouts right after the store opened and said, "They are easy to cook and cheaper than other vegetables. I'm grateful for them."
The bean sprouts are one of the store's most popular items. The supermarket pays a wholesale rate of ¥30 per bag, and sells over 200 bags a day to its customers. According to the store's president, Yozo Niizuma, 75, bean sprouts are popular with a wide range of customers, from young people living alone to the elderly, and they are also a useful alternative when other vegetables surge in price.
Twice a month, the store holds a "10-yen festival" where cucumbers and mitsuba are sold for ¥10, and bean sprouts are also offered at ¥10 per bag as a loss leader. Niizuma confides, "It is difficult to raise the price of bean sprouts very much because they are so dependable and attract the attention of customers."
Producers shut down
Producers of bean sprouts, on the other hand, say that they have reached their limits.
Shoji Hayashi, 68, president of Asahi Bussan in Omitama, Ibaraki Prefecture, laments, "In addition to the soaring price of mung beans, the raw material for bean sprouts, the combination of high oil prices and a weak yen has made it really tough."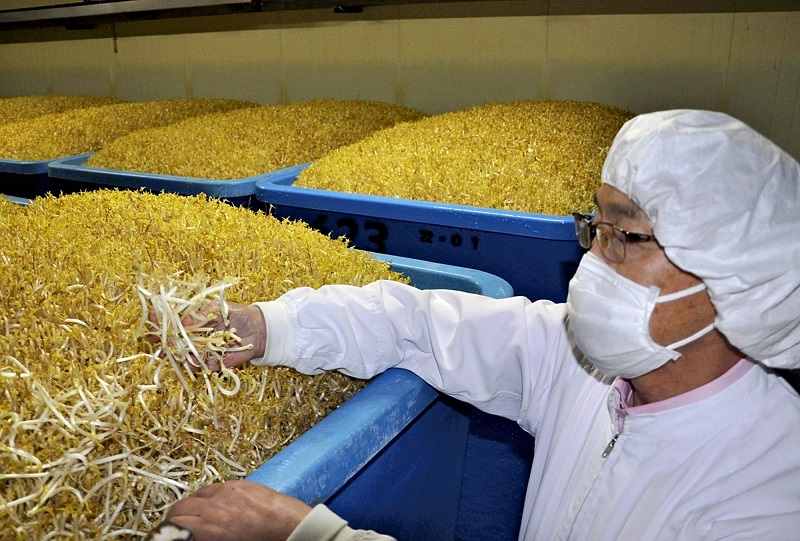 At the company's factory in Omitama, mung beans are grown by circulating hot water heated via boiler in a space shield from light. The factory produces about 200,000 bags, or about 40 tons of bean sprouts, every 24 hours.
Mung beans are produced in China's Shaanxi and Jilin provinces, but farmers there are shifting to more lucrative corn, and mung bean harvests are declining. The average import price in 2021 was ¥260,000 per ton, 2.5 times the 2008 price. Due to the Russian invasion of Ukraine, the price of fuel oil to run boilers has also increased by 50% from last year.
According to the Tokyo-based industrial association of bean sprout producers, of which Hayashi serves as president, the number of bean sprout growers has decreased from about 550 around 1995 to about 110 in January of this year. Recently, a number of small and medium-sized producers have gone out of business.
The average retail price for 100 grams of bean sprouts was ¥15.33 in 2021, and it has changed little over the last 10 years, according to a survey of households with two or more persons conducted by the Ministry of Internal Affairs and Communications.
In February of this year, Asahi Bussan asked retailers to raise the price they pay to stock the bean sprouts, and reached an agreement with them for an increase of ¥2-3 per bag. Even so, the company is hardly making any profit. "If the situation continues, more and more producers will be forced out of business," Hayashi insisted.
Add TheJapanNews to your Google News feed.