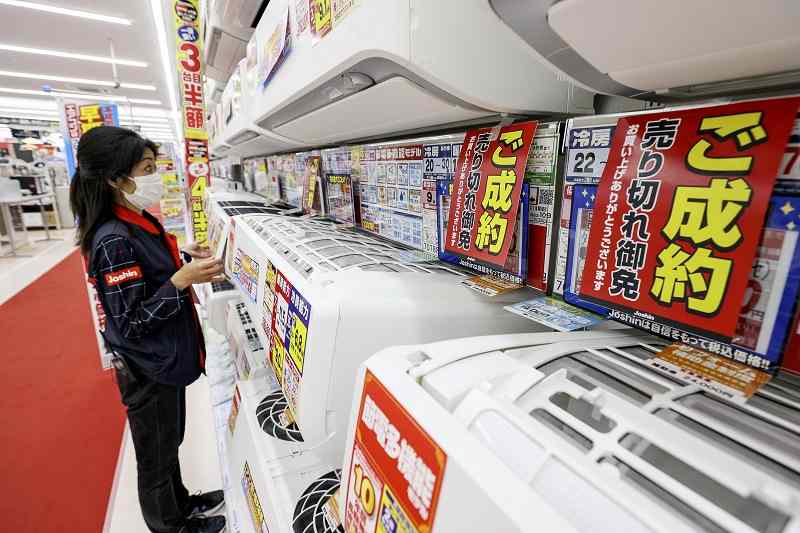 11:26 JST, June 26, 2022
Concerns are growing that supply cannot keep up with demand for home appliances such as air conditioners and washing machines, due to the global shortage of semiconductors and Shanghai's COVID-19 lockdowns, which have hampered manufacturers' production.
Since mass electronics retailers have already begun running out of stock, some appliance models may become unavailable, limiting consumers' choices just as the sales competition for summer items gets into full swing.
'Sold out' signs
On the air conditioner sales floor of Joshin's Oji electronics store in Kita Ward, Tokyo, "sold-out" signs are appearing on models sold from last fiscal year.
"Although many products are still in stock, we don't know when some air conditioner models will become available. We recommend that customers buy their air conditioners as soon as possible if they want to have new ones, because supply and demand could become tight when heatwaves come," a Joshin official said.
Washing machines and microwave ovens are also in short supply, causing an unprecedented situation, the official said.
According to sources close to the industry, major disruptions have not occurred yet at large electronics and appliance stores handling many leading manufacturers' products, as shortages are limited to some items.
However, some local electronics shops, which have weaker procurement connections, are having difficulties securing inventory.
Warnings of shortages
The wide availability of air conditioners has become increasingly important for preventing heat stroke in the summer months.
Some manufacturers have already begun issuing warnings in anticipation of shortages.
Sharp Corp. has been urging consumers on its official Twitter account since late April to test run their air conditioners early in order to ensure there are no problems later.
Sharp warns that if an air conditioner breaks down in the middle of summer, customers may end up not only facing a long waiting time for repairs, but also be unable to purchase new ones.
The major electronics maker said air conditioners and washing machines are in short supply because its factory in Shanghai that manufactures them for the Japanese market stopped operations in April and May.
Containers full of finished products also remained unloaded at ports.
Many air conditioner makers produce their products domestically, but need to import some parts from China. Shanghai's COVID-19 lockdown was lifted June 1, but it is expected to take some time for the supply and transportation chain to get back to normal.
Shipments down 11%
Home appliances other than air conditioners have also been affected by the shortage of semiconductors and the lockdowns.
Mitsubishi Electric Corp. postponed the launch of a new rice cooker scheduled for May due to delays in parts procurement.
In April and May, Panasonic Corp. stopped receiving orders for some of its washing machines, microwave ovens, rice cookers and massage chairs, for which China-made parts and semiconductors are used.
Hitachi Global Life Solutions, Inc., a subsidiary of Hitachi, Ltd., also temporarily suspended receiving orders for 13 washing machine models at the end of April due to stagnant production in Shanghai. The company later resumed accepting orders, since its production facilities began operating in stages on June 1.
The value of domestic home electrical appliance shipments decreased 11.1% in May from the same month a year ago to ¥189.4 billion, marking a second consecutive month of decline, the Japan Electrical Manufacturers' Association said June 20.
The shipment value of air conditioners declined 14.8%. For washing machines and microwave ovens, the shipment value decreased as much as 37.9% and 24.2%, respectively.
"The declines were not only due to a comedown from the strong demand last year among people staying home amid the COVID-19 pandemic, but also largely affected by Shanghai's lockdown for some electric appliance manufacturers," a JEMA official said.
Buying secondhand
Meanwhile, less-expensive, secondhand air conditioners are selling well as consumers have become more budget-minded due to recent increases in prices.
Sales of second-hand air conditioners rose 30% in May from the same month last year at Tokyo-based Treasure Factory Co., which handles them at about 70 outlets across the nation.
"More and more customers are looking for inexpensive, used air conditioners amid the increase of prices," a spokesperson for the company said.
"The best-selling models are those for six- to eight-tatami mat rooms, priced in the ¥20,000 to ¥30,000 range. Since they are relatively low in stock, we are strengthening our buybacks of used air conditioners, too."
Yoshitaka Nakashima, associate professor at Takushoku University and an expert on home appliance distribution, said: "It is true that choices have become fewer for consumers, but the situation is different from when masks and toilet paper temporarily ran short. Consumers should always select products with a cool head."