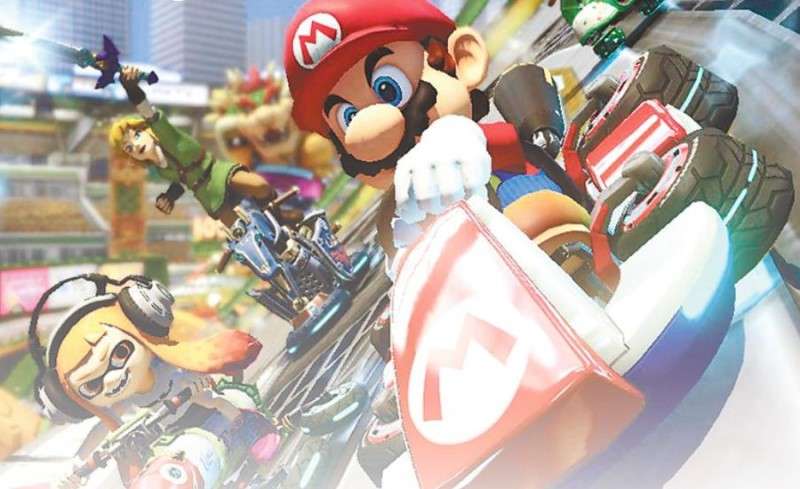 1:00 JST, June 21, 2022
Video game giants are increasing their earning power thanks to the strategy of developing established titles into long-selling software, boosted by demand from people staying home due to the COVID-19 pandemic. The companies have added new features to familiar titles to encourage people to play them over a longer time.
The past business model, in which earnings hinged on whether a company was blessed with a hit title in a particular year, is changing.
Nintendo Co.'s "Mario Kart 8 Deluxe" game was released five years ago for the Nintendo Switch home video game console, but it continues to enjoy good sales even now. According to gaming magazine Famitsu, "Mario Kart 8 Deluxe" ranked fourth in the latest nationwide monthly video game sales ranking. Its cumulative worldwide sales reached 45.33 million units as of March, making it the all-time top-selling Switch title.
Older versions of Capcom Co.'s "Resident Evil" series (called "Biohazard" in Japan) are also enjoying strong sales.
"Resident Evil 7: Biohazard," released in 2017, has sold more than 1 million units annually. Its cumulative sales have surpassed 10 million units.
Capcom President Haruhiro Tsujimoto said the company's ability to sell its mainstay titles over a long period of time supports its stable growth.
'Keep players from getting bored'
A major reason for older titles' continuous good sales is the shift from brick-and-mortar retail to downloading. Games sold directly online are less susceptible to the strategies of mass retailers, which tend to emphasize new releases. Software developers also can encourage people to experience the world of a particular popular series by offering older titles at a significantly reduced price, thus cultivating new fans of the series who will be motivated to purchase newer titles as well.
Marketing strategies that use downloading have also proved successful as companies are able to add new characters or scenarios for a fee after the original release of the software. This has made it possible, as a source in the game industry put it, to "make money many times over with a single title."
Nintendo regularly releases software for in-game seasonal events in "Atsumare Dobutsu no Mori" ("Animal Crossing: New Horizon"), which became a social phenomenon after its release in March 2020. Last autumn, the game underwent a major update to make it easier to play. The game's long-lasting popularity is supported by what Nintendo's public relations department called "ingenuity to keep players from getting bored."
Concerns of 'rut'
The companies' ability to reduce manufacturing and transportation costs has also contributed to their improved earning strength.
Koei Tecmo Holdings Co., known for titles such as the "Sangokushi" ("Romance of the Three Kingdoms") game series, reported a ratio of operating profit to net sales of nearly 50% in the business year that ended in March. Operating profit accounted for more than 30% of net sales at both Nintendo and Capcom.
Koei Tecmo Holdings Co. Executive Vice President Hisashi Koinuma said sales of both new and old titles contributed to the company's growth.
There is concern that a strategy relying on old hit titles may lead companies into a rut as funds and human resources are not allocated to the development of new titles.
Katsuhiko Hayashi, representative of Famitsu Group, said: "Owning many popular series is an advantage of Japan's software giants. However, they need to constantly develop new software as there is no guarantee that popular titles will always continue to sell well."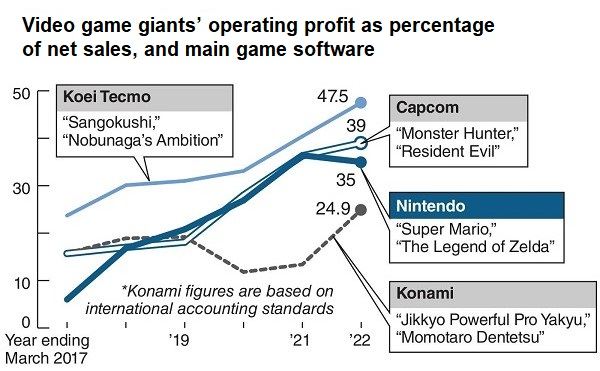 Add TheJapanNews to your Google News feed.