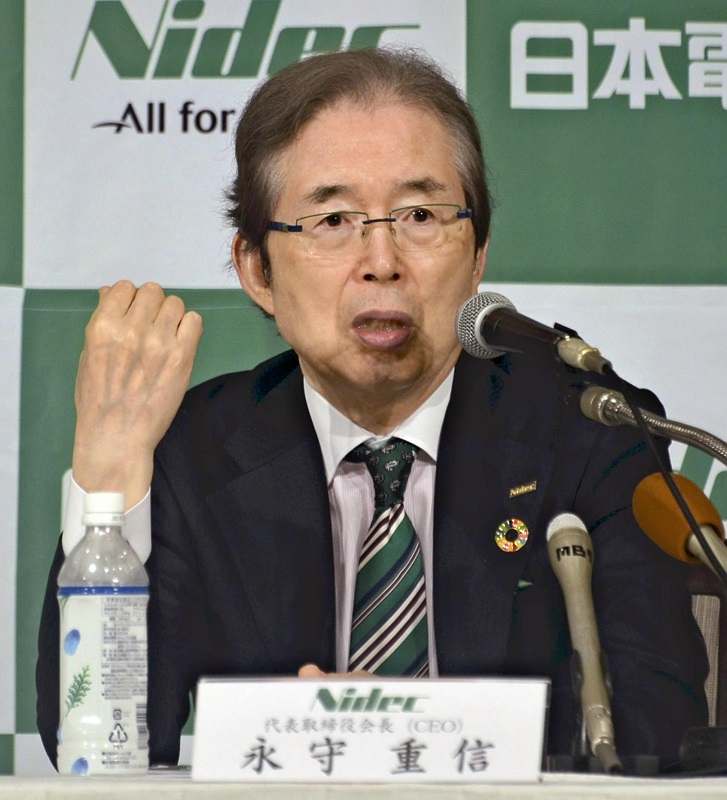 15:12 JST, June 18, 2022
Nidec Corp. faces a difficult task in selecting a successor to the charismatic leader who founded the giant major electronic components manufacturer in a single generation.
The successor to Nidec Chairman Shigenobu Nagamori, 77, who reassumed the position of chief executive officer in April, has yet to be determined.
Nagamori expressed his desire to return to the company's starting point and nurture his successor at the firm's annual general shareholders meeting Friday, yet the process of selecting his successor continues to be a trial-and-error process.
"The president is still a novice. I'm working hard to teach him," Nagamori said about President Jun Seki, 61, at the shareholders meeting held at a hotel in Kyoto.
Seki, who was previously deputy chief operating officer at Nissan Motor Co, joined Nidec in January 2020 at the invitation of Nagamori.
He succeeded Nagamori as chief executive officer the following year, and the firm's financial results for fiscal 2011 ended in March hit an all-time high.
When Seki served as CEO in June 2021, the firm's stock price was above ¥12,000, but it fell to ¥8,000-level in April this year due mainly to the global shortage of semiconductors.
Nagamori became frustrated with this slump in the stock price, saying that it was an intolerable level, and Seki was demoted from the CEO post after less than a year in the position.
However, even after Nagamori's return to the CEO spot, the stock price has remained at the ¥8,000-level.
At the general meeting, Nagamori said, "Stock prices are falling all over the world. Nidec alone should not go up," while at the same time furiously saying, "If you don't like Nidec stock situation, you don't have to buy them. Sell them after you leave the meeting."
Nagamori emphasized that products for electric vehicles would grow, given the growing demand for such vehicles around the world. "We will make significant profits next year and the year after that," he said. He expressed confidence that the stock price will reach ¥15,000 or ¥20,000.
Still, the market remains less optimistic about Nidec situation because it is unclear whether the company will be able to smoothly break away from its heavy dependence on Nagamori.
"It is difficult to see how Nagamori-ism is being passed on to his successor," a shareholder said at the meeting.
At the press conference following the shareholders meeting, Nagamori stated that he would nurture Seki as his successor as long as he does not run away.
Seki also expressed his willingness to return to the CEO post, saying, "I will get Nagamori-ism entrenched in the company."
However, Nidec's direction in selecting a successor remains unclear, with Nagamori saying at a press conference, "If he runs away, I will hand over the CEO position to one of the most experienced people who started the career at this firm."
Nidec is not the only company with a "charismatic manager" who is struggling to find a successor.
SoftBank Group Corp. Chairman and CEO Masyoshi Son, 64, had a Google executive in mind as his successor, but he withdrew his offer. Fast Retailing Co. Chairman, President and CEO Tadashi Yanai, 73, also once passed on the presidency, but has reappointed himself to the post.
Add TheJapanNews to your Google News feed.