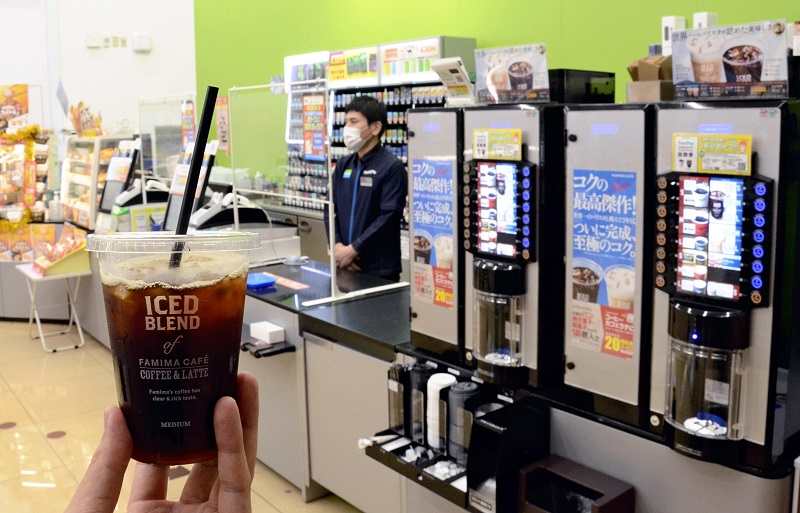 11:00 JST, June 14, 2022
Three major Japanese convenience store operators are now focusing on new fresh-brewed specialty coffees dispensed by machines that sit near convenience store cash registers ahead of the summer season, when sales of iced coffee are expected to increase.
Soaring raw material prices have led to price increases for some products, but all three companies hope to broaden their customer base with new flavors of coffee, with a particular emphasis on growing regions and roasting methods.
The companies are working to restore customer traffic, which has declined amid the spread of the novel coronavirus.
FamilyMart on June 7 began offering new and improved versions of its Famima Cafe iced coffee and iced cafe latte, both priced at ¥180 for a medium size. To make the coffee richer, the company has increased the proportion of Brazilian coffee beans from among the four types of coffee beans used, and it has also added more roasting time to mellow the bitterness of the coffee.
The company plans to expand its customer base by offering bread and other baked goods that can be purchased as a set with the coffee.
Coffee dispensed from machines placed near convenience store cash registers has become a hit for its low price and freshly brewed taste. Since coffee is an indulgence for which many people are particular about the growing region and roasting method, each company is making every effort to improve taste.
Seven-Eleven's new Seven Cafe product (¥140 for a regular size) uses fragrant Colombia Supremo beans, considered to be some of the highest-quality Colombian coffee beans. The blend also has a higher percentage of beans that have been dark roasted, bringing out the richness of the coffee.
Lawson has updated the roasting method for its Machi Cafe iced coffee (¥150 for a medium size) and other coffee products, blending beans roasted in two different roasting machines to brew coffee with a more intense flavor and aroma that are immediately noticeable in the mouth.
According to the All Japan Coffee Association, consumption of coffee in Japan in 2021 fell 1.6% from the previous year to approximately 423,700 tons.
Although the pandemic has also contributed to the decline in coffee drinking, consumption is now trending toward recovery, with a 0.8% increase for January to April of this year compared to the same period last year.
Convenience stores — which have been struggling, especially in urban areas, as people avoid them due to COVID-19 — now expect the coffee business to grow. "We hope to encourage customers to visit our stores by using coffee," said a representative of a major convenience store.
Add TheJapanNews to your Google News feed.