Vending machines with frozen signature items from chain restaurants on the rise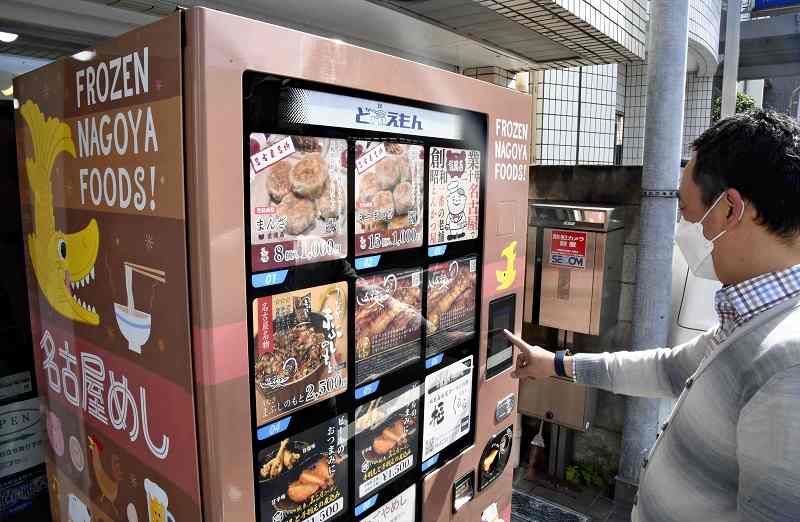 12:00 JST, May 23, 2022
There has been a recent rise of vending machines offering consumers the chance to take home the frozen form of some signature menu items from privately run eateries or chain restaurants, such as chicken wings and Nagasaki champon noodles.
As the number of patrons at restaurants has not bounced back to pre-coronavirus times, operators of eateries are looking to seize the business moment by selling their dishes in the "contactless" sales market.
Nagoya specialty in Tokyo
A vending machine selling frozen versions of some well-known dishes from Nagoya, such as hitsumabushi — which features grilled eel — and chicken wings, was placed in front of a pottery store in Kagurazaka in Shinjuku Ward, Tokyo, in April.
These are signature dishes prepared at popular restaurants in Nagoya before being quick-frozen and transported to Tokyo.
Sanwa Shoji, a Nagoya-based company that sells machine tools and the like, set up the vending machine.
Shuji Wakuda, president of Sanwa Shoji, decided to invest in the idea because he wanted to help his favorite restaurants in Nagoya, which have seen a decline in sales during the COVID-19 pandemic.
"Not one of those [privately run] eateries in Nagoya has opened a branch in Tokyo yet. If the food goes over well in Kagurazaka, a district well-known among foodies, they may have a better chance to set up branches and be successful," Wakuda said.
Sales for these vending machine are said to be brisk.
Fearing "shelter-in-place" measures amid the COVID-19 pandemic, more and more restaurants have set up vending machines to sell their menu items in frozen form.
The sales at the vending machines, which will not only allow the products to be sold without contact between customers and sales staff but can also run around-the-clock, are also expected to make up for a decline in patronage at times when eateries might be asked by local governments to cut business hours because of the pandemic.
Providing advertising
Ringer Hut Co., which operates chain restaurants with Nagasaki champon as its signature dish, introduced a vending machine selling frozen items on a trial basis in June last year.
It features Nagasaki champon, a noodle dish cooked in broth along with seafood and vegetables, and sara udon, another noodle-based item with fried noodles that are topped with vegetables.
In anticipation of bulk buying by customers who come by car, the company set up vending machines mainly at locations on the outskirts of big cities.
There were machines at 28 of its outlets, as of the end of April, in the Kanto region and Kyushu. At some stores, as many as 40 of the items were sold in a day.
About 20% of people who bought the frozen products at vending machines were said to have made their purchases after restaurant business hours.
"Thanks to their conspicuousness, the vending machines have also been an advertising source for our products."
Matsuya Foods, Co., an operator of a beef bowl restaurant chain, has set up vending machines at three of its outlets in Tokyo. One of the popular items is a Gyumeshi burger, slices of beef sandwiched between rice, which is not served at these three outlets.
Beef bowl restaurants are also generally considered places that women, groups and families tend to find uncomfortable to visit. But because patrons can purchase beef bowls from the vending machines without being self-conscious about how fellow patrons view them, Matsuya Foods hopes that the vending machines can boost its customer base.
According to the Japan Vending System Manufacturers Association, the number of vending machines — including those selling beverages and automatic service machines such as money changers — has been declining nationwide.
That is chiefly because of an uptick in the number of convenience stores and sluggish sales of vending machines near office buildings amid the growth of telework.
Yet, the number of vending machines selling food reached about 73,000 units in 2021, up 4% from the previous year.
Sanden Retail Systems Corp., a Tokyo-based company that has developed a vending machine for frozen food items, said since it started selling the machines in January 2021, it hit more than 3,000 units sold as of the end of March. Although its initial target was 1,000 units a year, it has received better-than-expected orders from restaurants hit hard by the pandemic, the company said.
Add TheJapanNews to your Google News feed.