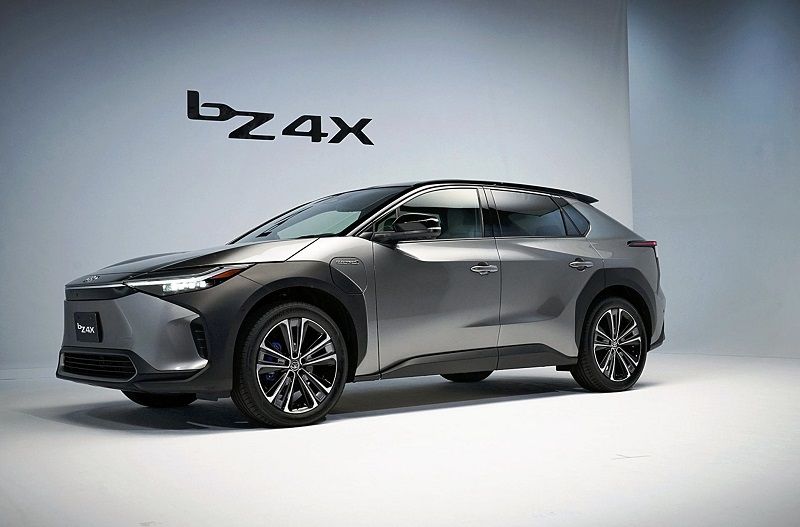 11:23 JST, April 24, 2022
NAGOYA — Toyota Motor Corp. will from next month introduce a flat-rate service for electric vehicles in a move aimed at reducing concerns over costs, which tend to be higher than those of gasoline-powered vehicles.
"We want to take on the challenge of changing sales practices in Japan," said Yasuhiko Sato, chief director of Toyota's domestic marketing business at an online press conference on April 12.
From May 12, Toyota will offer a subscription service for its new bZ4X electric vehicle. The scheme, which is only open to individuals, will be run in conjunction with car leasing company Kinto Corp. Though the fee has yet to be announced, the subscription will run for up to 10 years and cover insurance, automobile tax and maintenance.
In order to access public subsidies related to electric vehicle usage, the bZ4X must be used for a minimum of four years. But from the fifth year, no cancellation fee will be charged, and the fee will be gradually reduced.
For the time being, Toyota has decided to avoid the traditional method of selling a car, including sole ownership, to customers in Japan. Sato said the reason for this was "careful consideration of customers' concerns."
There are many potential worries when buying an electric vehicle. Users might see a low trade-in price when switching to a new vehicle due to poor battery performance caused by repeated charging and use. Previously, few electric vehicles came onto the used-car market, making trade-in prices difficult to predict.
The Kinto service will allow customers to return their cars when the usage period is over, thus alleviating concerns over trade-in prices.
5,000 units
Toyota is also working to compensate for weaknesses associated with electric vehicles.
The bZ4X can run a maximum distance of 559 kilometers using front-wheel drive on a single charge, making it suitable for long-distance travel. Even if the battery runs low, it can run for 275 kilometers when charged for 30 minutes using a quick charger with an output of 90 kilowatts.
Nevertheless, it is thought that electric vehicle owners worry about their batteries deteriorating, thereby shortening the distance they can travel. Kinto, however, guarantees a certain level of battery performance during the contract period.
The bZ4X will be sold to corporations through leasing. Vehicle prices range from ¥6 million to ¥6.5 million, which forms the basis for insurance premiums. A total of 5,000 units will be produced and sold by the end of March 2023.
Taking responsibility
Manufacturers must shoulder a certain amount of responsibility even after selling an electric vehicle. To fulfil their social commitments toward decarbonization, makers must find the optimal way to collect and use batteries. This point was considered in connection with sales of the bZ4X. Since the car will be returned at one point, Toyota will collect the batteries and efficiently promote their reuse and recycling.
"We're prepared to take responsibility until the end of a car's life," Sato said.
The bZ4X can run much further on a single charge than the about 400 kilometers notched up by other common electric vehicles.
"You can travel without worrying about how much power the air conditioning is consuming," said automobile commentator Hideaki Kataoka. "I think the vehicle can even run between Tokyo and Nagoya [about 350 kilometers]."