Competition heating up over design, production of eAxles for electric vehicles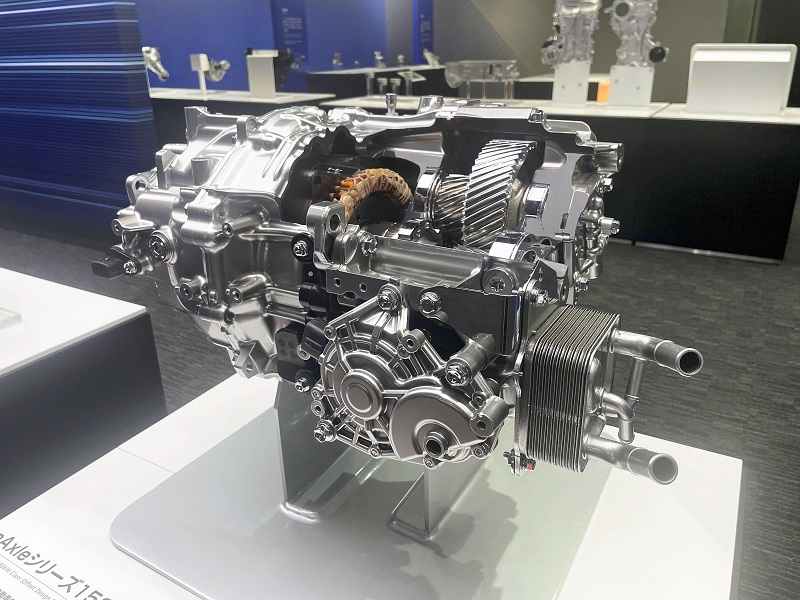 12:25 JST, March 30, 2022
Automakers are actively pursuing the development and mass production of eAxles, a core drivetrain part for electric vehicles.
The eAxles are seen as the heart of EVs and have a significant impact on their electrical efficiency and performance. In addition to major auto parts makers in Japan and abroad, an increasing number of companies in other business sectors are also entering the market for eAxles, which may lead to significant changes in the competitive landscape of the automobile industry.
An integrated drivetrain part, eAxles unify the motor, gearbox and inverter, which controls the electric current. By integrating these major parts, automobile manufacturers can save time and labor on development and assembly, their EVs can be lighter, and costs can be reduced.
Aisin Corp. President Moritaka Yoshida stressed, "We regard [eAxles for EVs] as a top priority and will concentrate our business resources on further development."
Over a two-year period starting in fiscal 2022, Aisin is assigning most of its engineers to work on electrification and intends to strengthen its development framework. This was prompted by concerns that the market for automatic transmissions for gasoline-powered cars, which are currently Aisin's main products, may shrink amid a shift to EVs.
Aisin developed its first generation of eAxles in 2020. They were installed in such models as Toyota Motor Corp.'s Mirai fuel-cell vehicles.
Aisin plans to accelerate its development, enhancing its eAxle's energy efficiency, reducing its size and lowering costs. The company aims to develop second-generation products that can be used in compact, midsize and large vehicles in 2025, and to begin mass production of third-generation products in 2027. Aisin also seeks to build new production lines in Japan in the near future.
Through such means as improving its eAxle, Aisin is hoping to raise EVs' driving range by at least 10%.
Group efforts
The eAxles are core elements that affect the basic performance of EVs and are as critical as the batteries installed in such vehicles. Experts liken them to the engines of gasoline-powered cars, and eAxles can affect acceleration and travel distance.
Because the motor, gearbox and inverter are integrated inside, eAxles reduce the weight of EVs and allow more body space.
Toyota and its group companies are therefore enhancing their development framework. In 2020, Toyota contributed capital to BluE Nexus, a company developing and selling eAxles that was jointly established by Denso Corp. and Aisin.
BluE Nexus coordinates between automakers and parts makers regarding the design and performance of eAxles.
Toyota is scheduled to soon release its first mass-production EV model, the bZ4X, on the global market, and plans to install newly developed eAxles from BluE Nexus.
Aichi Steel Corp. announced a prototype of its eAxle in February. The company signed a cooperation agreement with Tohoku University, and it aims to develop technologies and materials that enable eAxles to rotate at higher speeds and become smaller.
Aichi Steel President Takahiro Fujioka said, "We're still in the development stage, but [Aichi Steel] has lots of expertise regarding parts."
Competition heating up
Market research firm Fuji Keizai Co. predicts that the number of electric-powered vehicles containing eAxles, including EVs and hybrids, will soar to about 12.5 million in 2035, or 54 times the about 230,000 in 2019.
Competition among related companies has grown increasingly fierce to take advantage of this demand.
Jatco Ltd., a Nissan Motor Co. subsidiary that produces transmission parts, is conducting research and development for the mass production of eAxles.
Hitachi Astemo Ltd. is also considering their development. The company was established in January last year through the management integration of parts makers that were subsidiaries of Hitachi Ltd. and Honda Motor Co.
Top overseas suppliers, such as Bosch of Germany, have also thrown their full energy into mass-producing the parts, and companies in other business sectors have entered the eAxle market as well.
Nidec Corp. began providing eAxles in 2019, ahead of other companies, drawing on its processing techniques for motors. Ten car models from automakers in China, where EVs are more common than in Japan, are already equipped with Nidec's eAxles. Operations will begin in the middle of this year at its plant in Serbia, its sixth production base in the world.
Mitsubishi Electric Corp. announced in November last year that it will enter the eAxle market in cooperation with other companies. It aims to mass-produce the parts in the near future.