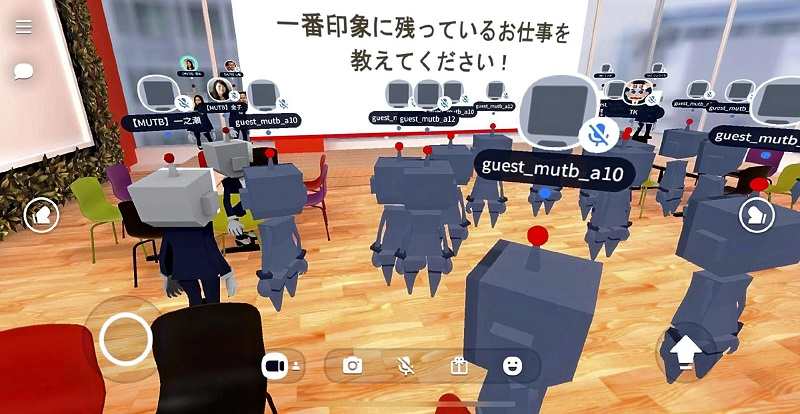 12:25 JST, October 17, 2021
In the middle of last month, a large number of students gathered at a multipurpose space on the 27th floor of Mitsubishi UFJ Trust and Banking Corp.'s headquarters in the Marunouchi district of Tokyo. The potential recruits were attending the information session in hopes of joining the company in the spring of 2023.
But different from ordinary years, the students themselves were not actually at the venue. In their places were computer graphic avatars. And the venue itself was only a virtual space that exactly recreated the real room.
Companies are increasingly turning to virtual reality technology, which creates a realistic space on a computer, for student recruitment and in-house training, as the coronavirus pandemic has limited opportunities for large groups to meet or have in-person training.
The VR technology, which makes it possible to change the view up and down and left and right to provide a 360-degree perspective, is also drawing attention as a means to realize a more realistic form of communication than that available through teleconferences.
At Mitsubishi UFJ Trust, the avatar of a woman who already received a job offer and will join the bank next spring appeared at the event, answering questions from attendees such as "What made you decide to join the company?"
The students were able to change the direction of their avatar's viewpoint and answer questions by giving commands on their personal computers. They were also able to applaud or raise their hands using icons, which could also express emotions like surprise and agreement.
The bank held its recruitment event using a teleconference system last year, but the number of people able to be connected at one time was limited. In addition, some students commented that they weren't able to get a true feel for the company with this method. As such, the bank decided to go with the VR technology.
"We recreated the excitement of a place where many students have gathered together," a public relations official said.
In August, Meiji Yasuda Life Insurance Co. also embraced virtual reality for its in-house training. For its student internship program, the company held a quiz contest that drew about 1,100 students to promote communication between them.
"To make them aware of horizontal ties with their peers, one-way teleconferences are not enough, " a public relations official said. "VR is an effective tool because it allows communication with each other."
Financial institutions have strict controls over information, so there are restrictions on the places that students are allowed when visiting the company. Mitsubishi UFJ Trust plans to make use of VR to recreate a dealing room, where bonds are traded and which is normally off-limits to outsiders.
Both companies see new possibilities using the technology.
Outside the financial world, FamilyMart Co. and Suntory Holdings Ltd. have introduced VR for training programs.
According to FamilyMart, the pace of the training in seminars for new employees who joined the company last year was changed according to the level of understanding. In this way, the company was able to reduce the amount of time required for training by about 30 hours per person.