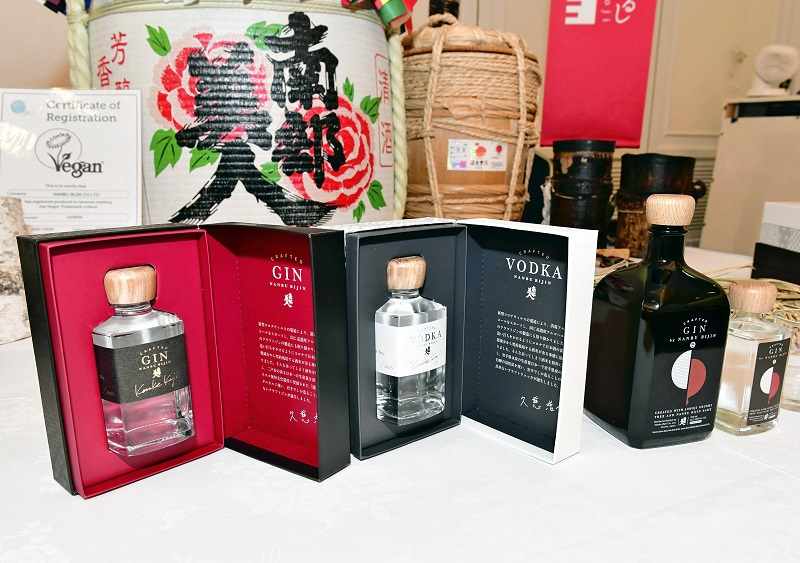 16:21 JST, September 28, 2021
Nanbu Bijin Co., a sake brewing company in Ninohe, Iwate Prefecture, has released a craft gin made using local Joboji urushi (lacquer tree), and a craft vodka made using Japanese white birch from Kuji City in the prefecture.
Claiming that the spirits can only be produced locally, the company hopes they will be enjoyed by many as the area's new specialty products.
What prompted development of the spirits was the spread of the novel coronavirus.
In May last year, Nanbu Bijin utilized techniques it had developed to also produce rubbing alcohol, which was in short supply due to the pandemic. President Kosuke Kuji, 49, the company's fifth-generation sake brewer, said that he then realized there were people who needed rubbing alcohol to survive on a daily basis because they use it to disinfect respirators or feeding tubes.
"I had been thanked for making delicious alcohol, but for the first time I was thanked for making alcohol to help save a life," Kuji said. Impressed with the discovery, he decided to "continue producing rubbing alcohol for the rest of my life as long as the company exists, so that people in need of rubbing alcohol would not have to live in fear of running out."
In order to keep the company running, however, the brewery focuses on its main business of selling alcohol. For this reason, Kuji turned to gin and vodka, which can be made with the same license that is required to manufacture rubbing alcohol.
Gin and vodka are usually made from grains such as barley and corn, but the company decided to produce rice-based spirits instead. Since the demand for sake has been decreasing amid the pandemic, the company uses surplus sake-brewing rice from Iwate Prefecture to make their gin and vodka.
For the first time in Japan, Nanbu Bijin used fire-roasted Joboji urushi tree bark to add a smoky aroma and flavor to the gin. The vodka, for which the Japanese white birch is used as an activated charcoal, is said to have a transparent taste and umami derived from the rice.
The company, which plans to export the products, launched production of 2,021 bottles of each spirit on Aug. 18. The 200-milliliter editions with a 60% alcohol content are priced at ¥10,000 each, excluding tax. Each bottle bears a production number that Kuji has handwritten himself and the bottles of gin and vodka bearing No. 0001 were auctioned on Sept. 23, with the successful bid being donated to the promotion of Joboji urushi and the planting of white birch.
The gin and vodka with a 40% alcohol content will be available on Sept. 29 through the company's online store as well as in liquor stores in the prefecture.
Gin will be sold in two sizes — 200 milliliters (¥1,650, excluding tax) and 700 milliliters (¥4,300, excluding tax). The 200- and 700-milliliter vodka will be sold at ¥1,350 and ¥3,900, excluding tax, respectively.
Add TheJapanNews to your Google News feed.