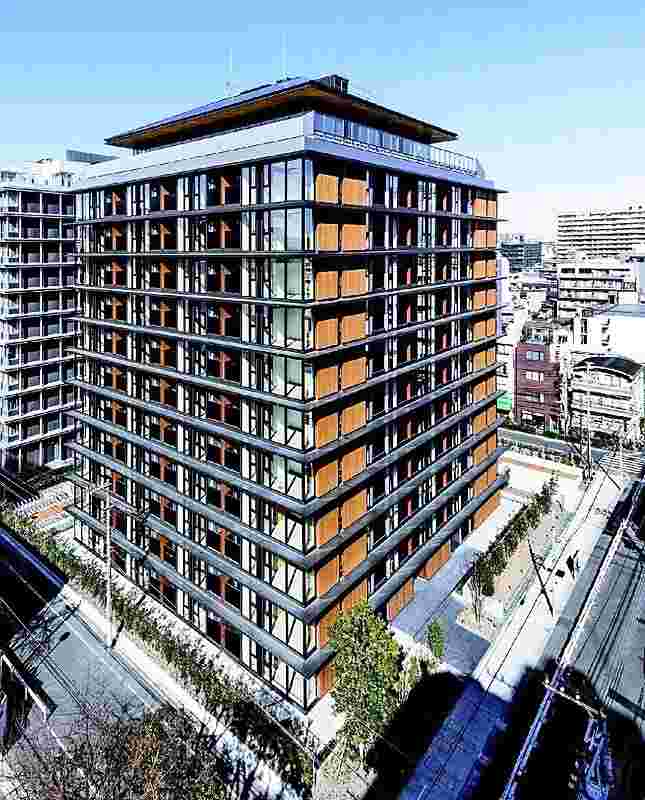 11:46 JST, September 19, 2021
New wooden materials of higher strength and fire resistance are giving condominium builders options to reduce costs and construction times by using wood.
The sense that opting for wooden constructions will help with decarbonization is adding impetus to the new building trend. It will also be encouraged by a revised law to foster the use of domestic timber in private structures, which will come into effect in October.
Mitsui Home Co., a subsidiary of Mitsui Fudosan Co., is building its first five-story wooden condominium in Inagi, Tokyo. The first floor of the building, which requires the most strength among all floors, is made of reinforced concrete, but the walls and floors of the second floor and above are made of wood.
The company said the building is comparable to reinforced concrete structures in terms of soundproofing and earthquake and fire resistance. The company hopes to build such condominiums throughout the nation in the future.
Wooden condominiums have pillars, walls and other main support components that are made of wood. Since wood is lighter than reinforced concrete and other materials, some ground improvement work is unnecessary for these constructions.
Mitsui Home expects the construction costs of the building will be 10% to 20% lower by comparison. The company said that it was not affected by the shortage of imported wood amid the pandemic and soaring prices of domestic timber — dubbed the "wood shock" — because it had secured the building materials ahead of time.
A number of mid- to high-rise wooden buildings have appeared in the Kansai region, including the Osaka Timber Association Building in Nishi Ward, Osaka, and Subaco, a commercial building in Muko, Kyoto Prefecture.
Sometimes, steel frames and reinforced concrete are used in combination with wood to create a "hybrid structure." Nomura Real Estate Development Co. started construction of such a hybrid structure, a 14-story condominium, in Chiyoda Ward, Tokyo, in September 2020. Tokyu Land Corp. also plans to build a hybrid-structure office building in Shibuya Ward, Tokyo.
The supply of wooden building materials is ramping up.
Mitsubishi Estate Co., which built the nation's first 10-story, hybrid-structure high-rise condominium in Sendai in 2019, set up a company last year to supply building materials made from domestic timber together with a major construction company and others. A plant of the supplier started operations in Kagoshima Prefecture in July.
The most commonly used building material is cross-laminated board, made of wood such as Japanese cedar and cypress. It became available as a general building material in 2016 in accordance with the Building Standard Law. Technological developments have increased its fire resistance and load strength.
The use of wood is also being touted because less carbon dioxide is emitted during processing into building materials. If mid- and high-rise condominiums are made with wood, experts say CO2 emissions can be reduced to about half, compared with reinforced concrete structures.
In October, an amendment to the law to promote the use of domestic wood will come into force. It is expected to encourage private companies to use wood in their buildings and make it easier for them to receive relevant subsidies from central and local government entities.
"The demand for single-family houses, the main source of wood use, is expected to fall due to a declining population," said Norichika Ando, a senior researcher at Norinchukin Research Institute Co. "The key to the future will be the extent to which condominiums and office buildings will be made of wood."