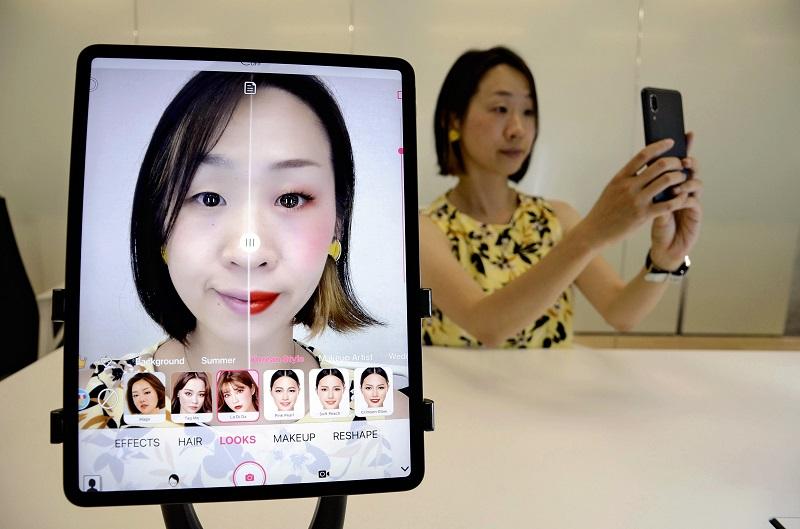 14:52 JST, August 21, 2021
Virtual shopping technologies have opened the way for new businesses in the cosmetics industry, which has had to rethink many of its approaches amid the novel coronavirus crisis.
Of particular value to the cosmetics industry is the virtual try-on technology offered by the Taiwan company Perfect Corp., which was founded in 2015. Its core app, YouCam Makeup, can accurately assess the shapes of eyes and lips using artificial intelligence, and then reproduce their colors and reflections with augmented reality (AR).
The company's Virtual Makeup system is used by more than 350 brands in 11 countries. It has been downloaded 500 million times, mainly by young people who like its feature of allowing the user to easily try on cosmetics from various makers.
A 16-year-old second-year high school student in Kodaira, Tokyo, was casually browsing the website of Kanebo Cosmetics Inc.'s Kate brand in late July, looking for a nice tinted lip balm, when an ad popped up on her smartphone. "You can try on all the colors by using virtual makeup!"
At the touch of a button, her face appeared on the screen. When she chose a shade of tinted lip balm, the color of her lips instantly changed. Other virtual try-on options included eye shadow, blush and more, all showing how she would appear if actually wearing makeup.
After deciding on her color choice, she purchased the product at a cosmetics store in Harajuku, Tokyo, the next day.
"I don't want to touch too many products, especially because of the infections," she said. "I want to continue using this system when narrowing down the colors that suit me."
Large, established cosmetics companies have also taken notice of this new gateway to tech-savvy customers.
In March 2018, French cosmetics giant L'Oreal turned a Canadian company that offers the same type of service as Perfect Corp. into a wholly owned subsidiary, enabling consumers in 80 countries to virtually try its products.
"Based on our experience in providing products in diverse regions, we are able to reproduce the texture of each product with high precision on the skin in various different colors," an official of L'Oreal's Japan unit confidently said.
140,000 variations
Since it was founded in 2017, Sparty, Inc. in Shibuya Ward, Tokyo, has been growing rapidly through a strategy of offering personalized blends of essences, emulsions and other elements based on consultations and images of skin taken with customers' own smartphone cameras. It is said that the company is capable of producing a total of 140,000 different kinds of cosmetics.
"Is there anything you are worried about now?" In a conference room at Sparty, a large screen displays that question about skin problems. Clients choose from among five items, such as fine lines and dry skin, and suitable skin care methods are shown with advice such as "Provide deep moisture for your skin."
Sparty employees are working on developing a sales website called Made to Order, which the company aims to put into practical use within 10 years. The company is planning to create a system where these questions and answers are conducted by voice and AI, recognizing customers' voices automatically to find the product or service that suits them.
"The days of scrolling through screens for dozens of minutes on end to find the product you want will be over," said Yosuke Miyama, 33, president of the company, referring to its future website.
Harnessing new tech
Zozo, Inc., which operates an online clothing shopping site, opened Zozocosme, which specializes in cosmetics, in March. The company has also started distributing for free its Zozoglass facial-color measurement tool, which are eyeglass frames printed with special color markers.
Putting on the glasses and taking a selfie makes it possible for the system to assess the skin and its color. When choosing a foundation, for example, the system can tell the customer the closest color matches for their skin.
Since starting the system, Zozo's cosmetics sales have increased 20-fold over when it sold cosmetics at the Zozotown online clothing store. The number of requests for the Zozoglass tool has already surpassed 1.1 million.
The cosmetics industry has been relatively open to newcomers from other industries such as pharmaceutical and food manufacturing firms, as it is easy to adapt their materials-related technologies to the development of cosmetics. And in the current era of dealing with the novel coronavirus, the effective use of digital technologies is seen as a new key to success for newcomers.
Add TheJapanNews to your Google News feed.