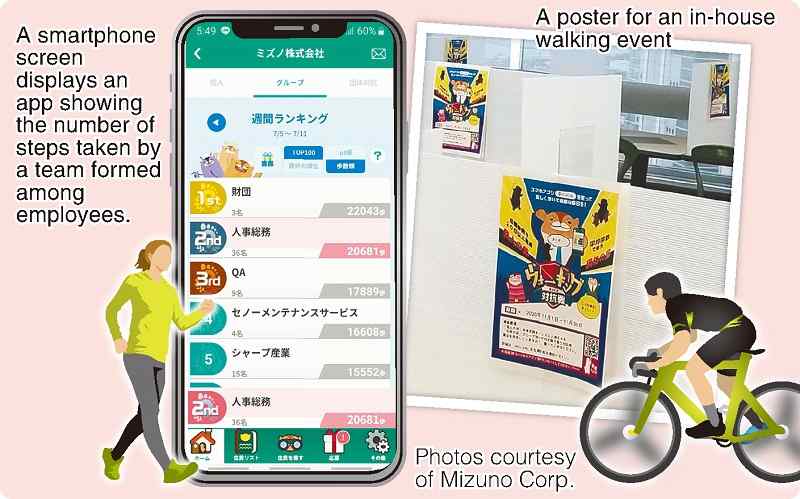 13:18 JST, August 19, 2021
With telecommuting becoming more widespread during the coronavirus pandemic, some companies are taking steps to ensure their employees stay physically active.
Last year, Osaka-based software company Agileware Inc. distributed calorie-tracking wrist monitors to all of its 40 employees and introduced a cash incentive based on the number of calories they burn.
The employees get paid up to ¥400 a day if they burn 100 calories or more, which amounts to ¥8,000 for burning 2,000 calories or more over 20 working days in a month.
Agileware employees are not allowed to work in their offices when state-of-emergency or priority measures are in place.
According to the company, many of its employees chose to keep working from home even when emergency measures ended.
"Not many of our employees did exercise before, and now they aren't commuting they are even less active so we had to do something about it," Agileware Chief Executive Officer Mitsuyoshi Kawabata said.
The company decided that cash would be the best incentive to encourage employees to exercise.
Currently, about 90% of its employees wear the wrist monitor and work out doing such activities as yoga, badminton, cycling and running.
"We will continue this trial so they stay healthy and have long careers," Kawabata said.
Osaka-based major sporting goods maker Mizuno Corp. held a competition among employees in November last year and May this year, using a smartphone pedometer app to monitor the number of steps they take.
Participants competed individually or in groups, logging how many steps they take each day during a certain period.
About 800 employees — half its workforce in Japan — participated in the events, and some said they started exercising more seriously after the competition.
In June last year, the company conducted a health survey with staff members who were telecommuting and found that many of them complained of stiff shoulders and back pain.
Mizuno, thinking that a lack of opportunities to exercise could be one of the reasons, came up with the idea of a walking competition as a simple form of exercise.
Employees can use the app outside the event period.
In April, Wedding Park Co., a Tokyo-based wedding information service provider, started awarding its employees points according to the number of steps they take based on an idea presented by new recruits.
Employees use a pedometer app on their smartphones to track the number of steps they take and the points they earn can be exchanged for health food products or equipment such as balance balls.
The employees can form teams to gain points, which serves as an opportunity for them to interact with people in different departments.
"We want to devise positive solutions for some of the problems that have arisen during the pandemic, such as lack of exercise and communication," company spokesperson Haruki Uchida said.
Add TheJapanNews to your Google News feed.