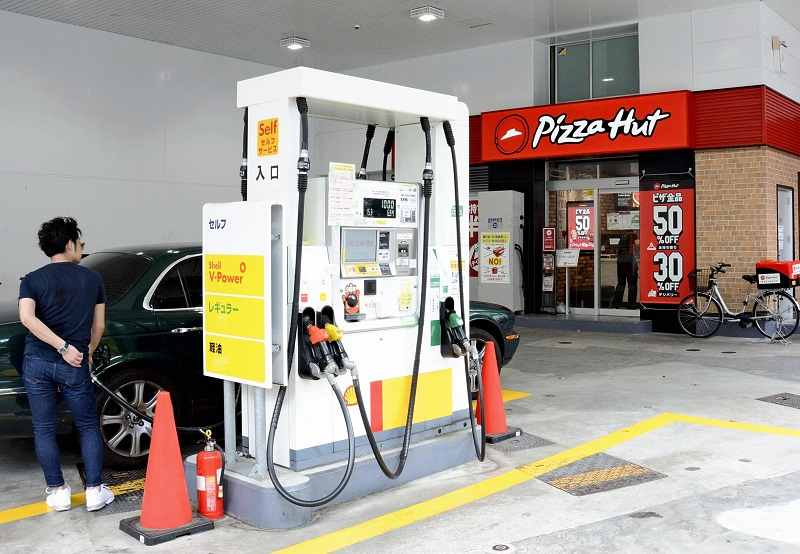 11:44 JST, August 18, 2021
The decline in the number of gas stations is unstoppable.
According to a recent survey by the Economy, Trade and Industry Ministry, there were 29,000 gas stations at the end of fiscal 2020, down by half from their peak.
The sudden drop in demand for gasoline has been partly attributed to a lack of interest in cars among young people and the growing popularity of eco-friendly cars.
Amid a push for efforts to decarbonize, a decline in demand is inevitable. Gas stations are trying to survive by diversifying their services, but securing a supply system for gasoline-powered vehicles might become an issue.
Japan's gasoline demand has fallen from 61.48 million kiloliters in fiscal 2004 to 45.23 million kiloliters in fiscal 2020, down about 30%. Accordingly, the number of filling stations in the country has been on the decline for the 26th straight year since its peak of 60,421 in fiscal 1994.
According to the national petroleum dealers' association, 97% of the operators of gas stations are small and medium-sized businesses, and 70% operate only one outlet.
There is a serious shortage of business successors, especially in rural areas, and many operators have decided to close their businesses.
According to the economy ministry, there were 332 municipalities with three or fewer gas stations as of the end of March 2020. In rural areas, where there is less public transportation than in urban areas, the decrease in the number of gas stations adversely affects the convenience of local residents.
The government is stepping up measures such as encouraging the spread of mobile gas stations, at which gas tankers in parking lots are used to refuel vehicles. There has also been an increase in the number of public-private gas stations, where the local government takes over a closed gas station and commissions a company to manage operations, but maintenance costs are sometimes an issue.
In a bid to help operators of gas stations diversify their sources of revenues, oil companies have begun to provide support.
A Pizza Hut outlet opened in December 2018 at a gas station in Shibuya Ward, Tokyo, that is affiliated with oil refiner Idemitsu Kosan Co. Pizza sales at the outlet are said to be strong compared to other pizza stores in the area.
Idemitsu plans to offer services including health checkups and elderly day-care at about 6,400 of its affiliated gas stations nationwide.
ENEOS Holdings Inc. also offers services other than refueling at its affiliated gas stations, such as convenience stores, at 188 locations, cafes, at 83, and coin-operated laundries, at 10.
Oil industry expert Prof. Masatoshi Kojima of Momoyama Gakuin University said: "The key to survival is whether gas stations can become multifunctional transportation hubs that include commercial facilities and car-sharing services."
In January, the government set a target of having all new auto sales be electrified vehicles, including electric vehicles (EVs) and hybrids, by 2035.
Further decline in demand for gasoline is inevitable.
The government has set a policy to increase the number of charging facilities for EVs from the current 30,000 to 150,000 by 2030, including quick chargers. It also wants to increase the number of hydrogen stations for fuel-cell vehicles (FCVs) from about 170 to 1,000.
However, the installation of quick chargers will cost about ¥8 million and hydrogen stations will require about ¥330 million.
The shift from gasoline-powered vehicles to next-generation vehicles such as EVs and FCVs is expected to be slow. The sector is "not expected to generate enough demand to justify the investment," according to an executive at a major oil distributor.
For this reason, next-generation models have only been introduced on a trial basis at gas stations affiliated with major oil firms.
The government must come up with a strategy to get through this transitional period to maintain gas stations as a part of social infrastructure while the rollout of next-generation models expands.