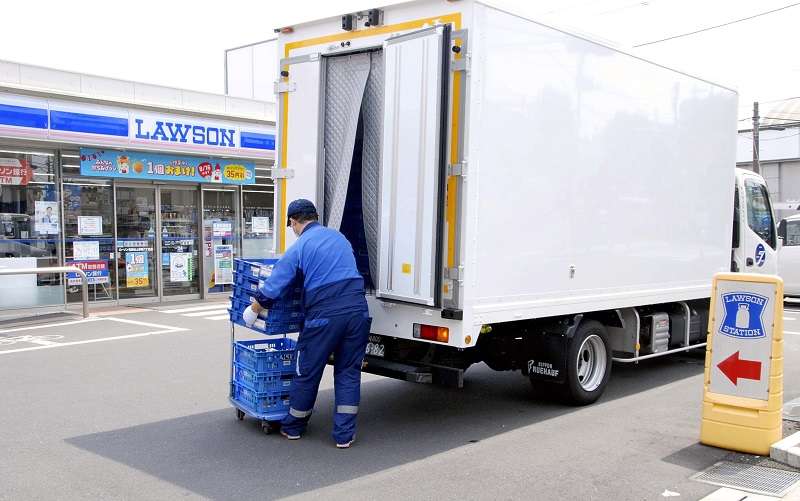 8:10 JST, August 17, 2021
Lawson Inc. plans to introduce an artificial intelligence system in October to manage product deliveries to its stores.
Truck delivery schedules are currently created every three months, but the AI system envisaged by Lawson will eventually complete this task automatically every day.
By optimizing the use of these trucks, delivery costs as well as carbon dioxide emissions are expected to be reduced.
AI-generated delivery plans will first be used to deliver products from a distribution center in Gunma Prefecture to about 400 stores. Expansion to other regions will happen gradually.
The AI technology was developed by OPTIMIND Inc., a start-up out of Nagoya University. The company has produced automatic delivery route generators for logistics companies including Japan Post Co.
Lawson currently makes deliveries from about 120 distribution centers nationwide to about 14,000 stores.
The delivery plans, which determine factors such as arrival times and routes to the stores, are created by managers at each distribution center on personal computers, based on product needs and location of each store.
This process takes more than two weeks, and once made, the plans are generally expected to be used unmodified for three months.
While the inventory and supply needs at each store vary from day to day, the delivery trucks operate at predetermined times and numbers.
The AI system will analyze data such as store orders, inventories and optimal delivery times to create up-to-date delivery plans in about an hour.
On days with fewer deliveries, the number of trucks can be scaled back, which reduces fuel and labor costs. The company estimates the system could lower delivery costs by 15% and CO2 emissions by 17%.
For starters, the AI will produce a fixed delivery plan covering three months in Gunma prefecture. After a trial period lasting until fiscal 2023, the system could start creating optimal plans every day.
Using different delivery plans every day will affect the times that trucks arrive at stores, which could increase the burden on stores. To address this, Lawson is considering creating facilities to temporarily store delivered products and notifying stores of the delivery time as early as possible.
Convenience store operators are facing a severe shortage of drivers, so improving the efficiency of deliveries has become an important issue for them.
The three major operators — Lawson, Seven-Eleven Japan Co. and FamilyMart Co. — have conducted various trials, such as using shared trucks to make store deliveries last year.
Add TheJapanNews to your Google News feed.