Startups capitalize on appetites for home-delivery services fueled by pandemic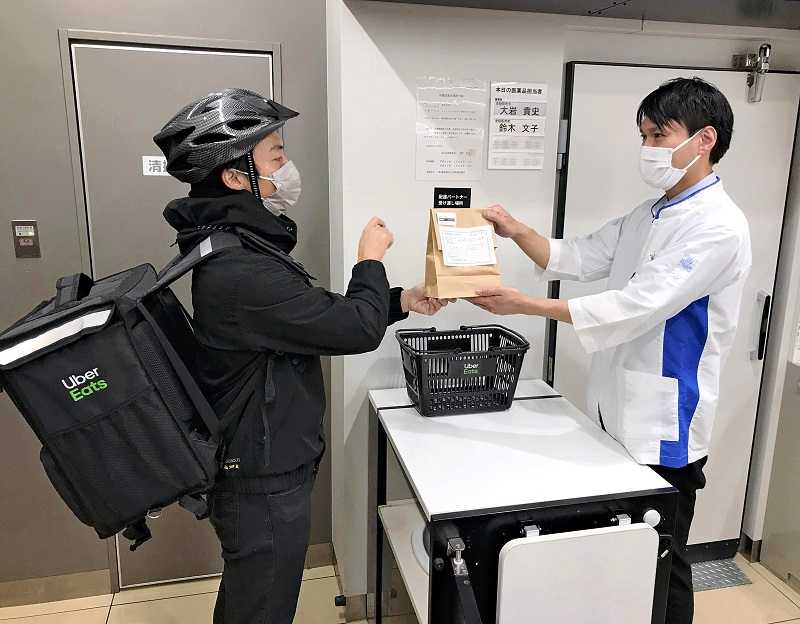 7:42 JST, August 12, 2021
This series of articles focuses on situations surrounding the logistics industry, which has evolved from an obscure function to a core concern for today's businesses. This is the third installment of the series.
'Anyone can do'
"This has become a job which anyone can do," said an executive with a leading home delivery service. "All you need is a driver's license and a smartphone."
Roughly 90% of all home-deliveries in Japan are handled by Yamato Transport Co., Sagawa Express Co., and Japan Post Co., the three biggest names in an industry that has conventionally been seen as inhospitable to newcomers.
Getting a foot in the door has entailed significant capital investment in trucks, warehouses, and other equipment, not to mention securing a team of delivery personnel with professional experience and know-how.
These barriers, however, have begun falling.
A case-in-point is Uber Eats, an online delivery platform which has been steadily branching out from food delivery to capture a slice of the general home-delivery pie.
On the morning of June 18, an electronic ping rang out in the Sasazuka Ekimae branch of Lawson convenience store, in Shibuya Ward, Tokyo. After glancing at a tablet terminal installed beside the cash register, a clerk quickly tossed an assortment of prepackaged snacks, onigiri rice balls, and bottled drinks into a bag, and handed off the order to an Uber Eats delivery courier.
Such exchanges have become a familiar sight at convenience stores across Japan. Since launching two years ago, the service has now spread to roughly 1,800 Lawson stores in Tokyo and 29 other prefectures, allowing people to order over 300 items, from food to daily necessities and even pharmaceutical products, directly to their homes.
The novel coronavirus pandemic has only boosted the tailwinds propelling Uber Eats. As people started sheltering at home, Uber Eats catered to growing demand by expanding its roster of delivery partners to include Edion Corp., a consumer-electronics retailer, and Tabio Corp., a manufacturer of socks.
The deliveries are made by a small army of gig workers, who bike around town with box-shaped bags on their backs and smartphones in hand, waiting to claim one-off jobs.
Amazon Japan has also begun outsourcing package delivery by recruiting independent contractors through its "Amazon Flex" program. The arrangement gives workers the flexibility to set their own schedules, while providing the company with a much-needed resource to build its distribution network.
It is an approach that bears many similarities to Uber Eats' model.
Last-mile delivery
Digital advances have also encouraged many companies to join the home-delivery fray, as technology increasingly compensates for the skills and instincts that could formerly only be acquired after years of experience.
In 2020, Tokyo-based startup 207 Inc. developed an app called "TODOCU supporter," tailored toward delivery drivers operating as individuals. When the driver photographs the day's delivery slips using their smartphone, the app will map out a route, indicating the order in which deliveries should be made.
It is said that artificial intelligence (AI) can help drivers deliver nearly twice as many packages in the same amount of time. Give AI a list of addresses and it will instantaneously identify an optimal delivery route.
"Even inexperienced drivers can deliver goods efficiently," said Shinya Takayanagi, the startup's CEO. The popular app now has over 10,000 users.
CBcloud Co., another firm based in Tokyo, acts as a conduit between individual drivers and consignors who want to ship goods. Over 37,000 drivers have registered with its app "PickGo." The company has also partnered with major department stores Takashimaya Co. and Sogo & Seibu Co.
This new sector to burst out of the gates has been dubbed the "last-mile delivery market." (One mile is about 1.6 kilometers.) The "last-mile" refers to the final leg of the supply chain, when couriers hand-deliver products to their final destination. By extension, the term can also describe such local deliveries over short distances.
The growth of ecommerce and stay-at-home demand have given operators plenty of footholds to enter the market. Nihon Kotsu Co., a taxi operator headquartered in Tokyo, and DoorDash, a U.S. food-delivery platform, are just a few of the many companies to throw their hats into the ring since last year.
Lack of professionalism
In a sense, the system is mutually beneficial: gig workers can maintain their freedom outside of an organization, while companies do not need to keep redundant employees on their direct payroll. While this alignment of interests has underpinned the sector's rapid growth, there have also been a number of conspicuous speedbumps.
According to the National Consumer Affairs Center of Japan, the number of consultations brought to consumer centers across the country with regards to "home-delivery of meals" reached 1,110 cases in fiscal 2020, a roughly 2.4-fold increase from the 466 cases logged in fiscal 2019.
Late deliveries, packages left on the wrong doorsteps, and deliverymen slipping past autolocking building entrances to appear directly at apartment doors are among the issues reported by consumers.
All such cases can be chalked up to a lack of professionalism on the part of drivers, a trend that has likely been exacerbated by an increase in the number of newcomers who have turned to the industry as a way to supplement lost income from their day jobs as a result of the pandemic.
In June, department store operator Matsuya Co. began offering the home-delivery of meals and fresh produce in partnership with Azit Inc., a startup that offers on-demand delivery by automobile. Its drivers all undergo mandatory in-service training, including etiquette when interacting with customers.
Fumbled handoffs at the time of delivery harm the customer's trust in the department store.
"Delivery drivers are on the front lines, coming into direct contact with our customers," explained a Matsuya spokesperson. "We can entrust the role to them with confidence when they understand the importance of courteously serving customers and properly handling our products."
However, such initiatives are far from the norm.
A challenge for the days ahead will likely be securing conscientious drivers who can be trusted with the task.
Another urgent topic will be improving the labor conditions of gig workers, who are ineligible for minimum wage protections, as they are not official employees of the business operators.
Meiji University associate professor Ken Yamazaki, an expert on personnel and labor management, said: "In terms of working conditions and social security, there is a huge gap between gig workers and employees. We need a system that will not lead a declining birthrate of instability in old age."
Can the interests of these four parties — workers, consumers, shippers of products, and intermediary service operators — be reconciled? The optimum answer remains to be seen.
Add TheJapanNews to your Google News feed.