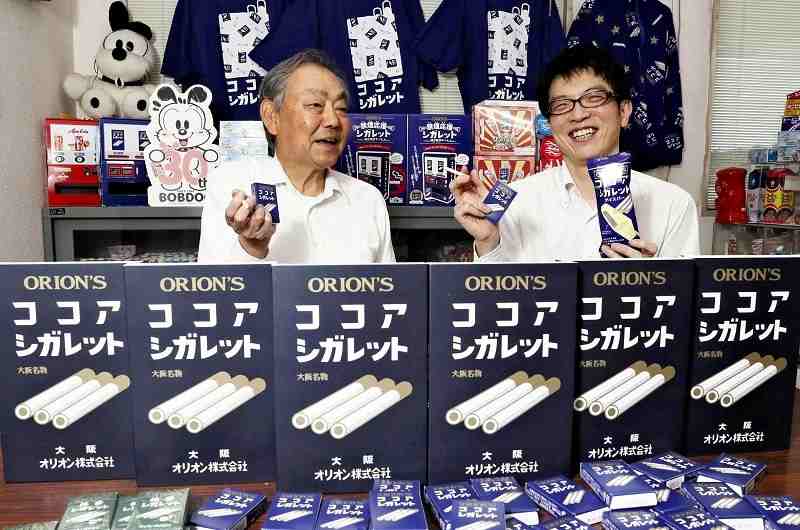 11:00 JST, July 9, 2021
Cocoa Cigarette, a cigarette-shaped candy released by Osaka-based Orion Co., celebrates its 70th anniversary this year. The authentic-looking stick candy has pulled at the hearts of children who want to imitate smoking adults. It is a long-selling cheap Japanese candy that has been loved across all generations.
Beloved packet design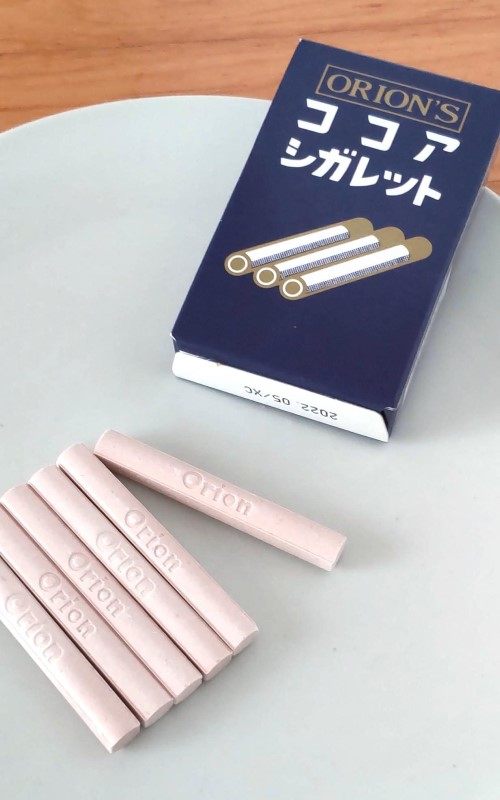 Orion was founded in 1948 by three people who had retired from a major confectionery manufacturer. The company released Cocoa Cigarette in 1951 after being inspired by tobacco-shaped sweets sold by other companies. The minty, cocoa-flavored candy came in a packet of 10 and was sold for ¥10. Despite being rather expensive at the time, the product sold well, and many children were seen putting the stick candy to their lips just like adults do with cigarettes.
Its stylish dark-blue packet, which does not look like a package for candy at first glance, specially won over the hearts of children. The packet's design was inspired by Peace, a Japanese cigarette brand that rose to popularity shortly after the end of World War II. And in the 1960s, Cocoa Cigarette's sales peaked at 18 million packets a year, partly because of a growing demand for confectioneries amid Japan's rapid economic growth.
Orion has only redesigned the packet once. In the 1990s, it added a dog character to the box, but after a year it was back to its original design — a response to requests from consumers who loved the original design.
"I was surprised to learn that there were so many fans of the packet's design. It was more than I had expected," said Goro Takaoka, 66, head of the company's planning department.
Help smokers quit
After 2000, health consciousness was on the rise and cigarettes became a target of criticism. This criticism eventually reached Orion and the company was urged not to sell sweets that could encourage smoking.
Nevertheless, Orion decided to continue its production as it wanted to cherish "the playful spirit of the Osaka people," Takaoka said. Then in 2011, a line reading "We'll help you quit smoking" was printed on the packet, encouraging smokers who used to buy Cocoa Cigarette at mom-and-pop shops in their childhood to pick it up as an alternative to smoking.
Orion has also launched several derivative items. In 2017, it released a cardboard kit for a miniature Cocoa Cigarette vending machine, which attracted attentions as a great Father's Day gift to encourage fathers to stop smoking. And in 2018, the company released myCos — an imitation of heated-tobacco product IQOS — which has a strong mint flavor.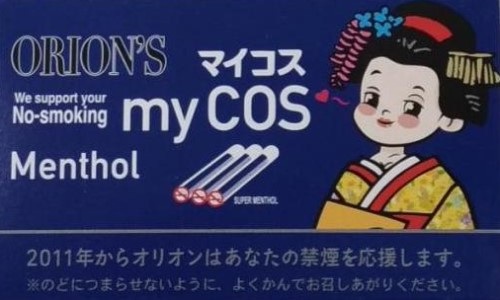 Unexpected boom
In 2019, something unexpected happened. Popular singer Aimyon posted a photo on social media of her holding a Cocoa Cigarette stick between her fingers. The photo went viral and people began commenting on how much the candy brought back memories. This then led to Orion receiving such a major influx of orders that the company temporarily ran out of stock.
Taking advantage of the special demand, Orion invested ¥100 million into its production base in Toyama to automate packaging and boosted its production capacity by 30%.
Also, to win over young women's hearts, the company teamed up with a confectionery maker in Fukuoka Prefecture in March to release an ice cream bar.
These efforts paid off, as Orion now sells 14 million boxes of Cocoa Cigarette items a year.
"We want to keep selling Cocoa Cigarette as a signature item that embodies our company's philosophy of 'Fun to see, delicious to eat,'" said Takaoka, adding that the company is currently developing other product ideas.
Add TheJapanNews to your Google News feed.