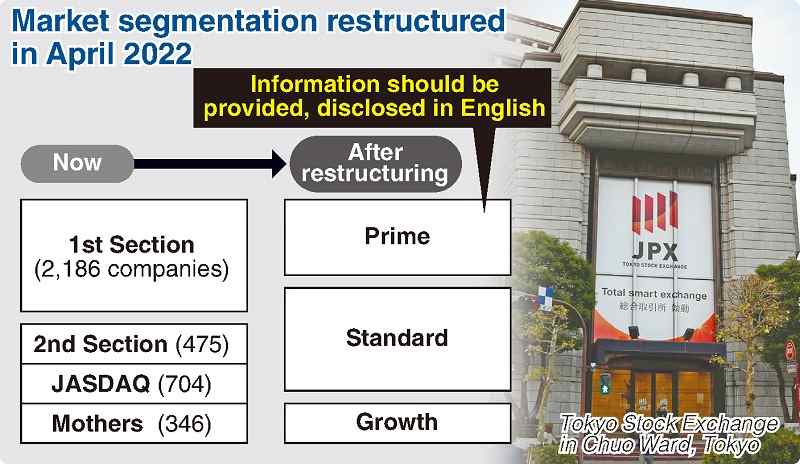 10:41 JST, July 7, 2021
As economic globalization further progresses, better English language skills and active utilization of the language are increasingly required. In reality, however, Japanese companies lag behind this trend, according to a senior official at an economic organization.
Corporate financial statements with insufficient explanations or translation mistakes could have detrimental effects on the company's stock price, performance and even the trust of current and future investors. Thus, addressing the issue is an urgent task for Japanese companies.
Mismatched announcements
In January this year, a digital display on a Tohoku Shinkansen bullet train announced train delays both in Japanese and English.
The initial Japanese announcement said: "A Joban line train collided with an animal in the section between Shinchi and Sakamoto stations … The Joban train line is expected to resume service at around 10:30 p.m.," followed by an English announcement that only said, "Joban Line Notice."
A subsequent announcement in Japanese said, "The limited express Azusa No.53 is delayed due to a collision with a deer on the Chuo Honsen line," followed by "Azusa Delay" in English.
While the initial Japanese announcement had 71 characters, the English one had only three words. The follow-up information used 37 Japanese characters and two English words.
For foreigners who cannot read Japanese well, these announcements might look unkind.
East Japan Railway Co., however, said this is not an issue of lacking English language skills but that of technical restrictions of the digital display. The company said that since digital displays on all Shinkansen bullet trains would need to be upgraded, it is difficult to improve the situation at an early date due to the costs.
In the corporate world, disclosure documents of listed companies routinely provide insufficient explanations in English compared with their Japanese counterparts. This is due to a lack of English abilities, and it can be said that the problem is more serious in such cases.
In May this year, an information technology company in Tokyo released an earnings summary both in Japanese and English. Compared with the nine-page Japanese version, the English version was only two pages long.
Two pages worth of text in the Japanese version that explained the company's current situation were omitted in the English version. The expression "We will actively invest in human resources" included in the Japanese version is not found in the English version.
An employee in charge of financial statements translated the document by themself. "This is all I could do," the employee said.
Mistranslations cause ripples
In November 2012, Sharp Corp. caused ripples in the market due to a mistranslation, when the English version of the company's earnings summary cast doubt on whether the company would continue to exist in the future.
The English version should have said, "There exist conditions which might raise uncertainties about Sharp being an assumed going concern." What it actually said was, "Sharp is in circumstances in which material doubt about its assumed going concern is found."
As concerns grew among overseas investors about the company, which was then expected to post losses of hundreds of billions of yen for two years in a row, Sharp was forced to revise the English version three days later.
"We learned a great lesson from the experience, where an important matter that concerns the survival of the company was poorly translated," a source close to the company said.
Investors bemoan insufficient disclosures
According to the Tokyo Stock Exchange, of 3,711 listed companies, 37% issue English language versions of their earnings summaries, and only 5% issue English versions of their Annual Securities Reports, as of December 2020.
Smaller companies tend to be behind in responding to the issue.
The current situation might be rooted in the fact that English language announcements are not mandatory, and the decision to provide them is left to the discretion of the respective companies.
However, foreign investors account for up to 60% to 70% of total trading value in domestic stock markets. Under the current circumstances, they have no choice but to refer to earnings summaries written in Japanese, as the documents provide important information for trading.
In a survey conducted on foreign investors in 2017, 72% said they were dissatisfied with Japanese companies' efforts to disclose information in English, compared with only 7% who said they were satisfied.
In reality, though, it is difficult to increase companies' English abilities overnight.
According to Tokyo-based Takara Printing Co., which provides translation services for companies, financial statements have a number of characteristic phrases, expressions and terms that are rarely used in daily conversation. Also, good speed is required for translation.
In literature translations, for example, when the same Japanese word repeatedly appears in a novel, a good translator is supposed to translate the Japanese word into different English words with the same meaning.
But in the translation of financial statements, this is not allowed from the perspective of ensuring the accuracy of the disclosure document. In order to translate the Annual Securities Report with more than 100 pages on its own, the company would need many additional workers.
"Human resources equipped with such skills are limited, so companies have to spend several years training such talent," an official at Takara Printing lamented.
Relying on translation companies
Some companies tend to say that not disclosing information in English is the best defense, because they want to avoid active overseas investors. But they might not be able to avoid the issue any longer.
This is because the Tokyo Stock Exchange (TSE) plans to restructure its market segmentation into three new segments from the current four segments in April next year.
The listing rules for the new Prime Market, the highest segment, will be stricter than those for the current First Section.
On June 11, the TSE and the Financial Services Agency revised the Corporate Governance Code, which provides guidance for corporate governance. The revised code states that "companies listed on the Prime Market should disclose and provide necessary information in their disclosure documents in English."
Companies rely on translation service companies like Takara Printing. Such companies have translators who are familiar with corporate accounting and can create an English version of a document with more than 100 pages in a short period of time. According to Takara Printing, only a few major companies can translate their financial statements into English on their own.
While machine translation using artificial intelligence has begun to appear, it is not likely to be good enough for practical use for a while.
Another translation service company sets the Japanese-to-English translation rate at ¥12 per character, which puts a significant cost burden on companies.
Furthermore, because companies have to provide earnings information and other information to outside organizations before being officially released, some firms are wary of relying on translation service companies.
Add TheJapanNews to your Google News feed.