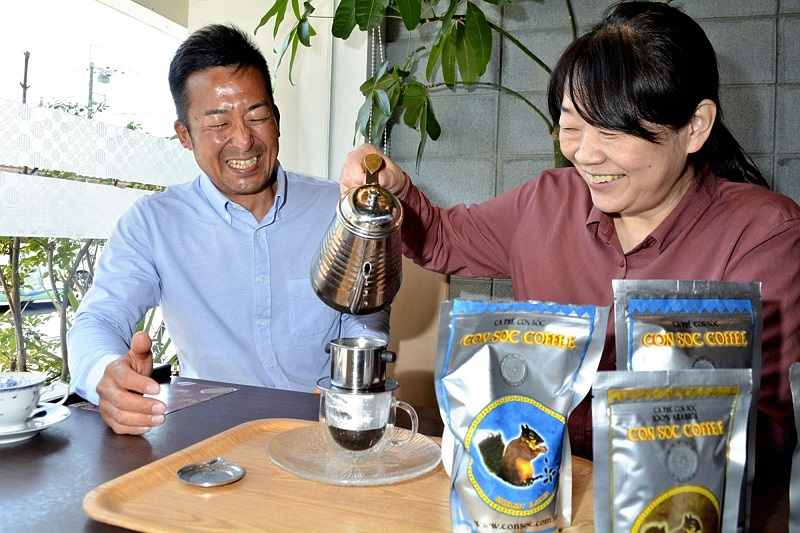 12:20 JST, June 22, 2021
UJI, Kyoto — A freight forwarding firm in Uji, Kyoto Prefecture, is promoting Vietnamese coffee beans as part of its efforts to popularize the Southeast Asian country's coffee.
Mitsugu Kuroki, who lived in Vietnam for about 10 years, is a coffee business manager for Nova Nexus, in charge of importing and publicizing the coffee beans.
"I want as many people as possible to know how delicious Vietnamese coffee is," said Kuroki, who is from Joyo in the prefecture.
While living in Vietnam, Kuroki ran a restaurant in Hanoi, where his customers included some of the many Japanese businessmen and expatriates living there because many Japanese companies and factories started operations in the city.
When he saw the energy of the young people coming and going in the chaotic streets, Kuroki said he felt that the country's economy would grow.
As a former French colony, Vietnam has a well-rooted coffee culture. Coffee shops and stalls can be found on street corners and along roads so people can have easy access to coffee.
To make Vietnamese coffee, a filter called a cafe phin is placed on top of a cup containing condensed milk. Boiling water is then poured over the coffee grinds in the filter's brewing chamber. All of the dark liquid drips into the cup within about five minutes. Kuroki said he was so fascinated by the bitter and sweet flavors that he started drinking the coffee every day.
He returned to Japan in January last year and joined Nova Nexus. When he gave Vietnamese coffee beans as gifts to his acquaintances, Kuroki said they really enjoyed it.
Thinking that the beans could become a viable business, as their price and transportation costs are both lower than for South American products, he started selling high-quality Vietnamese beans with hazelnut flavoring and other similar products online. He quoted a customer as saying, "I used to hate coffee, but this, I can drink."
Coffee shop owner Toyomi Nagasawa, who shares Kuroki's ideas about Vietnamese coffee, began selling the beans and serving the coffee in her shop in Uji, which is called Caf'e m-alie.
"When the coronavirus pandemic is brought under control, I would like to hold a workshop about brewing coffee," she said.
Vietnamese coffee is not as well-known as South American coffee, and it is often subject to strict inspection at airports.
Despite such hurdles, Kuroki said: "We will steadily increase the number of Vietnamese coffee lovers."
The products can be purchased from the company's online store Vietnam Basic on Rakuten Ichiba and other e-commerce sites.
100,000 tons of coffee
The import volume of green coffee beans from Vietnam to Japan in 2020 was 100,000 tons, the second-largest amount after Brazil, according to the Finance Ministry's trade statistics.
The Vietnamese government has been encouraging coffee production in a bid to obtain foreign currency. The amount of coffee exported to Japan has continued to rapidly increase from 54,000 tons in 2010, when it was ranked fourth.
Vietnam is within the coffee belt, a zone between the latitudes of 25 degrees north and 25 degrees south. This area near the equator is considered an ideal location for cultivating coffee beans. The Robusta variety, which has a strong bitter taste, is grown mainly in Vietnam.
According to the Tokyo-based All Japan Coffee Association, while aromatic Arabica coffee such as Blue Mountain and Mocha served at coffee shops have diehard fans, Robusta coffee — mainly used for instant and canned coffee — has developed little brand identity.
However, in recent years, the breeding of Vietnamese coffee beans and cultivation technology have been improving.
"If more people start drinking Robusta coffee, Vietnam will be recognized as a coffee-producing country," said an official of the association.
Add TheJapanNews to your Google News feed.