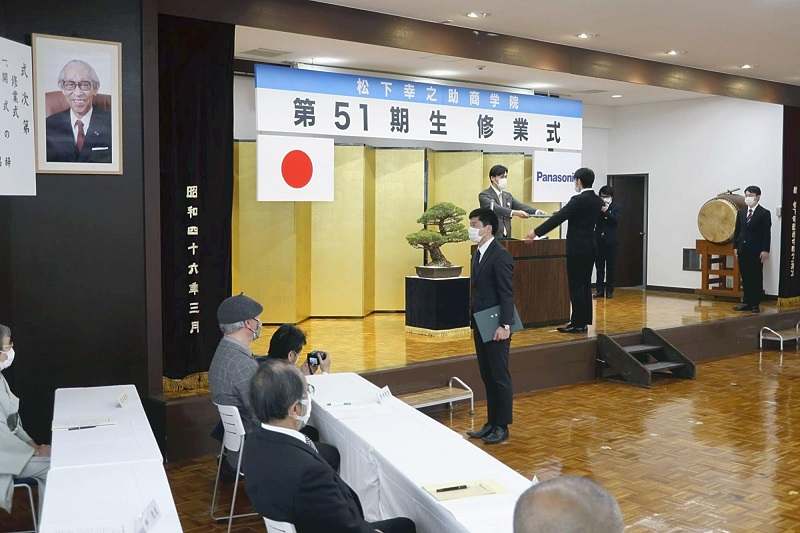 19:01 JST, June 17, 2021
"By placing a high value on its social missions, Matsushita Electric Industrial Co. will continue providing services to the country through its business operations. I want you to contribute to the nation through your business enterprises."
Such old-fashioned words were spoken during a speech by Hiroshi Uchida, the principal of Matsushita Konosuke Shogakuin training school during a ceremony to confer certificates for completing a course of study in Kusatsu, Shiga Prefecture, on March 19. Matsushita Electric Industrial Co. is a former name of Panasonic Corp.
The facility was established in 1970 by Konosuke Matsushita (1894-1989), the founder of Panasonic. During the yearlong course at the boarding school, people who will inherit a family business of running a Panasonic-affiliated home appliances shop are given instructions on such matters as electrical appliance installation techniques and business management.
Uchida was addressing the 13 people who had completed the course, and his message came from the words Matsushita spoke to the first group of students at the school about 50 years ago.
Matsushita is known as a "god of management" and continued to be an emotional pillar of support for Panasonic's employees.
Prior to the onset of the COVID-19 pandemic, staff used to recite aloud in unison "the seven principles" that all employees must observe, which Matsushita established in the 1930s, at morning meetings held by each section and office.
A shrine within the premises of the company's headquarters in Kadoma, Osaka Prefecture, houses a guardian deity in the form of a white dragon, which is said to have a connection to the Matsushita family. A ritual is held at the beginning of every month to pray for the prosperity of the company and its employees' health.
In the belief that "a company is a public entity of society," Matsushita admonished his employees not to pursue only their company's profit. He left behind many other management philosophies, such as: "management with collective wisdom," emphasizing the need for all employees to be involved in management, and "dam management," which stresses the importance of a company having a reasonable amount of surplus to maintain stable operations.
Even today, many corporate managers model themselves on Matsushita, more than 30 years after he died.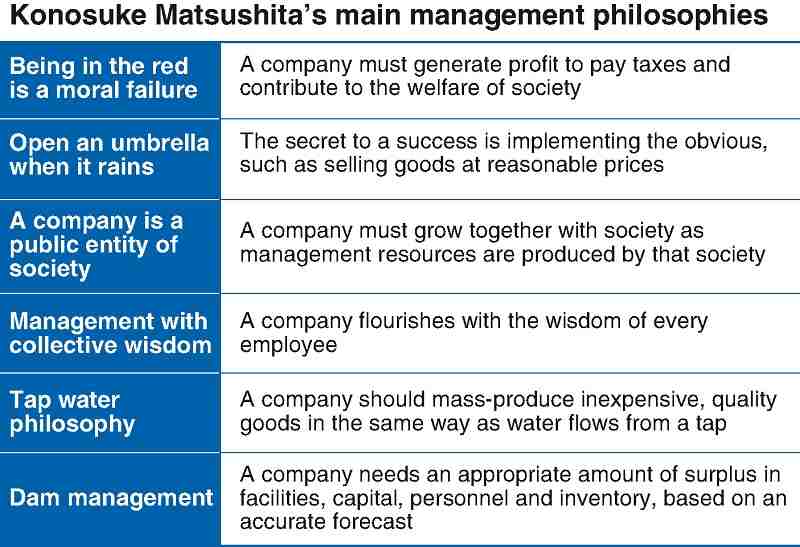 Relevance in question
However, in recent years, the appeal of Matsushita's management philosophies appears to be waning.
A typical case in point is his "tap water" philosophy.
Likening manufacturing to tap water, which flows amply merely by opening a faucet, Matsushita advocated the importance of a company providing households with electric appliances at low prices. Panasonic pushed ahead during the nation's period of rapid economic growth by promoting the mass production of its products with this philosophy in mind and, in the process, became one of the world's leading electric appliance makers.
Yet, Panasonic has been beaten at its own game by Chinese and South Korean manufacturers of such products as TVs. Consumer preferences have also diversified, and Panasonic has been outplayed by emerging manufacturers whose products are embraced for original designs and functions despite a higher price tag.
In 2019, Masayuki Matsushita, a grandson of the founder, retired as a director at Panasonic. The company has been aiming to rely less on simply selling products and focus on providing services that will continue after the original point of sale.
Have Matsushita's management philosophies become outdated?
Search for modern applications
Yuki Kusumi, who took over as chief executive officer on April 1 and is to become the next president, wrote on the company's internal blog that "I have contemplated [the "tap water" philosophy] in my own way.
"The condition that our founder aimed for was 'spiritual stability and the provision of an inexhaustible supply of physical necessities required for happiness in life.' It seems like with that way of thinking, the fulfillment of the mission of the philosophy of tap water is still a long way off."
During an online briefing on the company's management held on May 27, Kusumi suggested that Panasonic's grappling with the successful execution of the "tap water" philosophy could help solve global environmental problems through the firm's operations. He advocated the goal of achieving net-zero CO2 emissions of business activities by 2030.
Panasonic has in recent years lost sight of its growth course and has been groping in the dark. There is strong desire within the company for leadership strong enough to break through the current stagnation.
"The management philosophies bequeathed by Matsushita can be a strong, unifying force even today," said Satoshi Sasaki, a professor at Meiji University and scholar on the history of corporate management in Japan. "How should [Panasonic] apply them to resolve its management challenges rather than simply return to the starting point? The capability of the next president will be tested."
Seven mandatory principles
Konosuke Matsushita in 1933 established five principles that all employees must observe as the guiding precepts for their conduct. They are: contribution to society; fairness and honesty; cooperation and team spirit; untiring effort for improvement; and courtesy and humility. Two more principles were added in 1937: adaptability and gratitude.
Add TheJapanNews to your Google News feed.