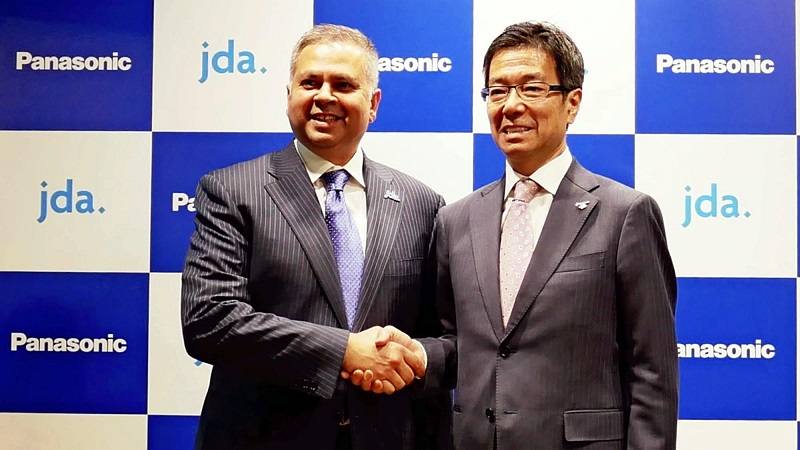 14:30 JST, June 16, 2021
As a pillar of its growth, Panasonic Corp. is focusing on services enhanced by information technology. It is seeking to shed the business pattern of selling products that simply involve a change of ownership — once a home appliance is sold, for example, it's gone.
This resolve was seen in Panasonic's large-scale buyout of Blue Yonder, Inc., a U.S. software firm.
"It involved a huge sum of money, so the decision was delayed, but we decided we have to hurry and make drastic reforms," said Yuki Kusumi, chief executive officer of Panasonic. Kusumi, 56, announced on April 23 that Panasonic would make Blue Yonder a wholly owned subsidiary.
Kusumi will become the next president of Panasonic later this month, having only assumed the post of CEO on April 1. His first important decision was the massive buyout, spending $7.1 billion (¥780 billion).
Blue Yonder was originally JDA Software, a firm founded in Canada in 1985. The company changed its name to the present one in 2020, and has its global headquarters in Arizona.
Blue Yonder develops software that uses AI to estimate the demand for products and delivery times, and advises manufacturers and distributors on how to build an optimal supply chain. It employs about 5,500 people and operates in 76 countries.
The annual sales of Blue Yonder are only $1 billion, and there was understandable concern in the markets that the buying price was too high given its business performance. Panasonic's price on the Tokyo Stock Exchange rose to around ¥1,500 earlier this year, but currently remains at the ¥1,200 level.
"Buying a struggling company on the cheap is highly likely to end up in failure. The bottom line is that its corporate base is stable," countered Yasuyuki Higuchi, 63, a senior managing executive officer of Panasonic who oversees the IT service business. In Higuchi's opinion, the price was appropriate.
Are investors mistaken in their view?
Every leading company in the electronic equipment and appliances industry has taken steps to strengthen their businesses that provide IT services. Hitachi, Ltd., Sony Group Corp., and NEC Corp. are pushing ahead with purchases of software firms abroad.
A senior Panasonic official confided: "The late start was controversial within the company. There's no denying that we were worried about the delay."
Many corporate customers
Higuchi approached Blue Yonder in 2018. He was previously chairman of Microsoft Japan Co. and joined Panasonic in 2017.
Higuchi was attracted to the broad base of corporate customers owned by Blue Yonder. It has more than 3,000 blue-chip companies around the world as corporate customers, such as The Coca-Cola Co., and PepsiCo, Inc., both U.S. firms, Unilever PLC of Britain, and Daimler AG of Germany.
Blue Yonder also holds about 400 software-related patents, more than any other software company.
Higuchi said, "The corporate philosophy of Girish Rishi, chief executive officer of Blue Yonder, is akin to that of Panasonic." This led the two to establish a joint firm in November 2019.
Data collected through Panasonic's appliances and sensors were analyzed via Blue Yonder systems. Their provision of such services in helping to enhance the efficiency of factories, delivery trucks and sales floors was said to be the selling point.
To boost their corporate ties, Panasonic acquired a 20% stake in Blue Yonder in July 2020.
Higuchi confirmed the efficacy of the joint venture's services by having the relevant systems introduced in Panasonic's own factories. "It is highly likely to produce a mutually beneficial effect, and the cultural affinity of the two companies is also strong, including the interpersonal chemistry," he said.
Based on this assessment, Higuchi proposed having Blue Yonder become a wholly owned subsidiary.
Voices of concern
Many within the industry are apprehensive about the prospects of the buyout.
Since the 1990s, all large-scale mergers and acquisitions launched by Panasonic have fallen through.
Panasonic spent about ¥780 billion to buy leading U.S. filmmaker MCA (currently NBCUniversal Media) in 1991. In less than five years, however, Panasonic sold its equity interest in the MCA shares.
Panasonic invested about ¥800 billion by 2011 to make Panasonic Electric Works Co. (formerly Matsushita Electric Works, Ltd.) and Sanyo Electric Co. wholly owned subsidiaries. Yet, according to a former executive of Sanyo, neither of the two acquisitions "has generated any synergistic benefits."
Sanyo's large household appliances business was sold to Haier, China's leading maker of household appliances. Cuboid batteries, whose development and production Panasonic has transferred to a joint firm it established with Toyota Motor Corp., were originally based on Sanyo technology.
Panasonic acquired the former Matsushita Electric Works, Ltd., primarily to develop a system to undertake everything from the construction of houses to town-building. But in January 2020, Panasonic transferred its housing business to a joint firm established with Toyota Motor.
Atsushi Osanai, 48, professor at Waseda University's Graduate School of Business and Finance, spoke critically about the mergers and acquisitions made by Panasonic.
"Previously, it lacked the flexibility to respect the culture and the business models of the companies it was to buy. It only looked at the technologies that the companies had, and therefore failed to harmonize with the acquired partners," Osanai said.
Will Panasonic be able to depart from its past and use the corporate buyout to leverage growth? Its acquisition of Blue Yonder will be the touchstone.
Add TheJapanNews to your Google News feed.