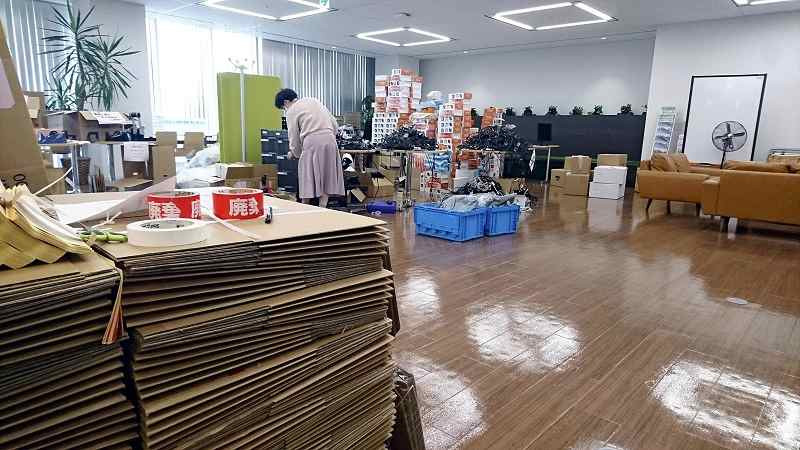 12:42 JST, June 10, 2021
Office vacancy rates have been rising in central parts of major cities across the country, as more employees are working remotely due to the pandemic and companies are increasingly reducing office space or consolidating branches.
Businesses are choosing what offices to rent according to strict criteria.
ValueCommerce Co., a subsidiary of Z Holdings Corp. involved in online advertising and other businesses, relocated its Tokyo office to another part of the capital in May.
With a growing number of employees working remotely, ValueCommerce now needs an office only half the size of its previous one, enabling it to trim its rent by about ¥100 million a year. The new office has many partitioned spaces and individual booths for online meetings and teleconferences.
President Jin Kagawa said: "Fewer than 10% of our employees actually come to the office, but it doesn't have a big impact on our operations. The merits are greater than the drawbacks."
According to Miki Shoji Co., a major real estate agency dealing with office space, the average vacancy rate for offices in five wards in central Tokyo — Chiyoda, Chuo, Minato, Shinjuku and Shibuya — has risen for 14 consecutive months. The vacancy rate has also exceeded 5%, a threshold for lowering rents.
The office vacancy rate in central Tokyo rose to 8-9% from 2010 to 2012, then declined along with the economic recovery. It had remained at around 1% over the past few years.
An official in charge of surveys at Miki Shoji said, "There were no offices available, even though companies wanted to relocate."
In other major cities like Osaka, Nagoya and Fukuoka, office vacancy rates have increased from the 2% level to the 4% level over the past year.
"Before the coronavirus outbreak, many of our customers wanted to expand their offices, but now, 70% talk about relocating or downsizing," said a sales representative of At Office Co., a real estate company that handles rental office space.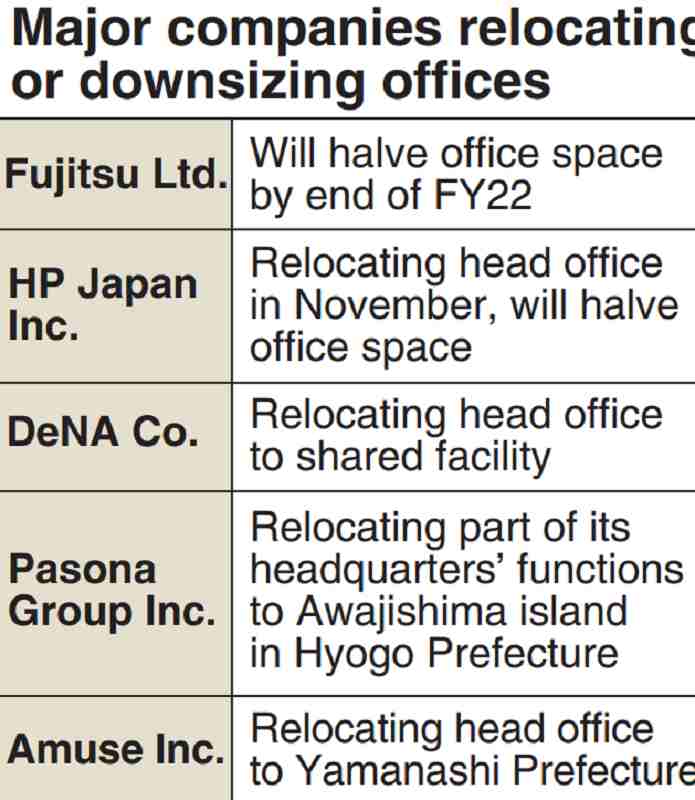 Major companies join in
The trend started among information technology start-ups and has now extended to large corporations. Fujitsu Ltd. plans to halve its total of 1.2 million square meters in office space, including that of affiliate companies, by the end of fiscal 2022.
Employees will work from home, in principle. The company said it has already canceled contracts for 20% to 30% of its offices.
"The recent rise in office vacancy rates is fueled by the cancellation of office rent contracts by large companies that have extensive floor space," said Koji Ishizaki, a senior credit analyst at Mizuho Securities Co.
Usually, rental contracts for offices are renewed every two to 10 years. Companies took a wait-and-see attitude in the early days of the coronavirus pandemic, but many are now reviewing their contracts.
In contrast, in the United States and other countries where vaccination is progressing, some businesspeople are putting more emphasis on face-to-face interaction and returning to physical offices. According to Bloomberg reports, U.S.-based Apple Inc. has asked its employees to come to the office three days a week from September.
Similar moves could spread in Japan as well, but teleworking has become widespread, making it difficult to foresee the demand for offices in the future.
Stricter criteria for selection
Office vacancy rates have not deteriorated for all buildings. According to a survey by major real estate company Mori Building Co., office space in major business districts such as Marunouchi and Roppongi, and in new high-rise buildings, is soon filled.
"It's difficult to find tenants for vacant spaces in old buildings," an official in charge of public relations at a major real estate company said.
There is also the global trend toward decarbonization, making companies likely to select their offices according to stricter criteria such as the environmental friendliness of buildings.
"Some companies reduce office space and relocate to more beautiful places without increasing costs. Real estate companies that can offer attractive environments will have an edge in winning tenants," said Kenichiro Yunome, executive director of Urban Research Institute Corp.
Shared offices
The use of shared offices has also been increasing. Shared facilities involve shorter rental contracts than normal office space and can be changed flexibly. Since shared offices are equipped with desks, multifunction printers and other equipment, tenants can also use them immediately.
As early as August, major IT company DeNA Co. will relocate its office in a high-rise building directly connected to Shibuya Station to a space in a nearby building run by major U.S. shared office provider WeWork Companies Inc.
Small shared offices in residential areas are also in the spotlight as people working remotely find it difficult to do so from home because they have children or their homes are too small.
The real estate industry and the railway industry, which has been severely affected by the pandemic due to the drastic reduction in passengers, see this situation as a business opportunity and are accelerating their efforts to respond to the new demand.
Mitsui Fudosan Co. began offering shared offices with partitioned individual work spaces in residential areas.
"We offered some partitioned individual work spaces, but the average hours of use are now triple those of the period before the coronavirus outbreak. Some customers say it's difficult to book a space these days," an official of the company said.
Tokyu Land Corp. launched a service to rent offices on specific days of the week that is especially popular among start-ups, according to the company.
In the railway industry, Odakyu Electric Railway Co. is building shared offices for personal use on the former sites of automatic teller machines and kiosks within stations. East Japan Railway Co. is also developing this kind of facility on station platforms and in vacant spaces in commercial buildings, planning to create such spaces in 1,000 locations, including partner companies, by fiscal 2023.
Add TheJapanNews to your Google News feed.